First look: Empress Tavern adds sizzle to K Street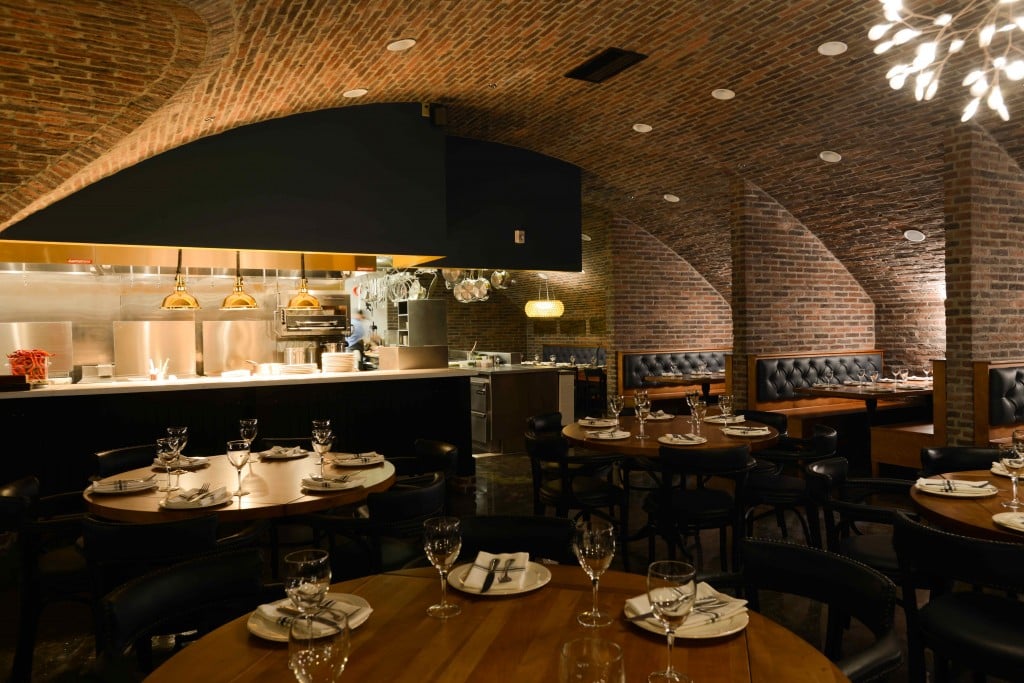 Scroll down to the end of the story for the photo gallery.
After nearly three years of planning, design, construction and not just a little bit of anticipation around Sacramento, there is finally a new Empress in town.
Empress Tavern opens Sept. 3 on K Street, the latest offering from the group behind the acclaimed neighboring restaurant Mother. Its founding brain trust—led by chef/owner Mike Thiemann—is where the similarities between the restaurants end, though: Where Mother's slight, bright, narrow café storefront serves up vegetarian delights upstairs, Empress repurposes 7,600 square feet below ground as a singular destination for meat lovers, beer geeks, oenophiles, cocktail mavens and every type of curious culturegoer in between.
Even before the first meal is served, a sneak peek at the space reveals plenty to dazzle—a cross between clubby, cloistered hideaway and a boisterous public hall. It's hard to believe this is the space where two movie auditoriums were once affixed to the Crest Theatre, or that the restaurant's most distinctive features—its dark, vaulted brick ceilings arching over a supple white granite bar, or its brightly lit open kitchen in the backdrop—didn't exist a year ago.
"There are a few aesthetics we talked about when we first started this project," says Thiemann, whose Empress Tavern (and Mother) partners include his wife Lisa Thiemann, Ryan Donahue, and Crest owner Bob Emerick. "We wanted it to feel like we unearthed it—it was a found place, and that this restaurant has been operating for a number of years."
Indeed, in a nod to the vintage movie palace next door (whose original incarnation as the Empress Theatre inspired the restaurant's name), visitors descend the red-carpeted staircase, stepping onto a landing that overlooks the sprawling dining room and bar. "As people come down," Emerick says, "everybody will be on stage for a second and be seen before they come into the restaurant."
That's just one of the elements in keeping with the proprietors' avowed sense of fun—not the easiest first impression to attain in a cavernous subterranean restaurant. It's in the lilting details, though: Midcentury-tinged light fixtures over the bar, for instance, or wispy silver chandeliers over the dining room that bloom with white LED light. Wallpaper near the entrance glows with gold and white irises on matte black, further brightening the space.
It's almost enough to make you forget you've gone underground.
"Every typical shortcoming that a restaurant like this might have is our strength," Thiemann says. "The fact that you have to travel a little bit down K Street just to find it, [or that] even the front door is a little hidden [from the street]. This is clearly a discovery when people find it, and it increases the value of the experience. Like if you turn up the color on the TV, or the volume. It gives you more anticipation when you come down the stairs. It's like, Whoa. Sacramento doesn't have this—it deserves something like this."
This sense of discovery at Empress Tavern isn't necessarily unique to the city; on the grid alone, eateries like Frank Fat's or Zelda's Pizza come to mind as kindred spirits. In fact, Lisa Thiemann credits Zelda's with significant inspiration for Empress, from the windowless yet warm interior to the restaurant's comfy, sizable booths—all while keeping in mind lighter features to complement the moody, shadowy brick.
"It's called Empress, right?" says Lisa, who headed up the restaurant's interior design. "Restaurants can very, very easily go masculine. So along with a whole sense of permanence with really solid furniture, I wanted to add some feminine touches: The chandeliers look like flower bushes, or the wallpaper [is decorated with] irises."
Thiemann promises a meat mecca when Empress opens, a carvery rooted in the sanctity of the French dip and with heaping servings of everything from prime rib to short ribs to seafood and even the turducken—the Thanksgiving specialty of chicken stuffed inside duck, then stuffed inside turkey, that Empress will offer year-round.
Former Mother chef and longtime Thiemann confederate Matt Masera will lead the kitchen, a massive space with a rotisserie oven at its heart, pastry and ice cream stations at the ready (desserts are Masera's forte) and a halo of gleaming pots, pans and other implements dangling from the ceiling.
"It's like a steakhouse, but with all meats, which allows us to keep the price point really reasonable," says Thiemann, who emphasizes Empress highlights like salmon and Hangtown fry (the oyster omelet delicacy hailing from the Gold Rush) nearly in the same breath as bone marrow with escargot.
This unified theory of carnivorism will be tested when Empress initiates dinner service on Sept. 3. Beer, wine and spirits aficionados will want to check out Empress' happy hour as well: The opulent bar features a cocktail program led by mixology guru Lauren De Vine, 20 draft beers, six draft wines and even a fresh draft tonic made by the Sacramento-based Zeal Kombucha. (Thiemann says he brought them in to achieve "the best gin and tonic anywhere.")
Whatever your pleasure, the expectations inside this long-awaited savory showcase are soaring before the doors even open.
"This just has to be delicious," Thiemann says. "That's what people want: Delicious, hot food. And when something is presented, roasted perfectly in front of you? There's no denying it. That's what we want."