First Look: Oak Park's new Bavarian-inspired Oakhaus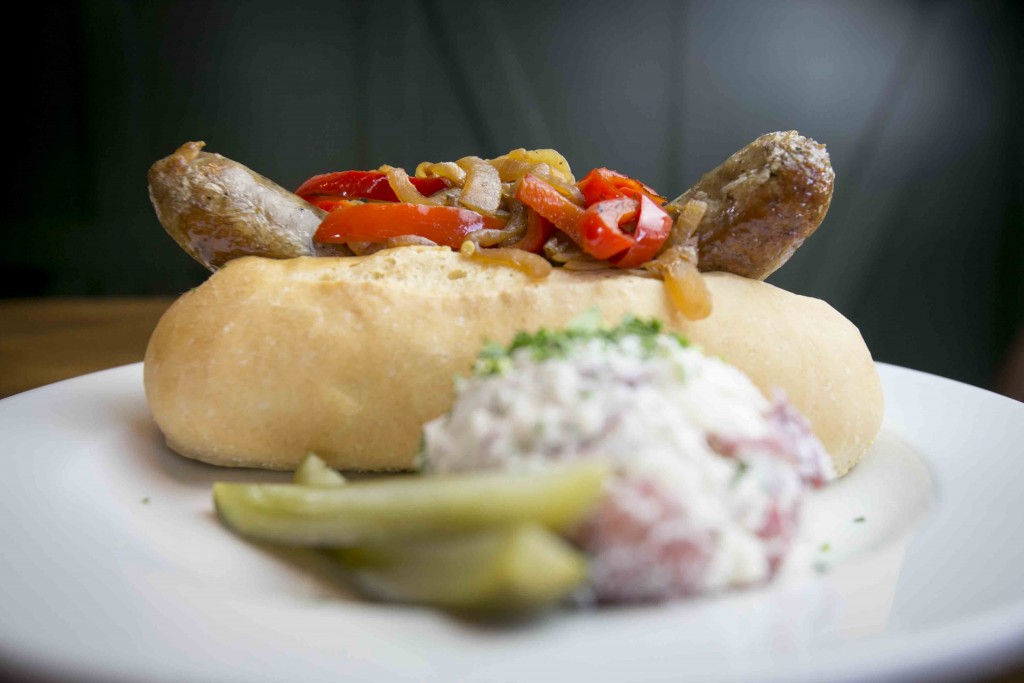 Oak Park has a new neighborhood hangout in the fast-casual Oakhaus, a hofbrau-themed restaurant from La Venadita owners Tom and David Schnetz (along with chef Matthew Ridgeway) that is distinctive both for its tongue-in-cheek Bavarian-inspired décor and its daringly simple comfort food—think Thanksgiving every day, pickles, pretzels and beer. Lots of beer.
The wedge-shaped interior of Oakhaus—which soft-opened in mid-May and held its first dinner service June 7—features oversized tables and a hewn slab bar that suggest a mountain ski chalet, with a collection of wooden cuckoo clocks mounted on a vivid green wall and shelves full of Germanic kitsch (think ceramic beer steins).
The sprawling patio, strung with Edison lights and dotted with bright orange picnic tables and umbrellas, spills across the end of Mule Alley into an alcove with a fire pit on one side, and onto Broadway's sidewalk on the other. It's a patio where you'd be equally comfortable parking a stroller or a schnauzer for lunch on a Sunday afternoon (the comfort-food concept is kid-friendly), or hanging with a group of friends over steins of Auburn Alehouse pilsner or Paulaner hefeweizen on a balmy summer evening after a long bike ride.
You'll want to have worked up an appetite for the signature turkey leg confit dinner: the meat is smoky and succulent, the stuffing confidently plain—it's all about savoriness and pudding-like mouthfeel. Add a side dish of cider-braised red cabbage with mellow cinnamon notes for mulled sweetness. This is simple, honest food without the slightest trace of irony or cant.
The meatloaf, likewise, with a brown sugar ketchup crust, is classic—it tastes exactly the way meatloaf should: meaty, herbaceous, garlicky. The thick slices have heft, but not density. The choice of sides includes caramelized baby carrots, which add a picturesque note and are so sweet and tender, you could eat it for dessert, but nothing at Oakhaus is unnecessarily elevated, and that's exactly the charm.
Roast chickens to eat in or take home come out of a showpiece of a rotisserie oven that's as much a part of the décor as the wood-paneled vintage jukebox. Side dishes, like those at Sam's Hof Brau in Arden-Arcade, which served as the Schnetz brothers' inspiration, are ordered à la carte and arrive in separate dishes, and they range from smooth mashed potatoes to pancetta-laced Brussels sprouts.
The sandwich-based lunch lineup includes pastrami, roast beef and a good old-fashioned tuna melt, but also a vegetarian offering with asparagus, zucchini, lemon-sage aioli and goat cheese. The snack menu (available after 3 p.m.) features a bratwurst sando with smoky and savory sausage—another Oakhaus highlight—which is accompanied by a creamy potato salad made from a Schnetz family recipe.
But the can't-miss item is the one that seems the most unusual: kraut balls. The deep-fried cabbage croquettes may sound—and even look—like a Teutonic gut bomb, but the texture and flavors of this vegan dish are surprisingly delicate and refined. The lightly fermented cabbage is sautéed with spices like cumin, paprika and aromatics like garlic and carrots. The crust, made from crushed, day-old pretzels, is brittle, yielding and savory, with just enough tooth to scoop up a dollop of sweet brown mustard or the spicy house-made cherry ketchup.
For dessert, there's pineapple upside-down cake, towering German chocolate cupcakes, and creamy-textured Bavarian cupcakes topped with rich chocolate frosting. Or if you're really feeling the patio and want to linger long enough to take in the Delta breeze, a goblet of High Water Brewing's cherry-flavored, wine-barrel-aged Le Petit Diablotin sour ale makes an excellent post-meal beer.
3413 Broadway. 376-7694. oakhaussac.com
You Might Also Like
10 tasty food festivals to attend in June and July
Canon in East Sacramento unveils all-star chef team, readies to open in July
Casual Mexican bar to open in Dos Coyotes space on R Street