First Look: Obo' adds a dash of Neapolitan flavors to East Sacramento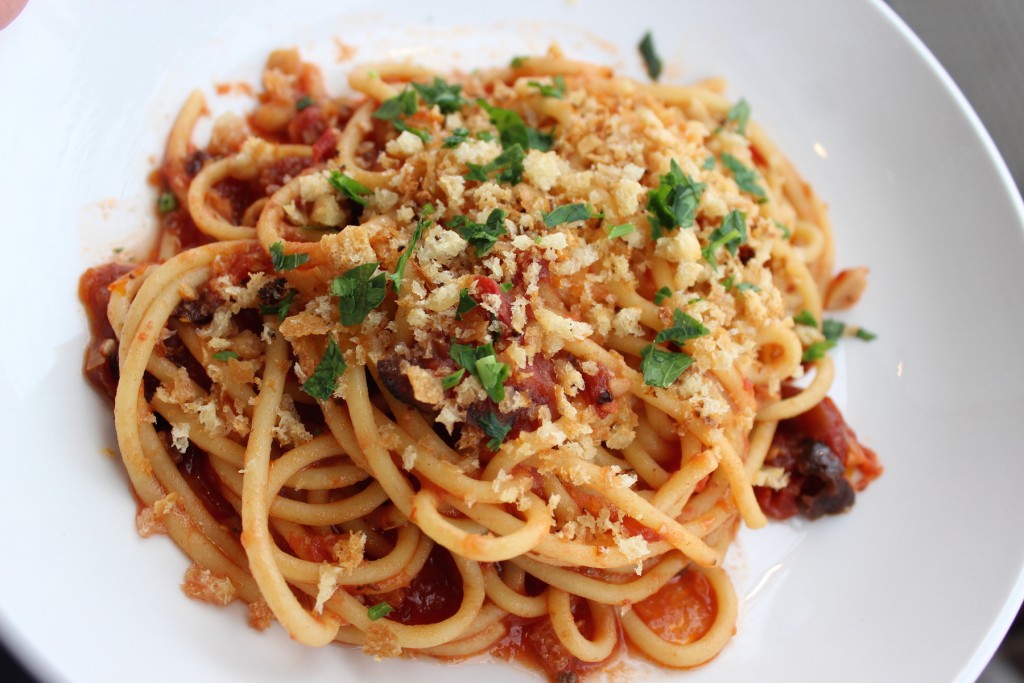 Whet your appetite for herbally infused pastas and handmade pizzas—the Selland family has done it again. Last Thursday, the Sacramento culinary dynasty opened Obo' Italian Table & Bar in East Sacramento. Loaded with dishes so Italian they're often a struggle to pronounce, the walk-up-counter restaurant fulfills the family's ongoing mission to convert casual eaters into gourmands. Newly awakened diners seemed to respond: Grazie mille.
Just off the gritty bustle of Alhambra Boulevard, the large brick building looks like a breezy oceanside escape. Glass doors framed by seafoam blue paint are boldly emblazoned with the drop shadow letters spelling "OBO'." Once inside, white hexagonal tiles give the space an airy crispness and natural light pours in from tall windows. High ceilings with exposed wooden rafters echo the chatterings inside, adding to the eatery's nightlife vibes. In the middle of the room, the crowned jewel dangles: A large chandelier made out of pizza peels looks at once sophisticate and easygoing, inventive and traditional—mimicking the delicious food served beneath it.
During our visit, doctors in scrubs as well as politicians in strappy dresses and heels lined up to sample the anticipated fare. Much like the family's other casual restaurant in East Sacramento, Selland's Market-Café, hot and cold sides were displayed deli style underneath a glass case. Unlike the Market-Café, the food is more complex and several notches more Italian than American. Not to mention, the well-stocked cocktail bar attracted fewer families and more friends and couples.
When you go, check out the extensive list of made-to-order pastas and pizzas, as well as the robust vegetarian menu. The truffled mushroom pizza tastes as if it was hand-tossed by a chef in Naples because, in a way, it was (the Selland family's matriarch, Nancy Zimmer, who helmed the Obo' menu, was inspired by her trips to Italy). The golden brown crust is freckled with clusters of toasted flour and salt, breaking to reveal layered and gooey dough. Nutty fontina plays counterpoint to the supple, almost meaty truffle mushrooms.
Bucatini puttanesca is a swirl of buoyant pasta strands (think hollow spaghetti that traps a gush of sauce). The gummy nest is freckled with crackly breadcrumbs, tart sundried tomatoes, and cured olives drenched in the satisfying bitterness of anchovies. With a collision of flavors and textures, this dish is a must-try.
For dessert, the chocolate budino is another standout. A humble glass jar contains a silky sea of molten pudding and sauce on top of a lightly salted, crumbling cookie. Sinfully rich, the Italian treat offers a sensuous mix of dry and moist chocolate. On the lighter side, go for the bouffant-looking stracciatella cream puff. A fluffy pastry sandwiches smooth ribbons of cream dotted with chocolate flecks.
End the meal with a martini glass of Sgroppino: Vodka, prosecco and … lemon sorbet scooped from a gelato tub. The slushy dollop makes the champagne produce big, flavorful bubbles. Before serving it, the bartender smacked a leaf of mint between her hands to release its aroma, and delicately placed it to float atop the froth. She chirped: "It's spanked mint!" Obo' is sure to teach even worldly diners some surprising ways to liberate flavor.
Open Tues. through Sat. from 11 a.m.-9 p.m. 3145 Folsom Blvd. 822-8720. oboitalian.com
You Might Also Like
The Firehouse introduces new chef and revitalized menu
Koja Kitchen to open in Rocklin this summer
Ginger Elizabeth launches its summertime ice cream sundae series