First Look: The Newly Reopened Kru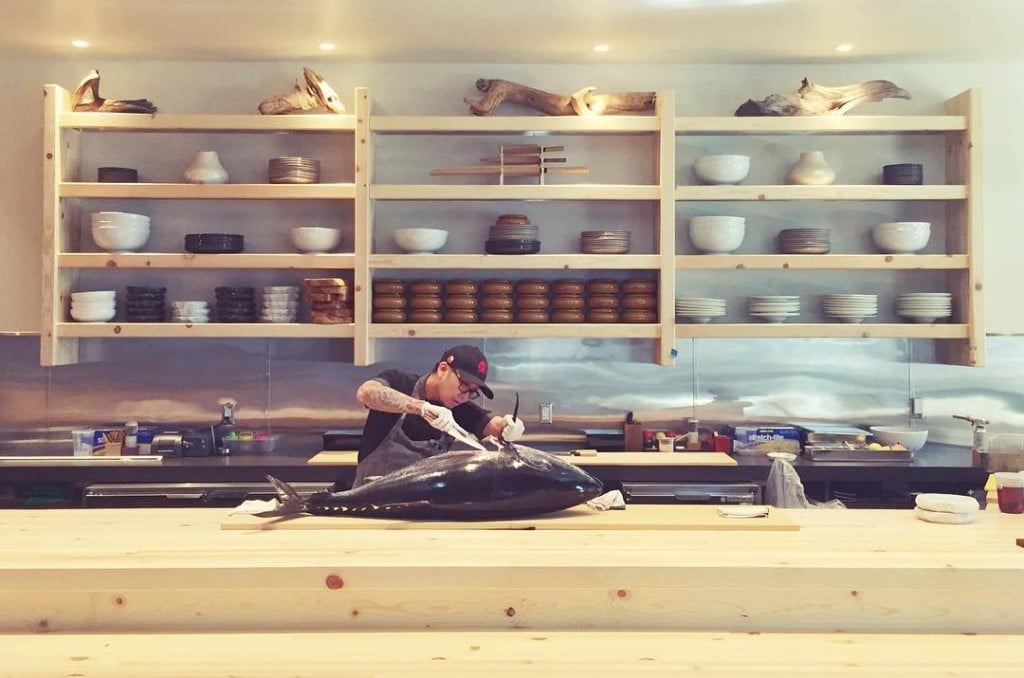 It could be argued that none of the works of public art recently unveiled at the new Golden 1 Center offers more aesthetic pleasure than Billy Ngo's sashimi bowl at the newly reopened Kru on Folsom Boulevard in East Sacramento, which launched with dinner service on Oct. 18. The plating is so showy that diners can be seen taking pictures not just of their own food but the plates of total strangers as well. And the strangers let them, so giddy is everyone at the spectacle—it simply must be shared. What better definition of public art?
Sushi is always a visual feast, and the old Kru was an Instagram favorite, but the plating at the new location has been amped up—witness the sashimi plate, served atop a bowl of sparkling crushed ice, the whorls of semitranslucent fish furled and glistening jewellike among bright beds of garnish, the entire construction an exotic landscape in miniature.
The updated décor is chic and atmospheric without losing that blond wood feel that says traditional sushi bar. Here, the wood comes in the form of thick butcher block tables and Eames molded plywood chairs that give the room a classic mid-century modern flair. Dark walls create drama, as do strategically focused spotlights that highlight the parade of dishes cueing up on counter.
Sitting at the sushi bar is the way to go here (omakase, or chef's choice, will soon be an option), if only to give yourself a front-row seat to the ongoing show. The chefs wield knives and torches with aplomb, but even their prep bowls and tools have a wabi-sabi elegance to them. One chef pulls tranches of glistening fish out of elegant bamboo boxes, not soulless stainless steel bins, while another chef plucks living microgreens from what looks like a tiny forest.
The nigiri selections on the menu are truly bite-sized (not the awkward American-sized lumps the size of a baby's shoe you might find in lesser sushi bars), each with thoughtfully engineered flavors (there's no wasabi paste in sight), and the staff is quick to recommend favorites. The katsuo is skipjack tuna that has been smoked over rice straw, which imparts a grassy smokiness that complements the fish's pleasant, slightly metallic coolness. Ngo serves the tarabagani, a red king crab with a light flavor, as a seaweed-walled nigiri bite laced with a rich crab butter.
The uni, at $18 a plate, is one of the dearer mouthfuls on offer, but it's an uni flown in from Hokkaido, Japan, more sweet and rich than briny, and so delicate it is served with a layer of seaweed between the rice and the fish to keep the tender dollop of shellfish from losing its shape and mouthfeel.
The popular Sunshine Roll is an elaborate affair that includes tempura shrimp and spicy tuna in sweet chili and spicy garlic sauces, but it's notable for the unexpected crunch of apple and lemon that cut through the richness and take center stage.
On the "small plates" side of the menu, the pork belly and uni dish is a standout, but should probably be eaten in lieu of dessert, as it's too powerful to let any other dish have the last word. The teriyaki pork belly is so tender its consistency is almost pudding-like, and the uni that tops it acts like a rich sauce. Arare and pork cracklings add crunch, while droplets of nettle purée and a few fronds of frisée add brightness.
Should you opt for a pork-free dessert instead, the green tea panna cotta topped with fresh berries and mint is fresh, not too sweet and won't drag you down to earth if you're experiencing that feeling of sublime giddiness that comes after a dinner of exquisitely prepared raw things.
The cocktail menu is short but appropriately intriguing. The poetically named Hundred Acre Woods is made with Monkey Shoulder scotch, lemon, chamomile honey, triple sec, egg white and vanilla bitters and is frothy, pretty and has more levity than you'd expect from a Scotch-based cocktail. It's not a drink that will wipe out your taste buds for the delicacies to come. But if you want to go traditional, the sake and beer menu is carefully curated and the servers are knowledgeable about what to recommend.
When Sactown asked 25 top local chefs where they dined out in 2014, nine of them named Kru as a favorite, including Golden 1 Center's Michael Tuohy, Grange's Oliver Ridgeway and Randall Selland. No other establishment earned more than five mentions, clear evidence that Ngo is Sacramento's chef's choice, bar none. (Ngo also owns Fish Face, a walk-up-and-order poke bar in the WAL market on R Street. Another Fish Face is set to open in the Milagro Center in Carmichael.) The original Kru, opened in midtown in 2005, was due for an update, and the new location gives Ngo room to seat the next wave of chefs flocking to Sacramento's burgeoning restaurant scene while leaving plenty of room at the bar for the rest of us, too.
3135 Folsom Blvd. Open for dinner daily and for lunch Mon.-Sat. 551-1559. krurestaurant.com
You Might Also Like
Craving of the Week: BarnBurner's Angel Food Cake French Toast
The Jungle Bird readies to open with tiki flare in midtown
First Take: Bold, traditional flavors reign supreme at Carmichael's Mesa Mercado