First Look: Vibe Health Bar opens with fresh-focused menu and inviting space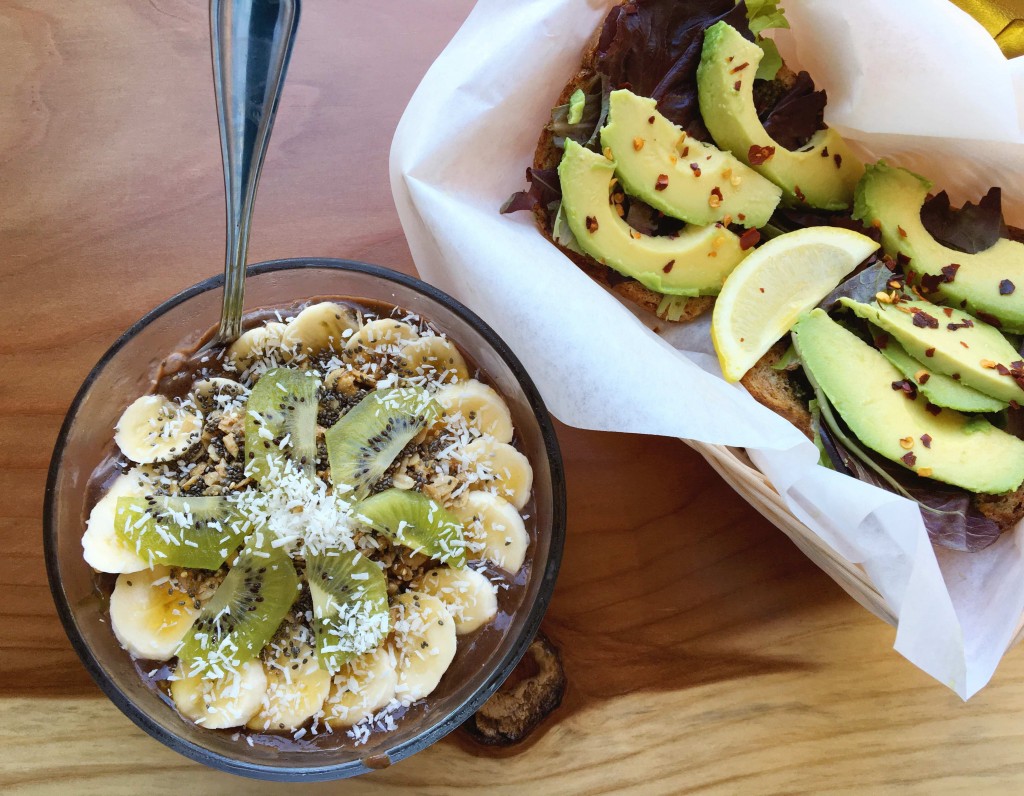 If kale and kombucha are part of your daily dining vocabulary, Vibe Health Bar, which opened March 1st in Oak Park, might just be your new favorite lunch break stop.
Part of a redevelopment project in the building that last housed Broadway Soul Food until it shuttered its doors in July 2015, Vibe is next door to the new Capitol Floats, Sacramento's first float tank relaxation center.
Its simple but satisfying menu is equally as on-trend as its aquatic neighbor. Using all non-GMO, mostly organic ingredients, Vibe crafts creative twists on smoothies, wraps and acai bowls with cheeky names like the Hella Greens, a kale-mango fusion artfully laden with rings of kiwi and bananas, sprinkled with chia seeds. One popular smoothie coined the City of Trees contains a fruit blend—with mango and pineapple—mixed with kale, jalapeños and a sprinkle of Himalayan salt. You'll also find plenty of super-food add-ons like bee pollen, hemp protein and goji berries, as well as vitality drinks like detoxing charcoal shots and a cup of something called Cognitive Coffee, which owner Brandon Brodzky says combines a Chocolate Fish roast with grass-fed butter and lion's mane mushrooms.
"It sounds weird putting mushrooms in coffee," Brodzky says. "But it's tasteless and a really amazing super food that helps keep you focused for the day. It's our version of a Bulletproof Coffee (a popular coffee drink made with butter that purports to boost energy more than your average cup of joe, and help with weight loss), and people have been going crazy for it."
But one of the restaurant's most popular dishes may be Sacramento's best avocado toast: two slices of seeded wheat bread spread with a homemade pistachio pesto, topped with thick slices of avocado and a sprinkle of crushed red pepper flakes. It's served open-faced with a lemon slice for that added zing.
Brodzky, an Auburn resident and the CEO of consulting firm Invision, along with his wife Rachel and their partner Blake Houston, who lives in Oak Park, have spent the last few years working on developing the menu and concept for Vibe, traveling throughout southern California in search of inspiring acai bowls.
"This is a passion project for us," Brodzky says. "We believe people need more access to healthy food quickly. This is the future. Our vision is that we're basically not going to put anything in anyone else's body that we wouldn't put in our own."
Brodzky says that mission also extends to using fruits and vegetables locally through Produce Express, which sources from farms throughout the region. At the register, you'll find corked glass jars of local wildflower honey from the Delta region's 1919 Honey farm.
With a sunny, cozy space featuring a long tree trunk bar along westward-facing windows and a mod touch of succulent planters decorating the walls, Vibe joins the up-and-coming Broadway Triangle neighborhood of Oak Park, where its neighbors include Oak Park Brewing Company, The Plant Foundry nursery and local boutique Display: California, all of which opened within the past two years.
"We thought if we're going to make an impact and put this thing on the map, let's do it in an area that could really use a boost from this type of food," Brodzky says. "Oak Park is such a cool community; it's walkable, it's got history and the reception from people living here has been great."
3515 Broadway. 382-9723. vibehealthbar.com
You Might Also Like
Three sweet new ice cream shops
New one-stop spice shop to open in downtown Sacramento
Five buzzy new coffee shops around the Sacramento region