First Look: Woodlake Tavern serves up comfort food with exciting twists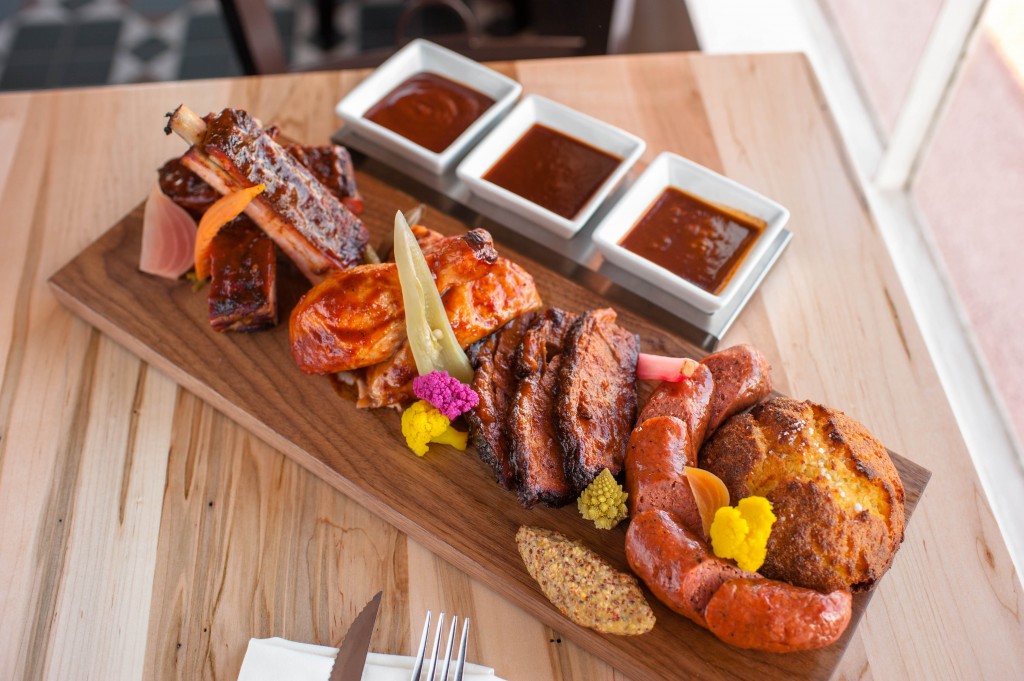 The idea of exciting comfort food may sound like an oxymoron, but the new Woodlake Tavern, which opened in January in a charming single-story Art Deco building on a triangular corner of Del Paso Boulevard in North Sacramento, amply demonstrates that culinary solace can be more like cashmere and less like flannel.
Take the chicken pot pie, a dish that every former latchkey kid remembers heating up out of the freezer after school: a gloppy gut bomb that's warming and filling but about as bland as a rerun of The Partridge Family. But here, chef Matthew Strauss's pot pie is about as far from that experience as it gets, featuring a flaky top crust glistening with egg wash that breaks under your fork like the sugar on a crème brûlée and yields to a delicate smoked-chicken and curried vegetable stew. The dish is just as warm and enveloping as childhood memory would have it be, but tastes and feels so much better—in a way that makes you glad to be an adult.
The shrimp and crab cake on the appetizer menu is traditional, lightly bound with a crispy panko crust and dressed with a classic remoulade, but it gets a burst of excitement from its garnishes: a slice of fried lemon and a tiny fried gherkin. The lemon flavor lit up the whole dish, teasing out the silky subtlety of the remoulade. On the next visit we'll be bold and request an extra slice, so as to have enough to accompany every bite.
The space's former occupant, Cask & Barrel, was a barbecue joint, and Woodlake has seen fit not to disappoint local carnivores. The combination BBQ plate, which is as refined and pretty as any sushi platter, includes that memorable smoked chicken, tender pork ribs, house-made sausage and a brisket that's so cleverly rubbed and roasted you won't want to obscure the pungent, aromatic char with sauce (the dish comes with a trio of house-made variations, which you can always sop up with your corn muffin). This is barbecue filtered through a fine dining lens, a refined plate of food that refreshes the concept without losing its essential humility.
Woodlake serves up perfect rainy-day food, for certain, but when the patio opens in warmer weather, there will be all the more reason to consider this a destination, somewhere to linger with friends over drinks and dinner. The bar menu boasts an impressive selection of hard-to-find spirits (with a whole page devoted to whiskeys), and the bar itself is the focal point of the horseshoe-shaped dining room. The place seems to be finding its stride already as a neighborhood bistro, as a weeknight finds a handful of locals ensconced at the bar swapping their own backyard barbecue recipes over cocktails, sandwiches and small plates.
None of this deft proficiency is surprising, given that Woodlake's owners are Deneb Williams, formerly the executive chef at the Firehouse, and his wife, Elizabeth-Rose Mandalou, who was a sommelier at Ella. The couple plans to open Uptown Pizza Kitchen in an adjoining space this spring, staking their claim in the slowly gentrifying Del Paso neighborhood.
1431 Del Paso Blvd. 514-0405. woodlaketavern.com
You Might Also Like
Woodlake Tavern opens at former Cask & Barrel spot in North Sacramento
A Food Network-featured pastry chef opens a French bakery in Folsom
Flaming Grill Cafe expands to West Sacramento