First Take: Bold, traditional flavors reign supreme at Carmichael's Mesa Mercado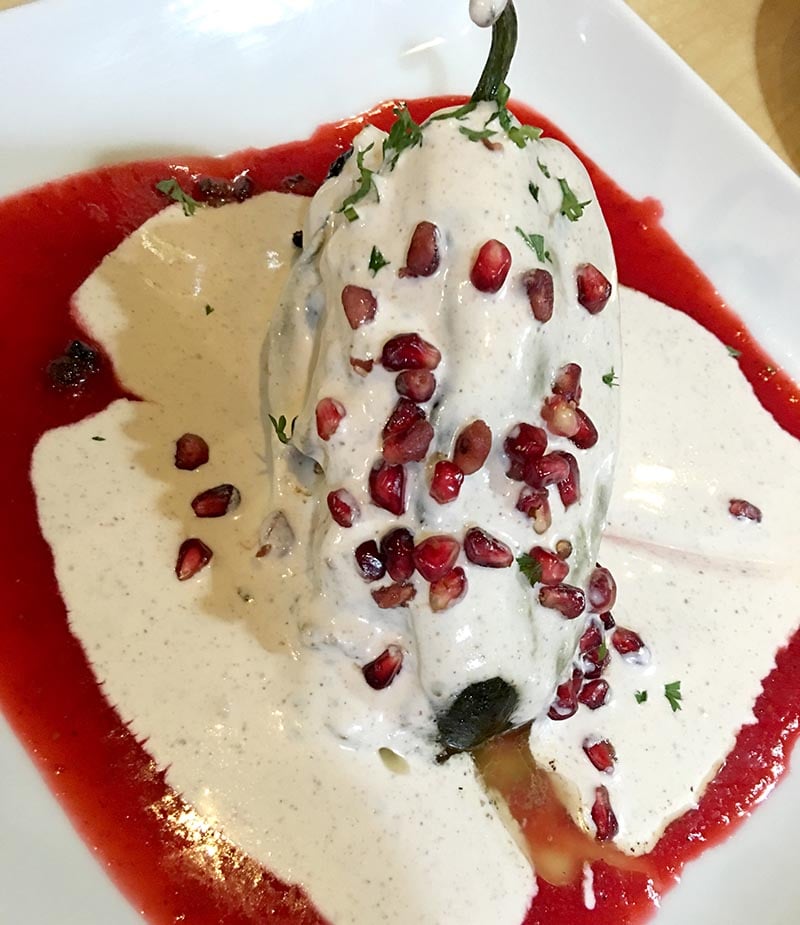 You know you're in a "real" Mexican restaurant when you see chile en nogada on the menu. A roasted pasilla chile stuffed with raisin-studded ground beef picante, blanketed with walnut crema and sprinkled with bright red pomegranate seeds, it's a visually stunning salute to the colors of the Mexican flag, as pretty as any dessert, especially the way Mesa Mercado serves it, atop a bright red pool of pomegranate sauce.
This classic Mexican dish isn't on nearly as many American menus as it should be. "That's because it's traditionally served at room temperature," says owner Ernesto Delgado, and Americans, for no clear reason, seem to expect their food to be hot or cold but never in between. Delgado's work-around is to offer it as an appetizer, and it is his new restaurant's showpiece.
Weeks after its grand opening on Sept. 1 in Carmichael's Milagro Centre, Mesa Mercado has clearly lost no time becoming a neighborhood staple, with a 40-minute wait for a table at 7 p.m. on a Friday (it doesn't take reservations yet). While the space is colorful and eclectic (Delgado studied design at Sacramento State), with bright geometric tiles at the bar, carved booth backs, a striking mural and tropical plants sprouting from the tile floor, it's still a work in progress, with areas at the back currently taped off and under construction.
When the build-out is complete, a taco bar and a Mexican foods market will join the sit-down restaurant. Delgado's other establishment, downtown's Tequila Museo Mayahuel, puts more emphasis on tequila, with flights and tastings and a creative menu. (The restaurateur is also working a third project, La Cosecha by Mayahuel, which is slated to open in early 2017 at Cesar Chavez Plaza.) While Mesa Mercado is not a tequila museum, its cocktail menu is still well curated and tequila-centric. The house margarita is fresh and quaffable, finished with chile on the rim instead of salt and a slice of watermelon as garnish. The El Senor Ernesto is more exotic, an herbaceous, smoky mescal martini served with feta-stuffed olives on a rosemary skewer, the rim of the glass dusted with black sea salt. It tastes like autumn.
As well as it serves its neighborhood, Mesa Mercado—which executes traditional Oaxacan dishes, what Delgado calls "market-to-table Mexican food," with aplomb—is also a destination, and would be on the strength of a single dish: the mole Oaxaqueño. Balancing up to 50 ingredients is a feat for any chef. Mole can so easily turn dusty, or sour, or sticky, or end up like a mouthful of kryptonite—so heavy and dense that you can feel it sapping the life force out of you even as you swallow. Even good moles sometimes feel onerous after three or four bites.
Mesa Mercado's version is none of the above, managing both depth and a springy lightheartedness—you just have to keep eating and eating as you plumb the layers of bright acidity, sultry, roasty nuttiness and mild heat. Before you know it, you're sopping up the last bit with a hot tortilla. The mole sauce is served over the perfectly cooked chicken breast. We literally did a double take, checking the menu to make sure it really did say "chicken breast," because the meat has the falling-off-the-bone tenderness of a simmered bone-in chicken thigh. The gaminess of dark meat would have fought back against the dark complexity of the mole, so kudos to the chef for finding a way to present clean-flavored white meat with just the right succulent texture.
When asked for his favorite menu item, our server recommended tacos dorados de papa—deep-fried tacos stuffed with gently spiced mashed potatoes and topped with lettuce, tomato and sour cream. Popular in Mexico as both a home food and street food, one can imagine anyone who grew up eating these would have the same attachment to them that Americans do to a classic grilled cheese.
But perhaps the best dish of all is one that would be easy to overlook. The sopa de hongos, a humble mushroom soup, is a mellow, subtle bowl that is equal parts umami and sweet—the umami coming from chicken stock and white button mushrooms, the sweetness from long-simmered onions and fresh chopped garlic. The flavor is distinctly Mexican in a way that's hard to place. Delgado explains that it's simmered with whole guajillo chile, which imparts flavor but little heat, providing the soup's backbone and gravitas, like a barely heard baseline thrumming along below a lush melody.
Other menu items include tacos al pastor, vegetarian tacos, carnitas, ceviche, fish, steak, enchiladas and tamales. Usual suspects for a mid-range suburban Mexican restaurant to be sure, but if a sampling of the al pastor taco is any indication—spicy pork tucked inside blue corn tortillas with roasted pineapple salsa and slivers of radish—expect to find a creative spin on a classic dish with every plate.
Open daily for dinner and lunch on weekends. 6241 Fair Oaks Boulevard. Carmichael. 283-4081. mesamercado.com
You Might Also Like
First Look: The new Saddle Rock brings a Gold Rush of flavor to midtown
Devine Gelateria & Bakery expands to East Sacramento
Jewish Deli to open on 700 block of K Street