Five fruit-filled farms to visit during Mountain Mandarin Orchard Days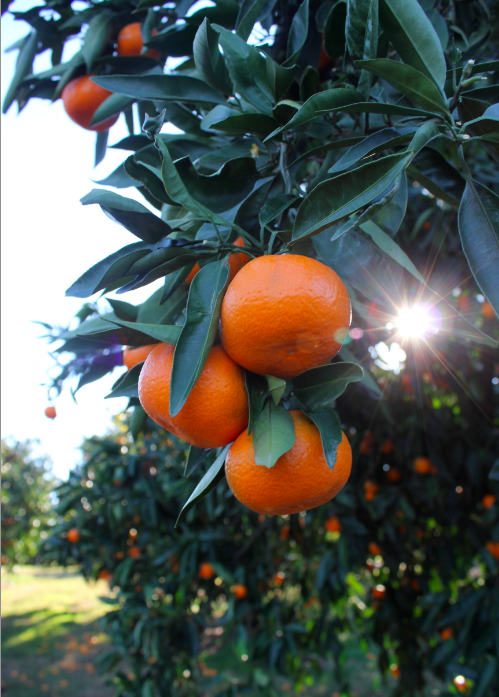 Starting on Deb. 6, for two weekends in December during the annual Mountain Mandarin Orchard Days, dozens of mandarin farms in Placer County will open their doors to the public for activities like grove tours, tastings of mandarin-infused jam and olive oil, hay rides and scavenger hunts for kids, and of course your pick of the locally famous orange fruit. Here are the juicy details about what's going on at five of the featured farms.
Colwell Thundering Herd Mandarin Ranch and Tasting Room
Food lovers visiting this ranch in Penryn will be able to taste everything from mandarin-crushed olive oil and cabernet chocolate sauce to three-nut Kentucky bourbon brittle and orange blossom honey. Take a tour of the 3-acre mandarin grove and meander back to the tasting room to purchase the fruit, browse locally made art and jewelry, or sip wine from Loomis-based Casque Wines. 2500 Penryn Rd. Penryn. 672-7451. mandarinoliveoil.com
Highland Orchard
This 10-acre Penryn-based orchard, known for growing sweet, plump Owari Satsuma mandarins, will be selling the easy-peel fruit in 5- and 10-pound bags or 25-pound boxes, as well as fresh kettle corn and a variety of mandarin-infused goodies like mandarin toffee and fudge, and mimosa jelly. Browse locally made quilts and tabletop Christmas trees decorated with mandarins and let the little ones take a kiddie horse ride or a spin on the miniature carousel. 2170 Aguilar Ln. Penryn. 663-3897. highlandorchardmandarins.com
Mandarin Hill Orchards
Take a guided walking tour or a hayride through this 70-year-old orchard and watch a 1950s-era fruit-sorting machine divvy up the plump orange fruit inside the orchard's fruit shed. Kids can meet alpacas at a petting zoo while you pick up gift items like mandarin-infused honey or mandarin marmalade. Visitors can nosh on complimentary hot dogs or purchase a homemade tamale, and on Dec. 20 and 21, Auburn-based Lone Buffalo Vineyards will be offering wine tasting at the orchard. 2334 Mandarin Hill Ln. Penryn.
663-3852. mandarinhillorchards.com
Struble Ranch
Explore the orchard boasting more than 300 Owari Satsuma and Clementine trees that have been growing on this family-run ranch for 60 years and pick up a 7-, 10- or 20-pound bag of the ripe orange fruit. And don't miss the farm's other fruits and treats for sale, like dried Asian pears and persimmons, and jam made with local fruit like spiced peaches and Santa Rosa plums. Visitors can also view Struble's collection of vintage tractors and farm equipment, as well as hand-painted barn quilts. 4927 Hansen Rd. Loomis. 652-7503. strubleranch.com
Sunset Ridge
At this bucolic 20-acre mandarin orchard in Newcastle, replete with a picnic area and views that stretch out to the Sutter Buttes, you'll be shown how to properly clip the citrus fruit from the trees before you head into the grove with a bucket to pick your own. Kids can partake in an orchard scavenger hunt and grown-ups can feast on a barbecue meal washed down with Loomis Basin Brewery's mandarin wheat beer. Plus, visit the old-fashioned country store selling fresh-squeezed mandarin juice and local goods like wildflower honey, mandarin-infused barbecue sauce and mandarin olive oil. 7825 Fox Hill Ln. Newcastle. 663-9158. gotmandarins.com
Mountain Mandarin Orchard Days will take place Dec. 6, 7, and 20 and 21 from 10 a.m. to 4 p.m. For a growers' map and complete list of mandarin farms, visit mountainmandarins.com.