Five fun things to do for Day of the Dead in Sacramento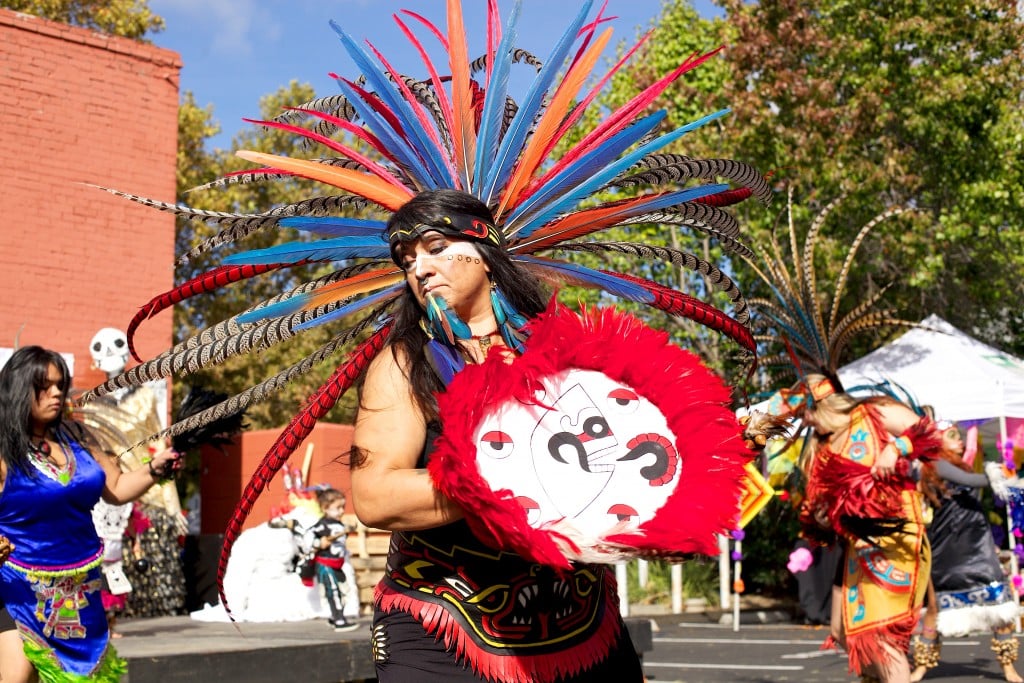 For 3,000 years, communities have celebrated the memory of departed loved ones on Día de los Muertos (Day of the Dead) with elaborate altars, food, parades and dance. Observe this timeless tradition at one of these five local events for the living.
El Panteón de Sacramento
Oct. 31-Nov. 1 Midtown's La Raza Galeria Posada brings classic Día de los Muertos traditions together with the spirit of Mexico at this sixth annual El Panteón (the cemetery) of Sacramento. This two-day event (that drew more than 5,000 attendees last year) will feature an altar created by local community members and artists, as well as a parade and a 12-piece street band with a Mexican flair. Marigolds will be available for altar offerings to help guide spirits home, along with pan de muerto (a traditional sweet roll) and sugar skulls. Make sure to pay respects to the six giant puppets in attendance for the first time this year, which are reminiscent of the puppets used in the celebrations in Michoacan, Mexico. Free. Sat. 11 a.m.-11 p.m. Sun. 8 a.m.-6 p.m. Midtown Sacramento at 21st and J Streets. 446-5133. Lrgp.org
5th Annual Día de los Muertos at the Davis Cemetery and Arboretum
Nov. 1 A procession to the four corners of the Davis Cemetery honoring ancestors and the earth's four elements will kick off this fifth annual event, which will also feature traditional staples like an altar, hot chocolate and pan dulce (a Mexican sweet bun with streusel topping), and a cultural dancing demonstration by Kalpulli Tlayolot. Mariachi Puente and the Free Range Singers will provide live music, and Los Escritores del Nuevo Sol and Francisco X will conduct a poetry reading. The event will close with traditional and contemporary Latin music by Davis-based band Zapato Viejo. Free. 11 a.m.- 3 p.m. Davis Cemetery. 820 Pole Line Rd. Davis. 530-756-7807. daviscemetery.org
Día de los Muertos Fashion Show
Nov. 1 Local fashion designer Rory Castillo offers his take on this hallowed day with a fashion show at Tequila Museo Mayahuel, featuring costumes inspired by ancient Aztec traditions as well as models representing the gods and goddesses of Aztec legends like Mictecacihuatl, the queen of the underworld. Before the action begins on the catwalk, watch as a dancer representing the goddess of fire, Chantico, blows flames and spins flaming batons. The event will also feature more traditional offerings of stories, art and classic Mexican folk songs. $20. 8-10 p.m. Tequila Museo Mayahuel. 1200 K St. 769-8342.
Souls of the City: Día de los Muertos 2015
Nov. 1 Old Sacramento will come to life for this Day of the Dead event put on by Sol Collective and the Sacramento History Museum. The traditional ceremony will feature a large altar and a procession with Aztec dancers from the Instituto Mazatlan Bellas Artes Dance Company. In between sugar skull and mask making, check out arts and crafts available from local makers while listening of Los Angeles Cumbia band Buyepongo. Free. 6-10 p.m. Sacramento History Museum. 101 I St. 808-7059. sachistorymuseum.org
Día de los Muertos at Zocalo
Nov. 2 Midtown's Zocalo will blend the cultural aspect of Day of the Dead with the flavors of Mexican cuisine for this celebration, whose centerpiece will be a tasting featuring seven different Oaxacan varieties of mole—the Mexican state is famous for the rich smokey sauce made with chilies, plantains and chocolate—and a mezcal-inspired cocktail. Along with an altar, the eatery will offer face painting while staff will be in costume as "Catrinas," one of the most recognizable skull images associated with the holiday. $25. Mon. 6 p.m. Zocalo. 1801 Capitol Ave. 441-0303
You Might Also Like:
Six big ways for little ones to celebrate Halloween
Eight haunted attractions scare up some fun this Halloween season
Gorge on autumnal fun (and pie!) at these eight Sacramento-area pumpkin patches