Five fun ways to experience whitewater rafting this summer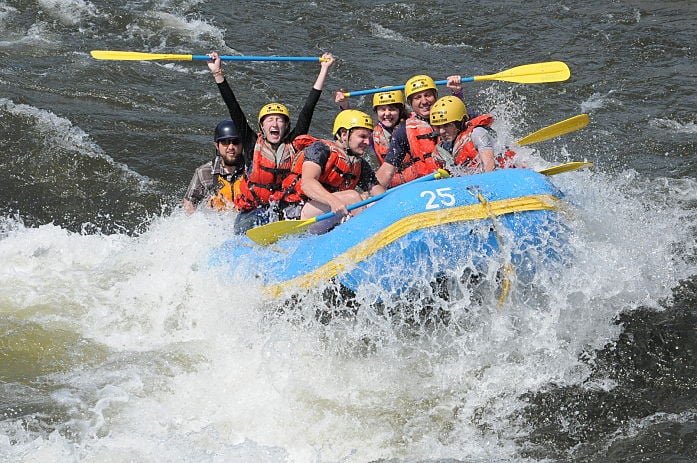 Summer is on, and whitewater rafting is alive and well in the wake of California's historic drought.
Despite the lack of rainfall and snowpack, the South Fork and Middle Fork of the American River are still churning with rapids, thanks to their locations downstream of hydro-electric dams, which are required to release water on a schedule to generate electricity for the surrounding communities.
"[SMUD and PG&E] have to release the water anyway, they are just doing it within a certain time frame so we might have this other recreational possibility, and also satisfy the natural environment and generate power," says Arnie Chandola, owner of American Whitewater Expeditions. "It's a big cycle and the rafting is only a small part of it."
The American River is one of the only rivers in the state that can be rafted on this season. From now through Labor Day, the dams' releases generate rapids on its South Fork from Thursday to Monday, and on the Middle Fork from Friday to Sunday and on Tuesday.
With more than a dozen rafting companies offering trips on the 21-mile South Fork and 18-mile Middle Fork of the American River in the area, there are a ton of options for veteran rafters, wet-behind-the-ears newbies and outdoor adventure-seekers alike. (Beginners are recommended to start with South Fork, which has class III rapids and more seasoned oar-wielders can jump into Middle Fork, which boasts class IV rapids.) Packages range from $85 per person for a half-day of rafting to $399 per person for a three-day excursion, which includes meals, camping and 36 miles of thrilling river excitement.
For those looking for a slightly more unique experience, we found five industry leaders in the area who add a little extra to their summer lineups.
American River Raft Rentals
If drifting is more your speed, American River Raft Rentals provides rafts for groups from four to 12 (as well as single and double person kayaks), paddles and life vests, and lets you sail away on the Lower Fork of the American River. These tours are self-guided, but the short (and still thrilling) San Juan rapids shouldn't give any rafter too much trouble. $65-$175 for raft rentals. American River Raft Rentals. 11257 S. Bridge St. Rancho Cordova. 635-6400. raftrentals.com
American Whitewater Expeditions
Adventurous oenophiles can take advantage of the overnight Wine & Whitewater tours from American Whitewater Expeditions. Your group starts at base camp in Coloma and is shuttled around to explore El Dorado County wineries such as Madrona Vineyards, Lava Cap Winery and Gold Hill Vineyard & Brewery. After sipping your fill, head back to camp for dinner, complete with barbecued tri-tip, chicken and fish, and sides like corn and Caesar salad. You'll spend the night in tents at base camp and then rise early on day two to take on crashing rapids on either the South Fork for the Middle Fork. Wine & Whitewater tours start at $300 per person; rafting trips start at $89 per person. (530) 642-0804. americanwhitewater.com

O.A.R.S. offers multiple trips on the American River.

OARS
This global adventure company offers a heart-thumping full-day ride down the Middle Fork of the American River, with class II and III rapids greeting you soon after push-off before the raft plummets down Tunnel Chute, a narrow tube of river that thunders between granite walls boasting class IV rapids that ends in 200-foot-long underground tunnel. After conquering more rapids with names like First Flip and Kanaka Falls, OARS treats riders to a riverside gourmet lunch. OARS, based in Angels Camp, also offers rafting excursions around the world, but its other California treks include trips down the Merced or Tuolumne rivers in Yosemite, or the Klamath River near the Oregon border. $155-$175 per person for the Middle Fork trip. (209) 736-4677. oars.com
Whitewater Connection
Parents with kids too young to raft need not miss out on the action. Whitewater Connection offers a discounted "shared parenting" two-day trip in which parents get to take turns rafting while the other hangs out with the kids. Available on the South Fork of the American, one parent battles rapids on the first day while the other stays at Whitewater Connection's private campgrounds and partake in outdoor activities like horseshoes, volleyball, fishing at one of the grounds' six river access points or take a 10-15 minute walk to Marshall Gold Discovery Park, where little ones can learn historic facts like how James Marshall first found gold here in 1848. The second day, the parents switch off, but the entire family enjoys multiple meals together during the weekend. $341.50-$421.50 for two parents. Rafting trips start at $95 per person. 530-622-6446. whitewaterconnection.com
Whitewater Excitement
Get comfortable with going solo with Whitewater Excitement's whitewater kayaking lessons. The narrow vessel only has room for one, so lessons start out on dry land and slowly graduate to the water, where instructors teach hip control and how to do a "wet exit" (in which the boat flips over and can't be upturned), and then to more advanced currents, where kinetic kayakers can get their feet wet before turning loose on the thunderous rapids. Kayak lessons start at $100; rafting trips start at $85 per person. (530) 888-6515. whitewaterexcitement.com
You Might Also Like
Walk These Ways: 10 of the best hikes in the region
50 great things to eat, do and see in Lake Tahoe