Five fun ways to spin your wheels during National Bike Month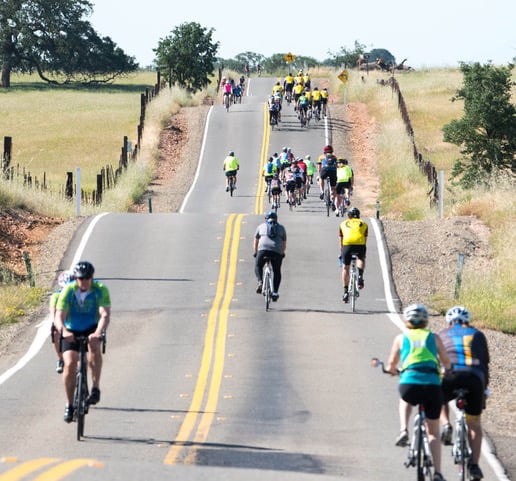 Sacramento has party bikes, food and flower delivery by bicycle and last, but not least the incredible American River Bike Trail. May is the perfect time to celebrate the city's growing cycling culture, as the 2017 Amgen Tour of California kicks off its big race at the Capitol this month and the weather turns just right for an epic bike ride. There are dozens of events taking place surrounding Sacramento's 12th annual "May is Bike Month" campaign, but we found a few highlights to kick you into gear, whether you're an avid cyclist or haven't ridden solo since your training wheel days.
May is Bike Month Kick-Off Event
May 1 Last year, over 10,000 people accepted the May is Bike Month challenge, which was created to encourage Sacramentans to swap four-wheeled trips for eco-friendly two-wheeled trips. The 2017 event series will kick off with this morning festival at Fremont Park, where you can sign up for the month-long biking challenge and grab some coffee from Insight Coffee Roasters and pastries from Magpie cafe while the Sac Bike Doctor checks your tire pressure. A DJ will be spinning music and cycling enthusiasts can nab giveaways like May is Bike Month T-shirts and socks. Free. 7-9 a.m. Fremont Park. 1515 Q St. mayisbikemonth.com
BikeParty: Cartoon Madness
May 5 Come dressed as Scooby Doo, Homer Simpson, Catwoman or another of your favorite cartoon characters for this 21-and-older party on wheels, hosted by monthly meetup group BikeParty Sacramento. Between 200 and 400 riders are expected to decorate their wheels with glowing lights and streamers and join this colorful bike brigade on a 12-mile route through the city that begins at Sutterville Bicycle Company, where you can fuel up with hot dogs from Joe's American Classics and meet fellow riders before parading through the streets with music blaring and bicycle horns honking. Free. 7-11 p.m. Sutterville Bicycle Company. 2365 Sutterville Bypass. 737-7537. mayisbikemonth.com
Sac Brew Bike "Tour de Capitol" Charity Race Ride
May 7 Show off your pedal power at this inaugural event, which will pit teams of six to 15 riders against one another in a spirited time-trial race on a 10-pedal brew bike, starting in midtown at the Sac Brew Bike bar and looping around the State Capitol on a heart-pumping two-mile route. Participants can don funky costumes that show off their team spirit, blast music from their bike and BYOB for some liquid courage. The registration fees will be pooled and the top two teams with the overall fastest times will receive checks for the local charity of their choice. Ride on! $250 for team registration. 9 a.m.-6 p.m. Sac Brew Bike Bar. 1519 19th St. 952-7973. sacbrewbike.com
Capitol BikeFest
May 11 The West Lawn of the State Capitol will fill up with hundreds of new and veteran bicyclists during this 13th annual festival. Park your cruiser or Cannondale at the Sacramento Area Bicycle Advocates free bike valet or drop it off at a quick-fix maintenance booth while you browse dozens of tables, with local bike shops, nonprofits and clubs handing out information. Chocolate Fish Coffee Roasters will be pouring its refreshing nitro coffee and May is Bike Month participants who present their mileage log sheet will receive a Hagen's fruit freeze, a commemorative T-shirt, and a raffle ticket for the chance to win one of two commuter bicycles and biking accessories like messenger bags and water bottles. Free. 11 a.m.-1 p.m. California State Capitol West Lawn. 10th St. & Capitol Ave. 737-1513. mayisbikemonth.com
Johnny Cash Folsom Prison Blues Bike Ride
May 28 Open to all ages and experience levels, this scenic eight-mile ride begins in Historic Folsom, where you can fuel up on complimentary coffee, juice and pastries before crossing Truss Bridge over the American River and pedaling by Folsom Lake. The ride offers photo-ops with a cardboard cutout of the Man in Black along the way and continues onto the Johnny Cash Trail near the east gate of Folsom State Prison—where the country singer famously performed two concerts in the 1960s—before returning to Historic Folsom. Participants are encouraged to celebrate Cash by wearing black, and on this commemorative ride, no one will complain if you break out your rendition of "Ring of Fire" as you pedal along. Free. 9:30 a.m.-12:30 p.m. Historic Folsom Station. Corner of Reading St. and Folsom Blvd. Folsom. 852-7409. mayisbikemonth.com
For a complete list of May is Bike Month events, visit mayisbikemonth.com.
You Might Also Like
Spinning Our Wheels: Why Sacramento needs safer urban cycling options
Ready Set Glow: Sactown's idea for installing glowing bike paths
Spin City: 10 of the best bike rides throughout the region