Flights of Fancy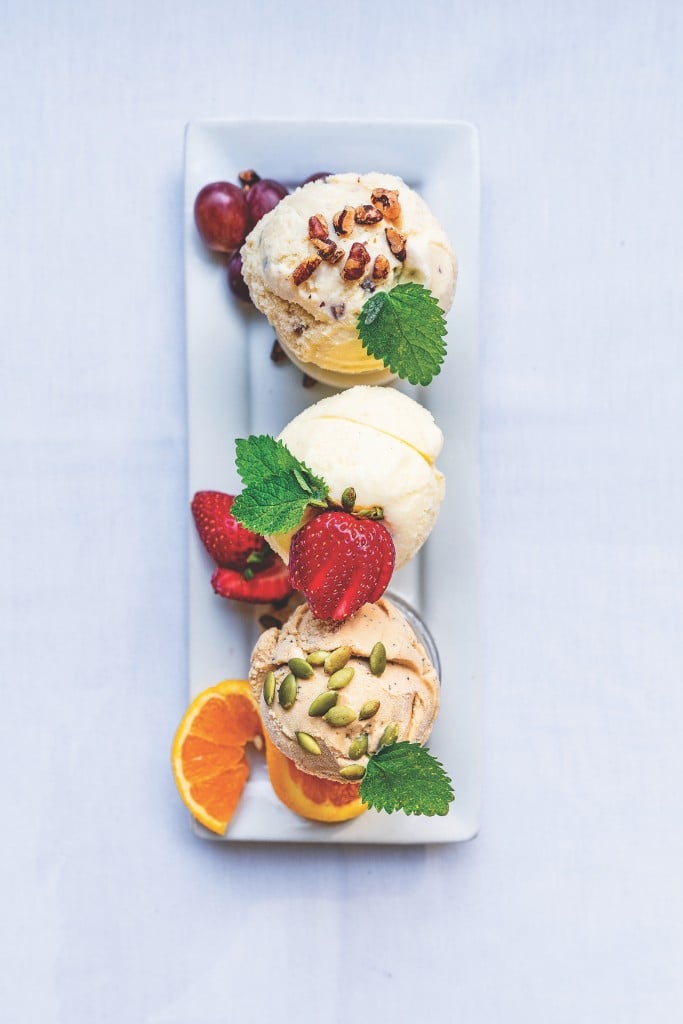 Food flights! From a trio of house-made ice cream to a quartet of bacon strips and a quintet of frozen cocktails, we've got eight great medleys that are triple (or quadruple or quintuple) the fun. Sacramento, get ready for takeoff.
Photographs by Anna Wick
Flight of Floats
Alaro Craft Brewery has already carved out a nice niche for itself in the six months since it opened: pairing a panoply of tasty tapas with flights of classic craft beer is just the kind of short-attention-span theater we crave these days. And come time for dessert, the carousel of choices doesn't slow down one bit. The midtown brewpub lets revelers combine house-made La Luna oatmeal stout or Maine Root organic root beer with soft serve from Petaluma's Straus Family Creamery in vanilla, dark chocolate or swirl to create a quartet of different beer floats.
Opposites attract, and we love the rich, sweet chocolate dolloped into spicy root beer, and likewise the complex La Luna nitro, brewed from four varieties of oat, is gently tamed by creamy vanilla. "Oatmeal stout on nitro is a perfect blend with that ice cream," says Alaro owner Ray Ballestero. "It doesn't have the high carbonation of a traditional beer, so it just gives [the drink] a really velvety, beautiful texture and makes a superior float." Fans of intensity will love the flavor bomb of dark chocolate paired with stout, while kids (and kids at heart) will gravitate toward the time-honored root beer float with vanilla. Luckily, spoiled for choice like this, you can satisfy your inner child and your outer urban sophisticate all in one sip. $10. 2004 Capitol Ave. 916-436-7711. alarobrewing.com —Curtis Yee
Trio of Macs
Typically when you think of mac and cheese, you think of two ingredients: macaroni and cheese. But when Iron Horse Tavern's executive chef Christian Palmos was crafting the R Street restaurant's menu in 2015, he decided to get creative with the nostalgic comfort food.
"You add stuff to burgers, right? So I was like, 'Why don't I do a mac and cheese bar and come up with a sampler?' " remembers Palmos, who also oversees the kitchens at other establishments owned by Mason, Curtis and Alan Wong like Cafeteria 15L and Mas Taco Bar.
Thus the Trio of Macs was born. The chef uses campanelle noodles and a four-cheese sauce (a blend of Parmesan, sharp white cheddar, fontina and Gruyère) as the base for eight different variations, from which you choose three—our faves include the mildly spicy jalapeño, the decadent lobster with succulent segments of shellfish, and the breakfasty bacon and egg ("It reminds me of a carbonara," says Palmos, recommending that diners break the sunny-side-up egg yolk and mix it into the pasta). While the flight—served in adorably tiny cast-iron pans atop a rustic wooden paddle—may look kid-sized, one bite (or three) and you'll know that this is not your childhood mac and cheese. $11.50. 1800 15th St. 916-448-4488. ironhorsetavern.net —Jessica Rine
Sausage Board
For LowBrau's executive chef Brock Macdonald, crafting sausage is a sacred act: ritualistic, meditative and requiring focus and devotion. "It's kinda like going to church," he says. "You follow the procedure, and you'll get the same results." Those results—the crisp snap of the casing, the burst of meaty juices in every bite—are worshipped daily by throngs of LowBrau faithful.
The wide variety of religious experiences on offer—flavors range from sweet to savory to spicy to uncommon—can make it hard to choose just one. So we say, don't. Order the signature sausage board and pick three (or six) links from the nine types that the midtown beer hall features on the menu. Try the standout chicken, feta and herb sausage, affectionately named Action Bronson after the foodie rapper, or the old-fashioned Polish, a fatty pork dog shot through with mustard seeds and dusky Hungarian paprika. Non-carnivores can join the party too, with vegan choices like the Italian made with eggplant, fennel and garlic. Don't forget to get a side of the thick and gooey house bier cheese for dunking, or the tangy sauerkraut. Either way, you'll find yourself saying "amen" after every sinfully delicious bite. $22 (for three sausages) or $40 (for six links). 1050 20th St. 916-706-2636. lowbrausacramento.com —Curtis Yee
Poke Trio
"Poke is just a cheaper, faster way of eating sushi," says Kru's chef-owner Billy Ngo of the Hawaiian-Japanese food trend that's been sweeping the mainland over the last few years. Poke joints are popping up everywhere, including landlocked Colorado—Ngo himself opened his third Fish Face Poke Bar last year, in Emeryville's Public Market.
Meanwhile, the Poke Trio at Kru has been elevating the circa-1800s fisherman's recipe of deboned and cubed raw fish, seaweed, shoyu and oil since the East Sacramento restaurant's early midtown days. Raw ahi tuna, hamachi (yellowtail) and tako (octopus) are separately tossed with spicy chili oil, ponzu and wakame seaweed. Each tasty tangle is gently heaped into one of three concave indentations on a white rectilinear plate. An identical plate featuring scant amounts of three different flavor wallops—green-tea salt, seven-spice salt and ground-nori salt—is served alongside the main event. Ngo says that no specific salt is meant to accompany any one poke; using your chopsticks, just daintily dip a pinch of fish into any dusting you want. Think of this as Choose Your Own Adventure, poke edition. "I like eating this way because it's light and healthy and my palate doesn't get bored," says Ngo. "You can't say that about a 16-ounce rib eye." $15. 3135 Folsom Blvd. 916-551-1559. krurestaurant.com —Leilani Marie Labong
Trio of Fries
Often relegated to sidekick status on plates where burgers and sandwiches hog the spotlight, the humble fry takes center stage at Cafeteria 15L, which features a showstopping platter of three mini metal buckets lined with newsprint and overflowing with garlic fries, barbecue fries and sweet potato fries.
Executive chef Christian Palmos remembers leaving no potato unturned in his search for the perfect frites, tasting more than a dozen different fry variations when conceiving the dish for the downtown eatery's opening menu in 2010.
His research paid off. The sweet potato fries are pillowy on the inside and retain a crackly crunch on the outside, while the shoestrings are hot, crisp and flavorful. Each version is ideal for dunking into a threesome of dipping sauces: creamy buttermilk ranch, spicy sriracha-and-sambal aioli and, yes, ketchup. "You gotta serve ketchup with French fries or someone would kill you," says Palmos. (Pro tip: Ask for the house-made version infused with rosemary.) With so many potential spud-sauce combos to play with, we bet you can't eat just one strip. "These fries are addicting," the chef adds. $10.75. 1116 15th St. 916-492-1960. cafeteria15l.com —Jessica Rine
Frozen Cocktail Flight
You know the saying, "It's five o'clock somewhere"? Well, Sail Inn's motto might be, "It's summer somewhere." The maritime-themed West Sacramento hangout debuted a flight of its innovative frozen cocktails in May as a heat-beating novelty, but the item proved so popular that co-owner Wayne Morse and general manager Matt Gonzalez decided to keep it on the menu year-round.
Five mason jars arrive at your table on a long block of reclaimed barnwood crafted by Sail Inn regular Aaron Williams. The cool drink assortment includes a rotating lineup of strawberry daiquiri, frozen Jack and Coke, piña colada, fromosa (frozen mimosa), frosé (frozen rosé), and the popular Iceberg Shandy, a dollop of frosé topped off with Scrimshaw Pilsner. "Every time you come in, the flight might be different," says Gonzalez, formerly of LowBrau and Golden Bear. "The beauty of the flight is how creative it is."
No matter the weather, we say bring on the frosé. What could be better to chase away those winter blues than a mason jar full o' sunshine—or five? $16. 1522 Jefferson Blvd. West Sacramento. 916-272-2733. sailinngrotto.com —Vu Chau
Bacon Flight
It may be a while before the entire pig flies, but breakfast's favorite side has achieved liftoff at Awful Annie's. The bacon flight, which has been a soaring success since its debut two years ago, comes in four staple flavors: candied, jalapeño, sweet Thai and smoked cherrywood (or sometimes applewood). "Everybody loves the bacon flight. On a Sunday, we usually sell 60 to 70 orders," owner Jai Baker says.
Behind the scenes, the kitchen staff works overtime to fill the demand. The sweet Thai, for instance, is marinated for an hour in a secret sauce then baked in the oven, creating a deliciously sticky slice that starts out reminiscent of teriyaki and finishes with mild Thai-chili notes, while the candied bacon is coated with a five-ingredient rub that includes brown sugar and chili powder before being caramelized in the oven. And Baker's sons Bryan and Adam (managers of the Lincoln and Auburn locations, respectively) are constantly working on new experimental flavors as well, like a blue cheese version studded with melty crumbles. So far, they've created over 20 different varieties, ensuring that every time we're at Awful Annie's, we'll be in hog heaven. $6. Auburn: 13460 Lincoln Way. 530-888-9857. Lincoln: 490 Lincoln Blvd. 916-645-9766. awfulannies.com —Jennifer Resnicke
Ice Cream Sampler
Forget about the three-scoop ice cream sundae, with its cluttered razzmatazz and cherry on top. When ice cream is as good as the treat handcrafted by The Porch's pastry chef, Tristine McKee, every distinctive flavor deserves to stand alone. The Lowcountry-inspired midtown restaurant's ice cream sampler, with its trio of scoops each heaped in its own mini mason jar, is a three-ring circus for your mouth, packing enough entertainment value (and frozen goodness) for a table of four.
McKee only makes about a gallon of each kind, and once it's gone, she's likely to churn up something entirely new, so don't expect to find the same assortment on the menu twice. But do expect delectable, authentic spoonfuls, such as the caramel apple, featuring Granny Smith apples that have kept a hint of their fresh crunch and a swirl of salted caramel, and the recent pumpkin latte, made with vanilla nut coffee and squash that McKee roasted by hand. "I don't use extracts and stuff like that," she says. "Everything is fresh." And while other flavors might rotate, always available is the signature buttermilk, which is rich and smooth as a Southern drawl with a tangy, twangy finish. I scream, y'all scream, we all scream for this house-made ice cream. $9. 1815 K St. 916-444-2423. theporchsacramento.com —Hillary Louise Johnson