Food Day 2014 hosts renowned chef, tastings, new garden and more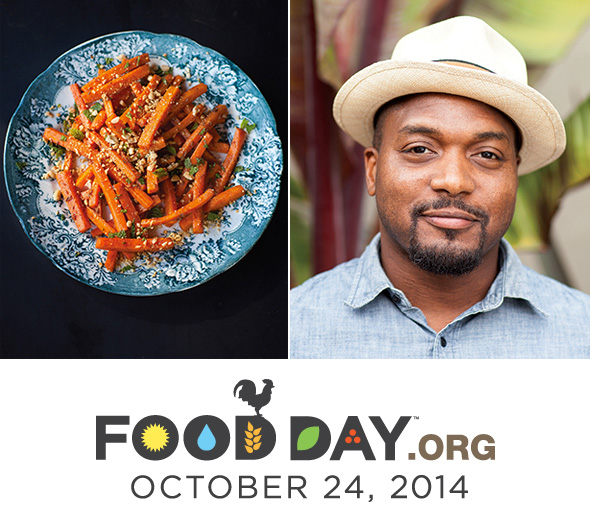 This Friday is Food Day 2014—a national event aimed at inspiring communities to adopt healthier eating choices and food practices—and Sacramento State is getting in the spirit with a free, all-day celebration.
The day will culminate in a keynote address and cooking demonstration from chef and sustainability advocate Bryant Terry, whose African-inspired vegan recipes have been featured in The New York Times Magazine and who will sign copies of his best-selling new cookbook Afro-Vegan.
Other events include a screening of the acclaimed documentary Fed Up (followed by a panel discussion) and the debut of a new organic fruit and vegetable garden, a collaboration between the university and neighboring Capitol Public Radio that will provide fresh produce to food banks and school lunch programs in the area.
Sacramento's event organizer Kirstin Kiesel, a professor of economics at Sacramento State, says guests will be able to meet with regional groups and providers such as Slow Food Sacramento, the Food Literacy Center and Soil Born Farms to learn about—and potentially get involved with—the community of sustainable food producers around the region.
"It's bringing people literally to the table to reflect and discuss our issues in the food industry that we are dealing with right now," Kiesel says.
Throughout the day, guests can also walk to the university's environmental science department, which will have on display an aquaponic planting system that utilizes microorganisms from a fish tank to grow plants without any type of soil.
Food Day isn't just for adults, either: Little ones from both off-campus and the university's Children's Center will be invited to join in the festivities with cooking demonstrations and tastings, where they can learn different ways to eat fruits, vegetables and whole grains at home.
"We hope that our university can play a key role in the discussion," Kiesel says. "But we want everyone in the region, not just students, to feel like they have a voice in moving forward and changing our system with the little choices they make every day."
Free. Fed Up screening at 5 p.m; Bryant Terry keynote/demonstration at 7:15 p.m. University Union Redwood Room. Sacramento State. 6000 J St. 278-7078. csus.edu