Foot Traffic
In an effort to draw attention to climate change and to encourage walking, biking and taking mass transit, a growing number of cities are banning cars in select districts for one day a year. It's time for us to brake for progress too.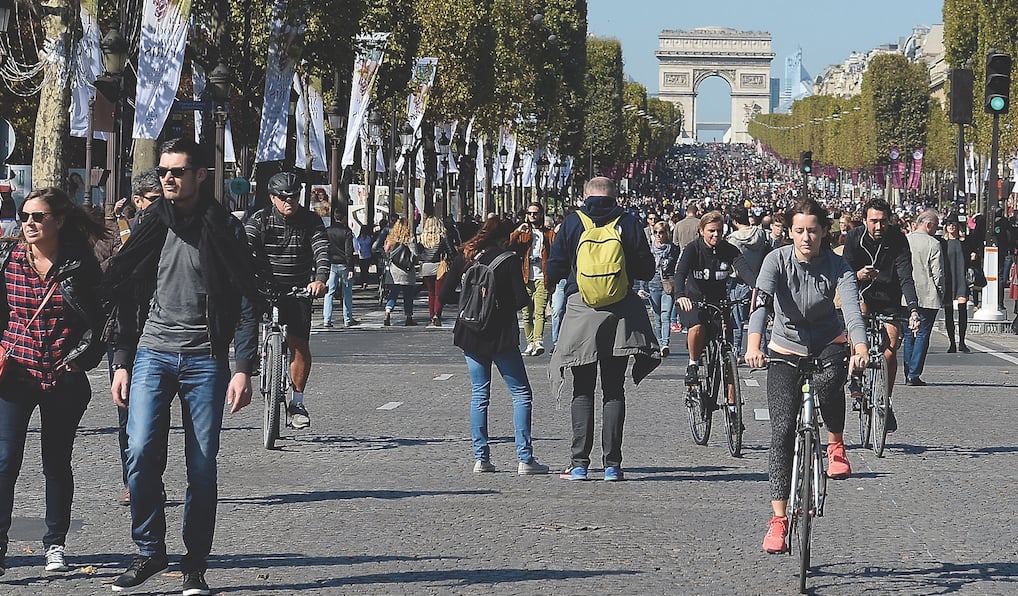 The Idea
As the world approaches a tipping point on climate change, the impact of fossil fuels on the environment is no longer just a global issue, it's a local one. That's why a movement that started in Europe in the mid-1990s—cities hosting "car-free days"—is quickly picking up speed.
This past fall, London Mayor Sadiq Khan closed more than 16 miles of his city's streets—including its Tower Bridge (where a massive yoga class was held in the morning)—and invited the public to spill into those streets for one day. That Sunday, Sept. 22, is known internationally as Car Free Day and hundreds of cities now participate in one form or another. Some do it by gathering pledges from their citizens to walk, bike or take mass transit that day, but increasingly, others are shutting down their streets to spotlight alternate methods of transportation in a more profound way.
For example, both Paris and Brussels closed virtually their entire cities to automobiles during the 2019 Car Free Day, and made all public transit options free.
In the United States, Washington, D.C., which has been hosting an annual car-free event for years, expanded it to two days in 2018 and three in 2019 (from Sept. 21-23), when it closed nearly 3 miles of a busy street for the first time, reserving it exclusively for cyclists and pedestrians. Both Minneapolis and Indianapolis started celebrating Car Free Day in 2016, and New York City's version takes place in April on Earth Day each year—in 2019, the city closed 30 blocks of Broadway to all vehicles.
The Players
In D.C., the Washington Metropolitan Council of Governments launched the district's car-free efforts. Here, the Sacramento Council of Governments would be a natural organizer, along with partners like Regional Transit, Capitol Corridor and bike and scooter companies like Jump. In London, Uber offered complimentary 20-minute rides on its Jump bikes that day.
The Bottom Line
In April, the American Lung Association found that the Sacramento-Roseville region had the fifth worst ozone pollution out of over 220 metropolitan regions for the second straight year. That should alarm all of us. One way to make a difference is to join this growing global movement. Our idea: Close much of Sacramento's downtown business district—including our Tower Bridge—to vehicles on Sunday, Sept. 20, 2020 (a couple of days shy of the official Car Free Day, but it might be smart to start on a weekend, as Paris did in 2015), with free light rail service all day. The likely result will be less air pollution, thousands of people flooding downtown to spend money at local businesses, and an increased exposure to cleaner forms of transportation. The time for action is now, and this is one idea that has legs.