For National Pie Day, 8 great places to savor a slice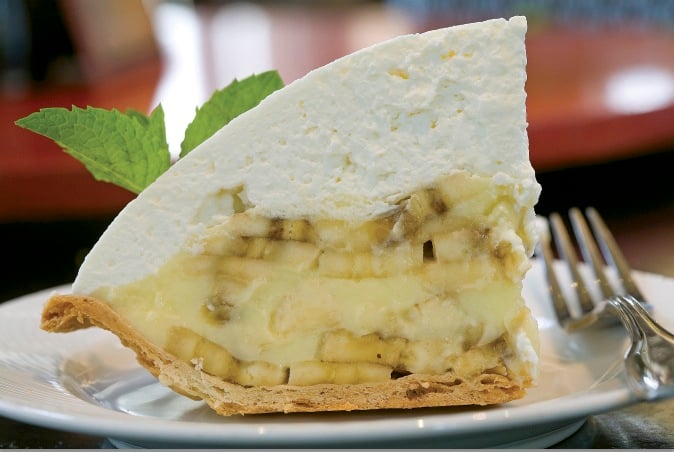 It's National Pie Day! Here are eight great places in town to celebrate the happy occasion.
An Honest Pie
This local "pie-mobile" will be parked in front of Nevada City's Ol' Republic Brewery from 4-8 p.m. today, dishing out its four-inch, made-from-scratch pies, such as the savory mac-and-cheese pie topped with a crisp layer of melted parmesan; the Southern-inspired buttermilk pie that owner Brenda Janssen says tastes like sweet, rich crème brûlée; or the newest addition to the food truck's menu: the fruity, fresh pineapple upside-down pie. 530-990-1303. Ol' Republic Brewery: 124 Argall Way. Nevada City.
Freeport Bakery
You can't go wrong with this Curtis Park bakery's hand-crafted pies, turned out of its ovens fresh each morning. The bestseller is a classic pumpkin pie that conjures the sweet ghost of Thanksgivings past. But you can go big and go home with a three-inch-deep-dish apple pie that's made with over four pounds of apples grown at Apple Hill's Boa Vista Orchards. Or enjoy a new bakery menu item, one of the personal-sized hand pies, often filled with fruit (like cherries or raspberries) gathered at Sunday's downtown farmers' market. 2966 Freeport Blvd. 442-4256. freeportbakery.com
Frank Fat's
Arguably Sacramento's single most famous dessert, Frank Fat's classic banana cream pie is still made fresh daily based on its original decades-old recipe and boasts a smooth, custardy filling, chunks of banana, flakey crust, and a rich, creamy topping. (The chocolate cream pie is equally as scrumptious.) The pies are available whole and by the slice at Frank Fat's downtown and other Fat's restaurants across the region. 806 L St. 442-7092. frankfats.com
Ikedas
This bakery, restaurant and produce market offers a daily variety of about 15 pies, all of which are made by hand and based on the same recipes that have been used since the Auburn establishment was founded in 1970. Don't miss the classic apple pie filled with organic fruit grown a just mile away at Ikedas' own farm. Other popular flavors include the best-selling marionberry and razzleberry (a combination of raspberries and blackberries). If the foothills are too far a trek, head to Ikedas' outpost in Davis: freshly baked pies are delivered there daily from the flagship Auburn bakery. Auburn: 13500 Lincoln Way. 530-885-4243. Davis: 26295 Mace Blvd. 530-750-3379. restaurant-bakery-auburn-ca.com
Karen's Bakery
This popular Folsom cafe bakes its pies fresh every morning and will be serving them up whole or by the slice all day. Indulge in a classic apple pie or the best-selling triple berry pie made with a sweet-tart mix of blueberries, raspberries and olallieberries. But the must-try pie of the day is owner Karen Holmes' current personal favorite, a streusel-topped rum raisin caramel apple pie made with currants and slow-cooked apples bathed in a Myer's Rum caramel sauce. 705 Gold Lake Dr. Folsom. 985-2665. karensbakery.com
Rick's Dessert Diner
This midtown dessert mecca boasts dozens of varieties of fruit and cream pies, many of which are based on decades-old recipes. A rotating variety of about eight types of pies are available daily, and today's lineup includes peach, key lime, German chocolate and cream-cheese-topped pecan. (Any pie on the menu can be custom prepared with 24-hour notice.) And good news for night owls: Rick's is open until midnight on weeknights and 1 a.m. on weekends. 2322 K St. 444-0969. ricksdessertdiner.com
Sam's Hof Brau
Peer into this beloved Arden-Arcade restaurant's old-fashioned glass dessert counter and you'll find an extensive, mouthwatering lineup of pies by the slice, in flavors like coconut cream, chocolate cream, banana cream, lemon meringue, pumpkin, blackberry, cherry and custard. Some pies are made in-house but most are delivered daily from Sugar Mama's Bakery in Carmichael. The most popular pie is the classic chocolate cream with a flaky, buttery crust, chocolate pudding-like filling and a thick layer of whipped cream on top. 2500 Watt Ave. 482-2175. thehofbrau.com
Tower Café
Baked fresh each day, the Tower Café's decadent pies are available whole or by the slice. Popular pies include a rich banana cream with a graham cracker crust and chocolate cream topped with chocolate shavings. And vegans can indulge in the apple pie, which is made with Granny Smith apples, baked in a dairy-free crust and topped with a pecan and brown sugar crumble. 1518 Broadway. 441-0222. towercafe.com