Former Brew It Up owner signs lease on new West Sacramento brewery to open in February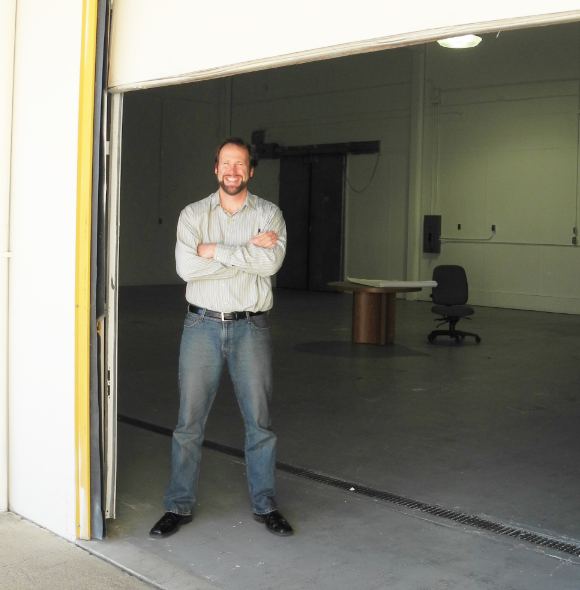 Just over two years after closing the doors to Brew It Up Personal Brewery in downtown Sacramento, Mike Costello signed a lease last week—on Nov. 26—for an 8,000 square-foot warehouse and office space in West Sacramento, where he plans to get back into the craft beer game in a big way, and he's "optimistic and pressing" for a late February opening.
The venture, Yolo Brewing Company, will be located at the corner of Terminal and Del Monte streets in West Sacramento's port district. "We're taking the good elements and lessons learned from Brew it Up and bringing those over [to Yolo Brewing Company]," says Costello.
But he wants to make it very clear that customers shouldn't expect a new iteration of Brew it Up, which had a location in Davis prior to opening in downtown Sacramento. "People who come expecting a restaurant with padded booths and a full menu might be a little confused," he says. "We're a brewery first."
What was once a large industrial storage space will become a 3,200 square-foot beer hall and tasting room, complete with small batch kettles for production and guest brewing. "We will have 12 beers on tap to start and will eventually see up to 36 handles occupied by Yolo Brewing Company recipes, other local brews and some hard to find craft beers from around the U.S.," he explains.
He notes that while in-house food service is not slated to begin until after the grand opening, he plans to work with local food trucks during tasting room hours and events to fill the gap. "We're focused on getting the brewery portion of the business up and running first," says Costello. He notes that once the doors are open and brewing has commenced, work will begin on the kitchen and a menu will be developed. And he's still working out other details, such as whether or not he will implement counter service, table service or some combination of both. "There's a lot to consider with food service," he notes. "We do know that we want it to be casual and easy for customers."
As for the décor and overall atmosphere, Costello has visions of a casual space with long beer hall tables, perfect for meeting up with friends and staying awhile. Locally sourced artwork that will make use of the warehouse's tall ceilings and expansive walls is also at the forefront of Costello's mind. He has already begun working with local artist Raphael Delgado, who was named the 2010 "Artist of the Year" by the Arts & Business Council of Sacramento, to create custom T-shirts (available for pre-order here) and hopes to carry more of that type of creativity into the space. "We really want to work with Sacramento creatives," he said. "[The art community] is so strong here and we have a lot of space to work with."
Costello says that while the model is different, he hopes his former customers will cross the bridge and still feel right at home. "There were core elements from Brew it Up that were great," he says. "We have dozens of really great beers that we can put on tap immediately, along with recipes, some menu items and systems that worked. We've also got a brewing crew full of familiar faces. Many of the former brewers from Brew it Up want to come back to work for us."
After opening, patrons can expect additions like a larger outdoor beer garden, a 10,000 to 15,000 barrel per year capacity commercial brewery and participation in local and regional events. Eventually, Costello will also push to get Yolo Brewing Company beer in grocery stores throughout the region and beyond.
A West Sacramento resident, Costello is not alone in seeing that area as a perfect place to set up shop. Yolo Brewing Company is within walking distance to Bike Dog Beer, which held its grand opening on Nov. 2, and Jack Rabbit Brewing Company, which recently launched brewing operations. Additionally, Sacramento favorites like Ruhstaller Beer and Rubicon Brewing Company have taken a liking to Yolo County for various parts of their brewing operations. "We're looking at [Yolo Brewing Company] from a local, sustainable perspective," says Costello. "We're here and we're surrounded by the makings of the farm-to-fork movement. We're looking to be a part of that community and help lead it as much as we can."
Amidst the challenges involved in getting vendor relationships in place, starting construction, branding the new company, recruiting staff and joining the larger brewing community in West Sacramento, Costello's passion for his new project is evident. "The personal brewery is what we're good at and that will continue," he says. "Yolo Brewing Company will be a regional destination. I'm excited to know that people will be able to come here and experience craft beer in an immersive environment and they'll experience it in a way they can't anywhere else right now."