Former Saddle Rock space to reopen as Saigon Alley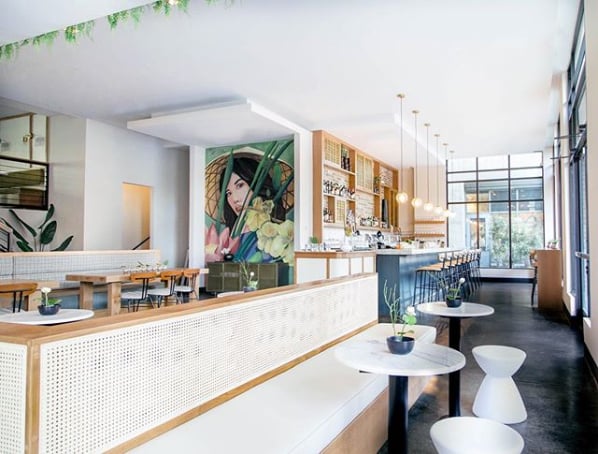 Update: Saigon Alley, which soft-opened on Jan. 2, will host a grand opening on Friday, Jan. 10. Hours of operation will be Sun.-Thurs. 11 a.m.-3 p.m., 4 p.m.-12 a.m. and Fri.-Sat. 11 a.m.-3 p.m., 4 p.m.-2 a.m.
********
The high-profile midtown spot near 18th and L that was once home to such eateries as L Wine Lounge, Capital Dime and Saddle Rock is set to reopen at the beginning of January as Saigon Alley, a Vietnamese restaurant from the owner of the next-door fast-casual spot Make Fish Poke & Sushi Burrito.
Owner Mymy Nguyen tapped local sister designers Elizabeth and Theresa Rainey of the newly minted Aura Design Company to help reimagine the 1,800-square-foot space—which has been closed for almost three years and features a street-level bar area and an upstairs dining room—into a welcoming contemporary restaurant that nods to Nguyen's Vietnamese heritage. Out went the built-in wine cellar and imposing L-shaped bar, replaced by a statement bar piece at the restaurant's entrance. Also making the vibe more inviting will be the removal of the opaque frosting from the side windows, which will let more natural light in.
"We did built-in [shelving] for the backbar with a few cabinet doors with custom-patterned inserts that were inspired by Vietnamese buildings, which you can see when you walk by," says Theresa, adding that the placement of two wall murals, painted by local artist Madelyne Joan Templeton, "was another intentional decision to create interest and intrigue."
One mural—which depicts a Vietnamese woman atop a bike carrying colorful flowers—is strategically placed as the backdrop to the street-level lounge, which also features marble-topped tables and a custom double-sided banquette with woven backing (two community tables are also available for ground-floor dining). The second mural—a close-up portrait of the same woman through tall grass and oversized blossoms—greets visitors at the base of the stairs that lead to the mezzanine dining area, which includes alder wood tables, custom alder-wood-backed chairs and two half-moon-shaped booths with velvet banquettes.
Nguyen—who is aiming for a dinner-only soft opening Jan. 1-9, with a grand opening Jan. 10—is drawing from family recipes for her menu of southern and central Vietnamese cuisine, which will include pho (with broth poured tableside), bánh mì tacos and a selection of Vietnamese tapas, including grilled skewered meats and beef carpaccio. The cocktails will also feature a Vietnamese influence, with ingredients like a simple syrup infused with pho spices, and Vietnamese fruits like jackfruit. Upon the grand opening, Saigon Alley will offer lunch and dinner, and host afternoon and late-night happy hours.
1801 L St. Visit Saigon Alley's Instagram page for updates.
You Might Also Like
Popular SF cookie delivery company opens its first shop in Woodland
Signature restaurant announced for new downtown boutique hotel
Darling Aviary takes roost downtown