Fourth Annual Bastille Day Waiters' Race adds Street Festival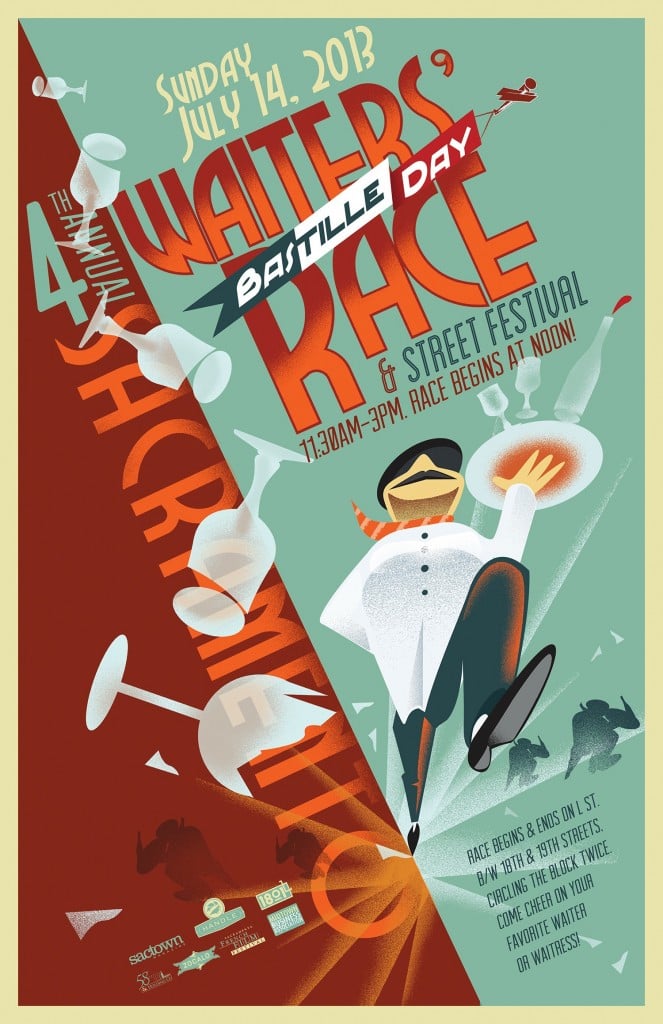 Inspired by the famous footrace in Paris, the Sacramento Bastille Day Waiters' Race returns to midtown Sacramento for the fourth time on Sunday, July 14. But for the first time, the race will also include a Bastille Day street festival on L Street, between 18th and 19th streets.
Each year, nearly 50 local restaurant servers dress in traditional Parisian-style, black-and-white uniforms and compete in a contest of speed and balance. After lining up at the starting line at 18th and L at noon, participants will circle the block bound by 18th and 19th streets and L Street and Capitol Avenue— twice—while holding a tray containing a bottle of Perrier and two half-full glasses with one hand. The goal: Make it to the finish line without spilling water or without dropping the tray altogether. Judges will be at each corner and the finish line.
This year's winners will take home prizes in the form of gift cards to, appropriately, great French restaurants, including local spots like Cafe Rolle and Bistro Michel. The grand prize for both the men's and women's categories will be dinner at the world-renowned French Laundry in Yountville.
In addition to the waiters' race, the block will also be closed to traffic for a pre- and post-race Bastille Day street festival (11:30 a.m.-3 p.m.) with food and drink vendors, as well as French music and even a pop-up theater showing French films. The festival is free and open to the public. And there will be a 50-mile Bastille Day kick-off bike ride.
This year's sponsors include The Handle District, 1801 L Street, Zócalo, 58 Degrees, MIdtown Business Association and Sactown magazine. To register to race, sign up here. And follow the latest news on the event's Facebook page here.
To learn more about the origins of the local version of the race, click here to read our 2010 article suggesting the idea for Sacramento.