Fowl Play
The boozy bird's the word at Bawk, R Street's new finger-licking-good restaurant. A bucket of vodka-battered fried chicken with a bottle of Dom Pérignon? Oui, please.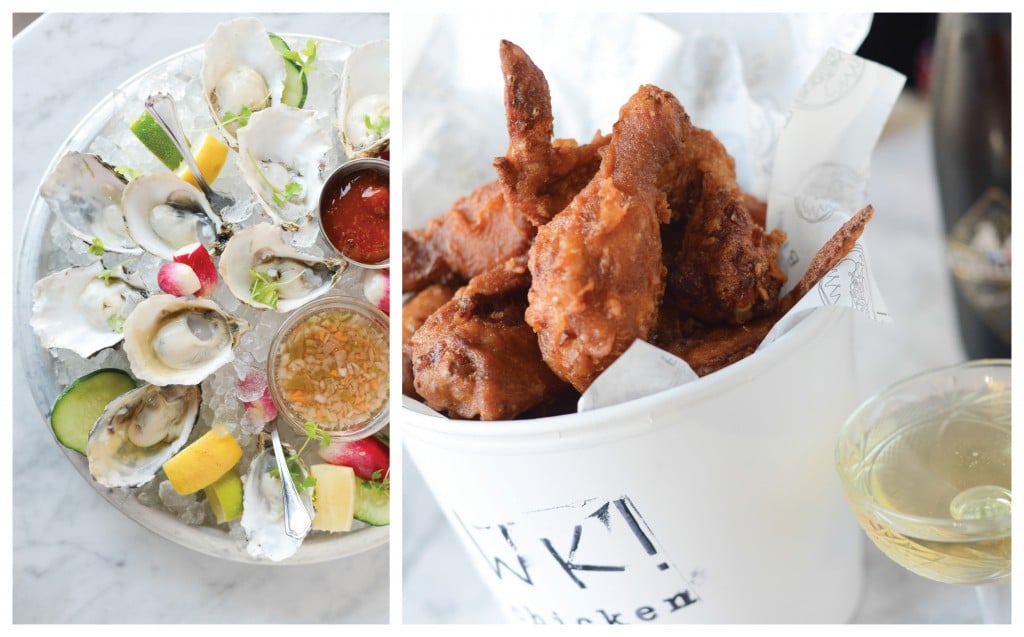 SSince the best fried chicken recipes are often classified (has anyone cracked KFC's storied 11 herbs and spices?), certain parts of the winning formula at Bawk, the new R Street joint serving up Southern-style eats, have been strategically redacted by its executive chef Casey Shideler. But then again, a pinch of intrigue always makes for good seasoning: The chicken is coated in a dry cure, which includes plenty of kosher salt, a kicky hot sauce powder and pungent celery salt, the last a familiar ingredient in Americana cuisine. This critical process infuses delicious flavor into the meat and keeps the surface primed for the next step, a good sloshing in a unique wet batter made with spare-no-cost vodka—the peak alcohol content practically ensures victory in the quest for shatteringly crisp, tempura-like skin. But since achieving that golden brown ideal in concert with beautifully cooked chicken can be tricky, Bawk's sizzle of choice, peanut oil, has a high smoke point, making a steady and thorough fry possible without burning.
The recipe was developed, tested and refined over several years by a series of chefs, including Ben Horpedahl of Selland Family Restaurants and Eric Sarmento of Urban Roots Brewing & Smokehouse. Shideler, previously of Taylor's Kitchen and Mulvaney's, joined the project just days before the restaurant's opening last August, so she executed the final tweaks, and now the recipe seems destined to join the ranks of a few nostalgic favorites.
For Bawk co-owner Josh Nelson—who also serves as CEO of Selland Family Restaurants (Ella, Obo, Selland's Market-Cafe and the Michelin-starred Kitchen)—his stepmother's, you guessed it, celery-salt-forward, cast iron fry-up is right up there with his lifelong affinity for wings from Sam's Sub Shop in Arden-Arcade. Nelson's best friend and Bawk business partner Rob Archie, who also co-owns Urban Roots and Pangaea Bier Cafe, loves the fabled fried chicken at Willie Mae's Scotch House in New Orleans, which reportedly has Coca-Cola in its secret recipe. And he fondly remembers visiting his grandmother in Los Angeles and getting a bucket from Golden Bird—the SoCal chain's fried chicken of that era (not the current iteration) has been the subject of chat forums attempting to crowdsource the ingredients in its original dredge, presumably heavy on Old Bay seasoning.
"Fried chicken is a simple thing, a comfort food, but that doesn't mean it's easy," says Archie, 44. "Not only does everyone have a favorite to compare, there's not a lot to hide behind. You have to do it right."
Considering the deep-rooted popularity of the dish, the daring required to enter your tasty variants into a culinary canon that spans from its possible origins in West African slave history to the recent global fried chicken boom, speaks to the essence of Bawk. Not the onomatopoeia per se, but rather the vibe, which Nelson, 47, describes as "fiercely confident."
In light of this brazen verve, the original concept of the restaurant, first dreamed up by Nelson and Archie four years ago over gentlemanly pours of WhistlePig Rye during their regularly scheduled Wednesday talk-shops, seemed almost too familiar—dare we say, conventional? Even though "great fried chicken, great sides and great drinks," as Archie puts it, would always be the backbone of Bawk (in particular, its chicken wings—deep fried and coated in spicy Buffalo or sweet-smoky Kansas City barbecue sauce—are his weakness), it's not without equal. Among the local eateries currently dishing up their fair share of critically acclaimed fried chicken, sides and cocktails are Hawks Public House and South, as well as other newcomers like Fixins in Oak Park.
So while Bawk's list of sides includes traditional fried chicken accoutrements like bacony braised greens, honeyed cornbread and velvety mac and cheese, more uncommon are items like its chicken tikka croquettes and "chicken-fried" cauliflower bites (a satisfying alternative for vegetarians). Similarly, although the signature Bawktails are riffs on beloved refreshments like Hurricanes, Pimm's Cups and sweet tea (the latter spiked with rye as a tribute to those Wednesday meetings), rare microbrews like Sante Adairius ales from Capitola and sour beers from Long Beach's Beachwood Brewery make Bawk's bar lineup savvier than most. And while a $35 happy hour special includes a bucket of fried chicken and bottle of the house bubbly (La Vieille Ferme Réserve Brut or sparkling rosé), you'll need to dig deeper into your pockets for the good stuff from Dom Pérignon and Piper-Heidsieck—that's right, there's a legit sparkling wine program at this down-home joint. The high-low pairing recalls The Seven Year Itch, in which Marilyn Monroe sipped champagne while eating potato chips.
Also, waiting for, and then renovating, the right space—the lease on Bawk's heritage brick-and-timber location was inked in August 2017—meant more time to develop a more distinctive restaurant concept. Now the partners—including Nelson's sister Tamera Baker, also of Selland Family Restaurants—consider the fried chicken a medium of culinary expression, a canvas for unexpected flavors. "We don't want to redefine fried chicken, but rather showcase a whole world of it," explains Nelson.
As such, local chefs have been invited to put their own spin on Bawk's fried chicken during ticketed late-night pop-ups. Billy Ngo of Kru, kicked off the series in January with a Japanese take on the Southern classic—katsu chicken sliders and chicken-fried oysters with miso-mustard dipping sauce. On Feb. 19, Ravin Patel, formerly of Ella and currently of Seasons in Davis, will be serving an Indian-style, three-tiered tiffin at Bawk, featuring a hot fried chicken made with cumin, ground coriander and turmeric, and dipped in pickled chutney oil; a side dish of sprouted mung bean and black-eyed peas with curry leaves; and for dessert, carrot halwa pudding with condensed milk and gin-soaked raisins. And this spring, Patricio Wise of Nixtaco will offer a serrano-infused, buttermilk-fried chicken taco flavored with spices like epazote, cumin and oregano.
Meanwhile, Shideler is steadily incorporating her fine-dining chops and flavor mastery into Bawk's fried chicken platform. Her black truffle Nashville hot fried chicken sandwich elevates the menu staple, made with a fried boneless chicken thigh quickly dunked into an oil infused with Fresno chili pulp, the fiery flotsam from the house-made hot sauce. For the limited-edition sandwich (it'll be available through April), the chef smothers the spicy chicken in a rich truffle hollandaise before adding a deluge of shaved Burgundy black truffle.
"It's hot, it's messy and it's fatty, but people love it," says Shideler, 32. She is also developing some non-fried-chicken dishes, inspired heavily from international cuisines—for example, pork fried rice and breakfast arepas may soon make their debut on the brunch menu. "Of course it's important that our chicken is nailing it, but we don't want to get stuck there," says the chef. "We want some wild cards on the menu to keep people on their toes."
Great, because that's exactly what happens when diners enter the 3,000-square-foot eatery. As a nod to R Street's history (a railway ran through the corridor back in the day), Bawk was designed by Baker to portray an abandoned Parisian train station, where street art mixes with old brick walls. During the renovation, Nelson and Archie would leave a key to the space in a lockbox by the front door, allowing numerous artists to pop by at will to "deface" the floors and walls. In keeping with the anonymous tradition of graffiti, a full roster of the taggers involved is unknown even to the owners, save for a few notable regional artists, including Jose Di Gregorio, the project's curator and a resident of the Warehouse Artist Lofts down the block, who called on Nevada City's Miles Toland and Jeremiah Kille from Santa Cruz to add their marks to the scene.
Di Gregorio started the restaurant's centerpiece mural, which depicts an impassioned Muhammad Ali—other artists will respectfully add to it as time goes on, mirroring the evolution of a work in the wild. If the legendary boxer's visual intensity seems oddly out of place in a casual restaurant, Nelson explains: "Ali was so bawk."
Come to think of it, especially for fried-food fiends, the discipline of a champ is required to work at the restaurant. Shideler, who goes home each night redolent of eau de fryer oil, has a daily craving for the chicken and cornbread waffle with maple syrup ("It's so freaking good," she says), even though willpower will often lead her away from temptation. Likewise, when Archie decides—as he has many times over the last few years—that he's giving up fried chicken for the virtues of crunchy green salads, his wife Kindra (who owns Pangaea with him) will throw him a curveball. "Do you want some wings?" she'll ask, mostly out of habit, not intending to derail her husband's healthy intentions. "Hell, yeah," Archie will reply, also habitually. "Give me some wings."
1409 R St. 916-465-8700. bawkfriedchicken.com