Foxy Lady
Sacramento singer Andy Allo may have gotten her start at an open mic night at Fox & Goose, but after a year touring the world with Prince (who gave her a crash course in music ranging from Joni Mitchell to Jimi Hendrix), she has a new album (produced by Prince) and a solo tour on the way (on which Prince may join her). Now if only people would stop calling her his girlfriend.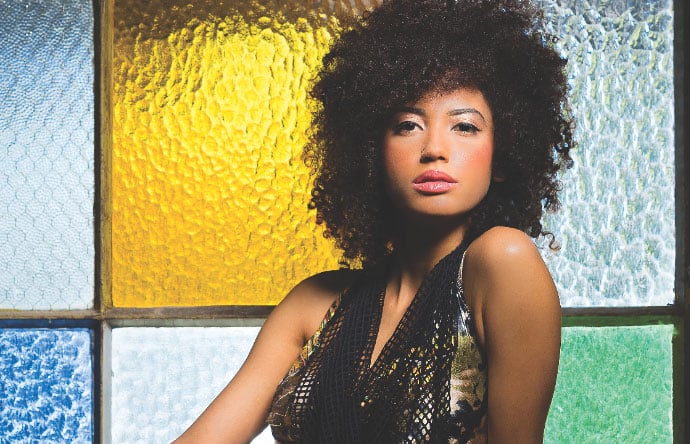 TThe buzz began with a Facebook post from Tower Café on June 5 announcing that purple royalty came in for lunch. No, it wasn't Jimmer Fredette or Tyreke Evans. It was music icon Prince on a whirlwind tour of Sacramento. Over the course of that week (during which he celebrated his 54th birthday), the artist formerly—and now again—known as Prince, was also spotted at Cafeteria 15L, Corti Brothers (where store director Rick Mindermann confirms that someone ordered a veggie sandwich at the deli counter and wrote "Prince" on the order ticket), hung out at Mix Downtown, saw the movie Prometheus at the Esquire IMAX Theatre and shopped for some music at Records on Broadway.
So what brought the Purple One to town? It was his new protégé, Andy Allo, a 23-year-old Sacramento singer with large eyes, a slight frame and a striking, tightly curled afro. Her new album Superconductor, scheduled for release in late September, was executive produced by Prince and also features several songs that he co-wrote with Allo. And yes, it was Allo who took the Minnesota musician to Tower Café for a plate of its signature custard-soaked French toast, surrounded by the restaurant's eclectic collection of Asian and African art and artifacts.
In fact, Allo herself is something of an African cultural export, moving to Sacramento 12 years ago from her native country of Cameroon.
In 2000, she and her sister Suzanne moved to the United States to join her Caucasian mother Sue—a teacher from Lodi who had relocated to California earlier because she was battling chronic fatigue syndrome—and their three older siblings here. (Allo's father Andrew, an African ecologist after whom she was named, stayed behind.) Sue had relatives in Sacramento, so the family settled into an apartment in Arden-Arcade, and Andy started seventh grade at Arden Middle School. "I was the new kid from Cameroon, and kids would ask, 'Is that like Tarzan?'" she remembers. "I couldn't slide by with my accent, so I learned how everyone spoke and tried to copy it." She soon discovered she could not only manipulate her speech but her singing voice as well, and joined the school choir.
Allo continued singing at El Camino High School, where she graduated in 2006. She studied communications at American River College and thought about transferring to UCLA before throwing herself into her music. She formed her own band, Allo and the Traffic Jam, and they would sometimes perform on the corner of 22nd and J streets during Second Saturday. "We'd have a little tip jar," she laughs. But before long, she decided to go solo. "I wanted to branch out and explore my own creativity and style," she says, drawing on influences like the African artists she grew up with such as Miriam Makeba and Fela Kuti, as well as others like Bob Marley and Nina Simone.
Her first solo gig would be an open mic night in 2008 at the Fox & Goose Public House in downtown Sacramento, the same spot where singer-songwriter Jackie Greene got his start. "I was shaking in my boots," recalls Allo about sitting on the curb outside the popular hub for musicians, just minutes before debuting her scant collection of two and a half songs. She played the two songs and improvised her way through the third, and was amazed by the positive response. "After that, I was hooked," she says.
Today, Allo finds herself once again at Fox & Goose, this time reflecting on the unexpected journey that has taken her from Second Saturday to the pages of Vogue and an international tour alongside Prince. But, she says, standing in the high-ceilinged, ephemera-packed British pub, "This is where it started."
It was here, over dozens of performances, that Allo refined her sound (reminiscent of Erykah Badu and Lauryn Hill that she calls "alter-hip-soul") and amassed enough material for her first album UnFresh, which was self-financed. "I didn't want to rely on anyone else to do it for me," she says. That challenge intensified when, halfway through recording, she nearly ran out of money. But it was around that time that her other career—modeling—began taking off. She joined the local agency Cast Images, and modeled for brands and products such as Sprint, AT&T and Sony PlayStation 3. "It funded my music." She also held other decidedly less glamorous jobs around town, including ones at an insurance agency and a bowling alley.
In 2009, Allo released UnFresh, which was sold at local record shops and through e-retailers like Amazon and iTunes. She moved to Los Angeles in 2010 to pursue both of her nascent careers. "I was going to succeed, whatever it took," she says. "I had no plan B." The risk paid off. Allo continued getting work as a model for national ad campaigns (for the likes of Toyota, Kohl's and the U.S. Postal Service) and even landed a recurring role on BET's football drama The Game.
But the trajectory of her music career shifted dramatically in April 2011 while attending a Prince concert in L.A. when a friend from The Africa Channel (who had first aired an in-studio performance by Allo the year before) introduced her to the iconic musician. "Oddly, it was very calm. He's like a superhero, but doesn't put on any airs, and is just a really smart, down-to-earth person," she recalls of the meeting, during which Prince invited her to hang out and play with his band after the show that night.
The two clicked instantly, she says, and Prince invited Allo to join him on his upcoming summer tour, sometimes opening for him but mostly playing guitar and singing alongside him and his band NPG (New Power Generation). "I was thrilled to get that opportunity," she says. But first, he put her through "music boot camp," educating her on artists like Joni Mitchell, Sly and the Family Stone, James Brown, Jimi Hendrix and James Taylor. He also brought her up to speed on his own storied musical history (Purple Rain came out five years before Allo was born). "He said I had to learn decades of songs—and he has tons and tons of music," she says.
Only a few months later, in June 2011, Allo joined Prince on stage for the first time at the Montreal International Jazz Festival. Just days after that, they were playing to over 50,000 fans at Paris' Stade de France to open Prince's "Welcome 2 Europe" tour. "I just jumped in head first," she says.
Between the tour, paparazzi shots of them sitting front row at a Versace fashion show, and now the recent sightings in Sacramento, rumors have swirled for months that Allo and Prince are romantically involved, though Allo insists that the two are just close friends. "He's a mentor, with a lifetime of wisdom, and someone that I can ask anything," she says.
On Superconductor, Prince plays guitar on several tracks and his NPG band (as well as seasoned contributors like Maceo Parker and Trombone Shorty) plays saxophone, bass and other instruments while she croons of needing a "Superconductor" man on the title track (co-written by Prince) or bemoaning time wasted on selfish guys on the soulful "People Pleaser." "It was a true collaboration," says Allo.
Standing only a few feet away from the stage where she cut her musical teeth at Fox & Goose, Allo says her bucket list used to include, "Go on tour, record a second album, and travel the world." And she adds proudly, "I knocked off those things in one year." She also recently caught the eye of Vogue, who featured the 5-foot-4 beauty in a fashion spread for the April 2012 issue. But, she explains, modeling is about to take a backseat role in her life. "Now is [about] music," she says, adding that she will likely tour this fall, and she plans to include a few Sacramento shows. Does that mean Prince will be back for another Sacramento tour? She smiles and says coyly, "You'll have to see."