Frank Fat's banana cream pie is a Sacramento classic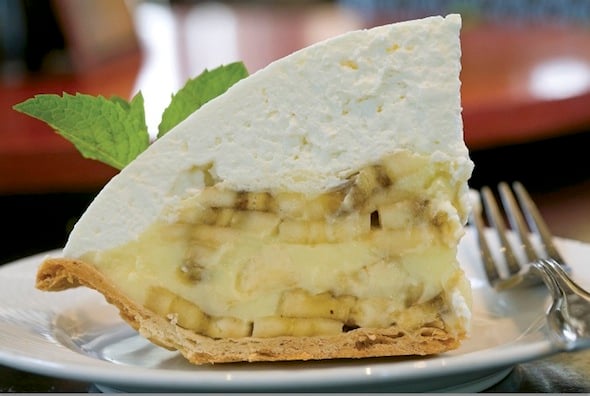 Editors' note: This story has been updated with 2021 information.
* * * * * *
Thanksgiving is right around the corner. If you're looking for just the right dessert to celebrate the occasion, we have you covered. Herewith, all the sweet details on what is arguably Sacramento's most famous dessert.
THE PIE: Banana Cream Pie, from Frank Fat's
WHY IT'S SPECIAL: The iconic restaurant makes its famed banana cream pie from scratch daily, using virtually the same recipe conceived by founder Frank Fat and his original chef in the 1940s. Loaded with freshly sliced bananas and rich custard inside a buttery, flaky crust and topped with a cloud of creamy, fluffy whipped cream, it is easy to see why the pie is regarded as Fat's—and possibly Sacramento's—quintessential sweet treat. (The eatery's chocolate cream pie is no slouch, either.)
COST: $29
WHEN TO ORDER: For Thanksgiving, order by Sunday, Nov. 21.
WHERE TO FIND IT: Frank Fat's. 806 L St. 916-442-7092. frankfats.com. Also available at Fat's Asia Bistros in Roseville (1500 Eureka Rd.; 916-787-3287) and Folsom (2585 Iron Point Rd., 916-983-1133).