Free Art Friday scavenger hunt launches in Sacramento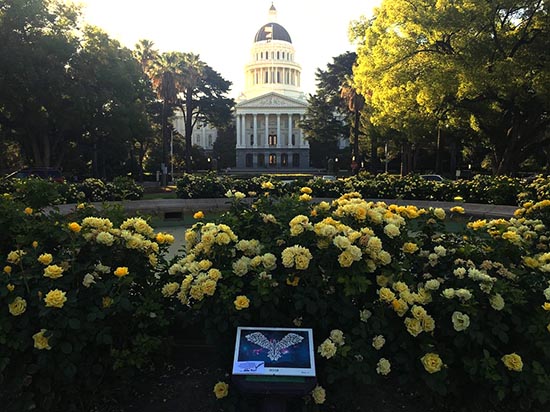 Move aside, Pokémon Go. Free Art Friday—the latest neighborhood hide-and-seek hunt that has popped up in cities like Miami, Brooklyn and Toronto—has found its way to Sacramento.
Every Friday, local art lovers can take to the streets of downtown, midtown and other parts of the capital city, using their cell phones to search not for digital pets, but for original paintings, photographs, essays, novels, poems or CDs, all the work of participating local artists.
You don't even need to download a new app to join in. Anyone can take part in this culturally enlightened version of a scavenger hunt by looking up the hashtag #FreeArtFridaySacramento on Instagram to find clever clues about locations, left by the artists themselves. The best part? When you stumble across a trove of treasure, it's yours to keep.
West Sacramento-based artist Alden Knight launched the Sacramento edition of Free Art Friday on July 1, after seeing how successful the movement had become in Santa Rosa, where his friend had started a series. He hopes to use the power of Instagram to connect regional artists with the public, including art aficionados who may not be able to afford original pieces.
"I noticed that there is not really anything like [Free Art Friday] in Sacramento and there are [many] talented and creative people here, so I think that this city is a perfect place to do it," says Knight, who also owns Odd Petals, a screen-printing and art studio in West Sacramento. "This project should encourage people to be creative as well to explore the city [by] looking for art."
A simple stroll down the street may lead some enthusiasts to stumble upon pieces like colorful paintings on stretched canvas by local artist Caitlyn Oleykowski or ink line drawings by Sacramento writer Lauren Lavin, both of whom have participated in Free Art Friday in the past and plan to give more pieces away on future hunts.
"I love how Free Art Friday is helping folks connect with each other through art and the actual finding and sharing of it, both in person and via social media," says Lavin. "It's definitely helping us [as artists] engage with our own community in an entirely new way."
Clues for the scavenger hunt will be posted on Free Art Friday Sacramento's official Instagram account every Friday (times for postings aren't set in advance) and each hunt can last up to 24 hours (Fair warning: It pays to be fast, as art seekers have found most pieces within a few hours of posting thus far). Happy hunting, Sacramento!
Visit Free Art Friday Sacramento's Instagram page to find out more.
You Might Also Like
CMND SHFT: A Conference for Your Inner Design Freak
Local artists take part in Arden Fair's massive LED exhibit
20 fun, completely free things to do in the Sacramento region this summer