French Twist
Restaurant Josephine—launched by two former chefs at Auburn's acclaimed Carpe Vino—offers a culinary tour of France with a delicious detour to Eastern Europe (think smoked salmon crêpe gâteau topped with caviar). Bon appétit and bon voyage.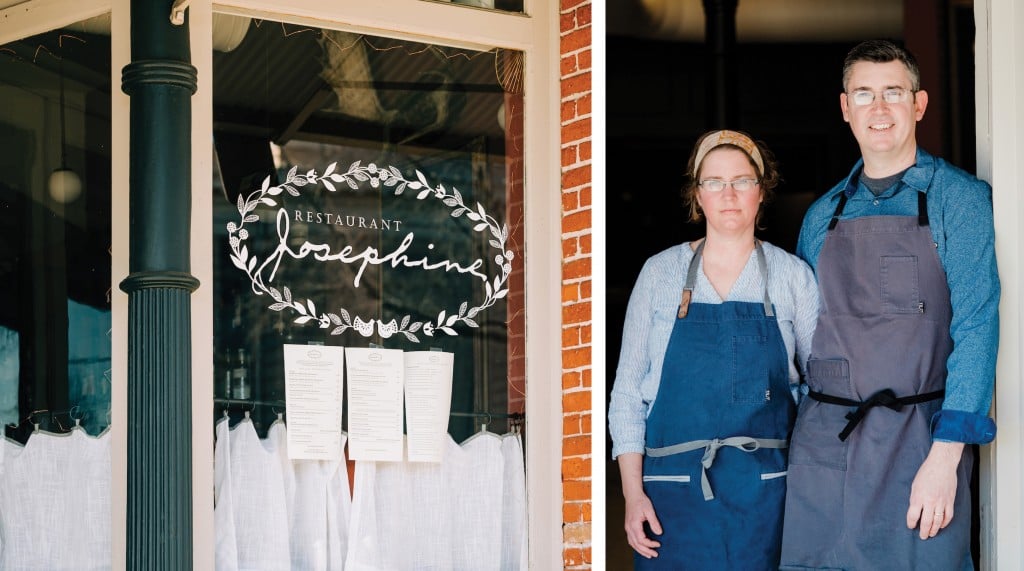 Summer 2021 Update: This story was published in our May/June 2021 issue. Restaurant Josephine is now open for indoor dining. Hours are Tues.-Thurs. 5-9 p.m. and Fri.-Sat. 5-10 p.m.
* * * * * *
A text message from pastry chef Courtney McDonald of Restaurant Josephine—she owns the new Auburn eatery with her husband, executive chef Eric Alexander, and general contractor Britton Reed, a longtime friend—instructs my partner and me to follow signs to the back parking lot when we arrive to pick up our Saturday dinner, preordered on Tuesday to steer clear of the Thursday cutoff. We pull around the back of the restaurant (located in a former Odd Fellows lodge) and into a lane marked with plastic orange cones.
As curbside setups go, this one is very well organized, but much different from what was originally planned and what still awaits on the other side of Covid: a bistro in a 1920s-Paris-meets-Gold Rush setting—think a cast zinc bar, cozy marble tables and pretty rose-hued walls inside a 19th-century brick building. For good measure, a mirrored mantel and delicate vintage coupes and tumblers—collected from secondhand sales over the course of a decade—complete the elegant tableau. "The design would not be out of place in Hemingway's A Moveable Feast," says McDonald. "We want it to feel like it's always been here."
Nevertheless, the modern carhop service has become a sign of the times. For what it's worth, our feast was most certainly on the move, but not far—just to the outdoor picnic tables across the street at the Veterans Memorial Hall where we could relish the crispy elements of our mostly handheld repast—a fried chicken sandwich and a fried mushroom sandwich with heaping sides of hand-cut Kennebec pommes frites—in all their sizzling, golden glory. Others like us who live in the region but not nearby have sat on the steps of Auburn's historic hilltop courthouse or walked a few blocks to a community garden, complete with picnic benches, raised plant beds and public art.
Alexander and McDonald met as students at the Culinary Institute of America in Hyde Park, New York, in the early aughts, and have always worked together in kitchens that span from Washington, D.C.'s Poste Moderne Brasserie to the Monte Verde Inn in Foresthill. But they made names for themselves in the local food scene during their subsequent command of the kitchen at Auburn's fine-dining mainstay Carpe Vino from 2005 until their departure in 2018 to pursue a dream restaurant of their own. So when the chefs finally opened Josephine for weekend takeout last November, loyal clientele lined up by the carload to support their curious culinary concept: classic French bistro fare with Lithuanian flair.
"French food is everything to me," says Alexander, who has spent his professional career exclusively in French (or French-inspired) restaurants—his signature dishes at Carpe Vino included a Musquee de Provence pumpkin soup and red-wine-braised beef cheeks on horseradish potato purée. As to the aforementioned seemingly all-American picnic fare, Alexander refers me to the great French bistro tradition of burgers and sandwiches. "But the older I get, the more I reflect on my Lithuanian heritage, and the more I realize there's so much I don't know about it."
In the early 1900s, his paternal great-grandparents Joseph and Josephine Aleksandravičius were Lithuanian immigrants who settled in Binghamton, New York. Joseph was a butcher whose old honing steel is used daily by Alexander, and whose traditional recipe for kielbasa serves as inspiration for Restaurant Josephine's house-made sausages, which Alexander steers slightly from the turn-of-the-century original by using more pork, less lamb and fresh sage, not dried.
The eatery is christened after Alexander's great-grandmother and her namesake, the chefs' 10-year-old daughter, who is the designated curbside attendant. A digitized version of the elder Josephine's signature on her immigration papers at Ellis Island is used for the restaurant's logo, and her Lithuanian bacon buns will make regular appearances on the menu. McDonald's version of these pillowy brioche-style rolls—traditionally filled with fried bacon and onions—is barely modified from the original recipe, nicknamed "Grandma's Boondies" and handwritten for posterity by Alexander's Aunt Nancy decades ago in neat cursive on pink lined paper.
"I felt that if we branched out on our own, whatever we did had to be super meaningful," says McDonald. She grew up on a farm in Auburn and her family roots underscore the sustainability and seasonality of the restaurant. Her grandmother Mary is specifically represented in the beautifully poised Egg Cup dish, which will cameo on future menus once Josephine begins indoor dining service.
The Egg Cup is a takeout impracticality for many reasons, not the least of which is the vessel, selected from Mary's extensive collection of vintage egg cups. Once sitting in a cupboard collecting dust, they're soon to fulfill their destiny as holders of hollowed-out eggshells delicately layered with, for instance, celery root custard, green apple gelée and celery salad and finished with a spoon tip's worth of jewellike trout roe. "The motivation for the restaurant had to be really pure," McDonald continues. "Reaching into our family's heritage is a big part of what we want to do."
While Alexander grew up in Binghamton eating Eastern European foods, they were mostly purchased from local bakeries and grocery stores to supplement his working mother's homemade meatloaf and lasagna. "The truth is, I wasn't at my grandmother's side cooking Lithuanian food," says Alexander, who explains that he never knew Joseph or Josephine and that his grandparents died young, so the family's culinary traditions weren't passed down to his father, nor to him. "That legacy skipped some generations."
Nevertheless, Alexander's abilities to craft, say, potato vareniki (or pierogi) in a way that transcends its peasant origins—one of his decadent iterations is smothered in cultured cream and topped with a snowdrift of fried sunchoke slices and fresh white truffle shavings—is independent of his desire to buy them pre-prepared, a family tradition in its own right. In 2003, when the chefs moved from the East Coast to California to work at the Monte Verde Inn, they discovered the largest Eastern European grocery store in the region, Pacific Coast Food in Citrus Heights, which brims with ready-made vareniki, Lithuanian bacon buns and more.
Alexander is particularly fond of the days when the supermarket is grilling shashlik (Russian-style skewers), perfuming the air with the aroma of smoke and charred meat, irresistible since caveman times. For Restaurant Josephine's epicurean rendition, the chef grills hunks of swordfish over oakwood, and then dresses the finished skewers with a kefir dill sauce before sprinkling a seasonal confetti of chopped fennel and leeks, plus supremes of pink grapefruit from his and McDonald's Four Tines Farm in North Auburn.
Currently, the family homestead, purchased in 2013, is supplying the restaurant's citrus, which has been exalted in McDonald's desserts, including a refreshing Meyer lemon tarte au citron, only slightly sweet due in part to the fennel pollen in the buttery shortbread crust. Her dark chocolate mousse is a cacao cloud that also doesn't use sugar as a crutch, not even in its thin layer of homemade rose-raspberry jam or in the top tier of whipped crème fraîche, both tangy respites from the intensity of the 68% dark chocolate from Tcho in Berkeley. "I don't make sweet desserts," she says. "I make simple desserts that taste just like what they're made of."
This level of authenticity in Alexander and McDonald's food is largely due to their honest approach to ingredients: If they don't grow it themselves, they'll source what they can from other small regional farms, like Hillview in Lincoln for the salad mix and kohlrabi, or The Natural Trading Co. in Newcastle for cauliflower, kale and purple daikon. In recent years, Four Tines has expanded from citrus orchards and row crops like corn and fava beans to a grass-fed lamb enterprise—McDonald learned about this branch of animal husbandry during a full-time internship at Auburn's Flying Mule Sheep Company in 2009. To that end, Alexander may soon be whole-roasting Four Tines milk-fed lamb as the centerpiece of a celebratory dinner at the restaurant.
Much of the Eastern European influence on the menu will come from ingredients that are meant as subtle accents to the entrées. A spicy, vermilion-colored adjika mayo, for example, is a creamier version of the traditional Russian tomato pesto and contains blue fenugreek, a staple spice in Georgia (the country) that recalls the flavor and fragrance of Indian curries. And a crunchy, sour slaw of kohlrabi and cabbage is heavy on the dill—a favorite herb in Eastern Europe. Both accoutrements garnished our fried chicken sandwich, stacked with a juicy buttermilk-brined, golden-fried breast, and the fried mushroom sandwich, a veggie smash burger in which thick slabs of lion's mane mushroom were pressed against a blistering flat top to achieve a compressed, meaty texture and flavorful sear before they were battered and fried.
Pushing the envelope on what's considered curbside cuisine, Alexander and McDonald have dared to serve some of their fine-dining dishes in recyclable clamshell containers: chicken liver mousse with preserved baby pine cones from Siberia, for example, and a buckwheat crêpe gâteau layered with Russian cuisine's greatest hits—smoked salmon, chive crème fraiche and white sturgeon caviar from locally based Sterling.
"No chef wants the first impression of their new restaurant to be out of a cardboard box," says Alexander. "But that's something we're always thinking about and taking as a challenge—how do you give people the best experience they can have, even if they can't sit in the dining room?" Adds McDonald, "We really know how to make the best of things."
Restaurant Josephine. 1226 Lincoln Way. Auburn. 530-820-3523. josephineauburn.com