From Wags to Riches
It's a pretty safe bet that Jim Czajkowski, aka James Rollins, is the only licensed veterinarian in El Dorado Hills whose books routinely land on The New York Timesbest-seller list. With his newest thriller out June 21, the multi-named author discusses his connection with Indiana Jones, Dan Brown and how, after eight novels, his biweekly writers' group at Coco's is still kicking his ass.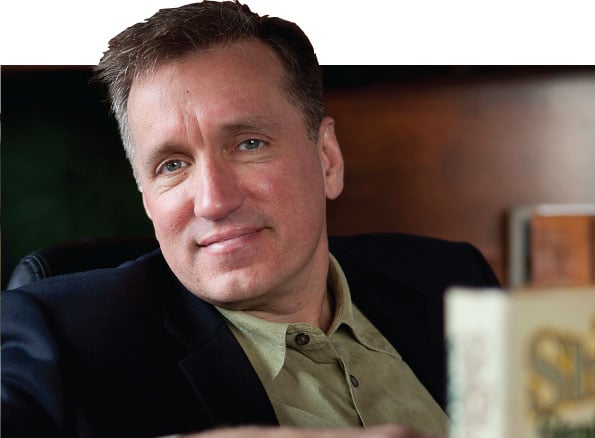 TThe best-selling thriller writer studied the iMac's 27-inch screen with his face tight, his eyes hard pieces of blue ice. Outside, rain fell from an angry sky. He ignored the clamor. He had a novel to write.
His immaculate home office in El Dorado Hills revealed a devotee of the written word. Hundreds of titles by his contemporaries lined the mahogany shelves two-deep: Stephen King, Michael Crichton, Clive Barker and dozens more.
Then there were his own books.
Twenty-three in all, published under a pair of pen names: James Rollins, whose artery-bursting adventure yarns draw comparisons to The Da Vinci Code and include the 2008 novelization of Indiana Jones and the Kingdom of the Crystal Skull; and James Clemens, author of two fantasy series, The Banned and the Banished and Godslayer. Eight of his novels had reached The New York Times best-seller list.
But none of his success mattered to the screen's cursor.
It throbbed pitilessly, awaiting the next letter.
If Rollins could complete the manuscript, The Devil Colony would mark the seventh entry in his hugely popular Sigma Force series that tracks the heroic exploits of an elite group of special ops military scientists. The previous installment, 2009's The Doomsday Key, peaked at No. 2 on the Times list. Topping that personal best could happen only one way: He had to finish.
He stared at the monitor. The font was set to Times New Roman, point size 14. His fingers hovered over the silver keys.
The sky blackened as the rain roared louder.
Would the words come?
•          •          •
Relax, Rollins fans—and forgive the opening line above that paraphrases a sentence from The Doomsday Key. After a year delay, The Devil Colony finally goes on sale June 21. On this mission, Sigma Force races to avert a "geological meltdown" of the western United States triggered by the discovery of hundreds of mummified bodies in the Rocky Mountains. The novel abounds with trademark Rollins touches, stitching religious, scientific and historical facts into the latest saga of Sigma, led by Director Painter Crowe and Commander Gray Pierce, as the team risks life and limb to thwart unseen dark forces.
If his past novels are prologue, the new book figures to be an addictive page-turner. Yet for Jim Czajkowski—better known by his pen names James Rollins and James Clemens (his adventure and fantasy guises, respectively)—the creative process remains as inscrutable as The Guild, the shadowy crime syndicate that Sigma Force battles around the world. "When I sit down, I have no idea how hard or easy that day is going to be for writing," says the 49-year-old Czajkowski (pronounced chuh-KOW-ski), taking a break from his iMac on a stormy spring afternoon. Indeed, for an author who has published more than a million words since the 1998 release of Wit'ch Fire, his debut fantasy novel, the mystery of the muse endures. "Some days it does go really fast. Other days it's like pulling teeth, and I don't know how to make those days change, not even after writing 23 books."p
What delayed the release of The Devil Colony from its original publication date last summer, however, wasn't a struggle at the keyboard so much as finding time to sit at it. Czajkowski's work on the book coincided with moving to El Dorado Hills from his home in Sacramento's Pocket neighborhood, where he lived for 18 years, and helping his parents search for and settle into an assisted-living facility in Sacramento. (Three of his six siblings also live here.) Then there was the trip to Iraq with five other Times best-selling suspense writers, among them Steve Berry and Douglas Preston, to visit U.S. troops as part of a USO tour dubbed "Operation Thriller."
The disruption of his writing routine meant that after producing nearly two books a year for the preceding decade, Czajkowski saw his 2010 output limited to a short story he contributed to an anthology co-edited by renowned fantasy writers George R. R. Martin and Gardner Dozois. The drop-off occurred after he had churned out a finger-aching three titles in 2009. In addition to The Doomsday Key, he published a stand-alone thriller, Altar of Eden, which reached No. 6 on the Times best-seller list, and Jake Ransom and the Skull King's Shadow, the first book in a young adult series he writes under his Rollins alias.
He will perform another trifecta in 2011, with a follow-up Jake Ransom adventure published in May and The Blood Gospel—a novel due out toward year's end that, while keeping details to himself, he predicts could be "very controversial"—bracketing The Devil Colony. The Sigma Force tale hews to Czajkowski's popular formula: a densely plotted story line, spiked with abstruse-but-true details, in which characters attempt to decode ancient mysteries in far-flung locales and prevent the planet's demise. An insatiable book and magazine reader who clips articles from periodicals as diverse as New Scientist, National Geographic and Entertainment Weekly to stoke his imagination, Czajkowski spins narratives that lead book critics to liken him to Dan Brown, author of The Da Vinci Code and The Lost Symbol. He views the appraisal with equanimity.
"What's that clichéd phrase? 'A rising tide lifts all boats,' " he says. "Once word-of-mouth spread—'His books are like Dan Brown's books'—all of a sudden it was a cattle run and my sales shot up. In no way has it been a bad thing." Nonetheless, he is not bereft of artistic pride. "Eventually, I want people to go, '[Brown's] book is just like James Rollins' book.' "
Czajkowski's raised profile helped him reel in the Indiana Jones novelization, a natural pairing of author and subject considering that online reviewers described Map of Bones, his 2005 Sigma Force novel, as Indiana Jones meets The Da Vinci Code. He talked with George Lucas to learn details about the story line and visited the filmmaker's Presidio studio complex in San Francisco to read an early version of the script. Since the movie and book would share the same release date, he watched dailies of unedited footage on a secure Web site during filming, tracking changes so he could tweak the novel's narrative.
But while he's a fan of the franchise and happens to write novels shot through with remarkably violent and inventive deaths, huge explosions and skin-of-their-teeth escapes, Czajkowski resists the tag of author-slash-action hero. "My publicist has tried to position me as the Indiana Jones of thriller writing—obnoxiously so," he says, recounting his refusal to skydive to a book signing in Anchorage, Alaska, to promote his 2003 novel Ice Hunt. Though an avid hiker and scuba diver, he prefers to avoid potential bodily harm. The exotic artifacts that decorate his home—a woolly mammoth tusk from China, a boomerang from Australia, a Mayan calendar from Mexico, a crystal skull from Hawaii—were picked up during leisure trips, not on covert assignments to foil The Guild. "I wouldn't want to be a member of Sigma Force," Czajkowski says. "It'd be too much work."
Which isn't to imply he lacks industriousness. He writes at least six double-spaced pages a day, manning his iMac for a few hours each morning and a few more in the afternoon, taking a break in between to tend to errands and his dogs—Penny, a golden retriever, and Paiwakit, a dachshund. The unglamorous regimen has yielded impressive results, as evidenced by The Doomsday Key's climb up the best-seller list in 2009, and last summer's acquisition of the film rights to the Sigma Force series by legendary Hollywood producer Dino De Laurentiis. (Despite De Laurentiis's death in November, his production company intends to move forward with a movie project based on the Sigma franchise and written by Czajkowski.)
His contemporaries marvel at the prolific production of the soft-spoken Czajkowski, who two years ago served as co-president of International Thriller Writers, an honorary society with such big-name members as David Baldacci, Lee Child, Jonathan Kellerman, James Patterson and Davis resident John Lescroart. "I'm a total slacker next to Jim—I only come out with one book a year," says Lescroart, whose legal thrillers regularly earn best-seller status. "I'm not envious. I'm awestruck." His praise echoes that of Czajkowski's good friend Berry, author of The Paris Vendetta and The Venetian Betrayal. "To be able to write three books in a year—sometimes I think he's cloned himself," Berry says. "The man has an incredible imagination. He can envision a story so well."
His steady ascension to literary eminence has surprised no one as much as Czajkowski, and he regards his fellow novelists with a fan's wonderment more than a peer's nonchalance. "I still get tongue-tied and blush when I'm talking with them," he says. "I don't feel like I should even be looking them directly in the eye." He recalls his nervousness a few years ago when he first encountered Preston, who with Lincoln Child has authored a string of popular thrillers. Later told by a mutual friend that Preston had a similar reaction to meeting him, Czajkowski replied, "Really? Me?"
His average-guy appearance matches his unaffected manner. "I've never had anybody walk up to me on the street and say, 'Aren't you James Rollins?' Which I love. I love the anonymity of being a writer." Clad in a zip-neck sweater and jeans, Czajkowski, who has short brown hair, sea-blue eyes and a thin, unimposing build, retains the quiet politeness of a man who can't quite believe his professional life evolved from respected local veterinarian to international best-selling author. "When I was writing Subterranean"—his first thriller, released in 1999—"I said, 'I don't care if anybody pays me for this. I just want it to be on the shelf.' So it's a little unreal to think about what's happened."
•          •          •
Czajkowski opened his veterinary clinic in 1989 about a half-mile from his former Sacramento home, four years after receiving a doctorate in veterinary medicine from the University of Missouri and migrating to Northern California. His parents, Ronald and Mary Ann, had moved here in 1980 after Ronald became plant manager of the now-defunct Libby Cannery at Alhambra and Stockton boulevards. A Chicago native who as a child also lived in rural Ontario and St. Louis, Jim fell hard for sun-soaked Sacramento—or "Candyland," as he calls it—and the region's abundant outdoor offerings.
Untrained and unpublished as a writer, but with an ardor for books that started in his youth with the sci-fi novels of Jules Verne and H.G. Wells, he tapped out short stories in his spare time. They were "horrible," by his account, yet as his desire to write intensified, he began work on a book in 1995, producing three pages a day during afternoon lulls at the clinic. In 11 months he had finished Subterranean. The Jurassic Park-tinged tale of a group of scientists sent to explore a mysterious labyrinth two miles below Antarctica's icy tundra, the novel ignited somewhat less excitement than Crichton's 1990 dinosaur blockbuster: 49 agents rejected the manuscript. The 50th agreed to represent Czajkowski, but his initial euphoria at finding an agent waned as one publisher after another spurned the book.
In the meantime, he decided to try his hand at a fantasy novel, and in 1996, he submitted a version of Wit'ch Fire, the story of a young woman possessed of supernatural powers, in advance of attending a writers' conference in Hawaii. Spotting one of his favorite fantasy authors, Terry Brooks, who was there as a conference judge, Czajkowski summoned the temerity to say hello. The writer of 22 best sellers, Brooks, noticing the younger man's name tag, countered with a surprising response: "I'm a big fan of yours, too." Czajkowski's confusion turned to elation when, after explaining how much he liked the novice writer's manuscript, Brooks introduced him to a representative from his publisher, Del Rey Books.
More good news arrived within a week when Avon Publications bought the rights to Subterranean. Just that fast, the wannabe author had inked a pair of two-book contracts. He sold his clinic in 1998, the same year Wit'ch Fire hit bookstores, and over the next three years, he slowly reduced his part-time veterinarian work until he was a full-time novelist.
The book deals begat the change in his public identity. Both of his publishers insisted Czajkowski drop his alphabet soup of a surname, following the industry logic that customers gravitate to authors with simple names. Since he would be writing in disparate genres, he chose two pseudonyms. Clemens serves as an homage to Mark Twain, the nom de plume of Samuel Clemens. Rollins derived from Ronald—he wanted to honor his father, but Avon told him readers might struggle to remember an author with two first names.
Then as now, he thinks of the pen names as nothing more than brands, a means to a best-selling end. "To me, they're just something you hang on a book title. I don't think of myself as Rollins or Clemens; I think of myself as Czajkowski." So do the members of the Sacramento writing group he joined before ever publishing a word and whose twice monthly meetings he continues to attend. "As much as I wish they would bow down when I enter, they don't," he quips. "They tear me apart."
Czajkowski counts himself as one of eight longtime "core" members of the group  that typically numbers 12 to 14 and gathers in a private room at Coco's Restaurant near Arden Fair Mall. The unpretentious setting reflects why he prefers the Sacramento region as his literary home over bigger metro areas. "Everything's a little more laid-back here," he says. "It would be hard to find such a casual group in San Francisco; everything's a little more stratified there." The group's ranks include a retired Navy officer, a bookstore clerk, two state office employees and a couple of homemakers. Few of them are published authors, and none come close to Czajkowski's level of success. Yet he trusts their judgment as the first readers of every chapter he writes.
"We call it the 'hot seat' when your stuff is being critiqued, and it's still as uncomfortable now as it was back then. They'll say, 'This is pretty good, Jim, but'—and then comes a long list of things that are wrong." He recalls how they dissected Jake Ransom and the Howling Sphinx, the sophomore effort in his young adult series that chronicles the globe-trotting, time-traveling escapades of the title character, an intrepid teenage explorer in the mold of a young Indy Jones. The group grilled Czajkowski on matters big (whether dinosaurs could run as fast as he described) and small (word choice, comma placement). "Sometimes you think, 'I'll write this and it'll pass just fine,' " he says. "The group holds my feet to the flames."
In fact, he seldom stints on any aspect of his work, dedicating 90 days to researching subjects before he begins to construct his Sigma Force and standalone thrillers. In preparation for writing The Devil Colony, Czajkowski culled details from an eclectic mix of texts to educate himself on an array of subjects: an island located off the coast of Georgia, the history of the first complete mastodon skeleton excavated from U.S. soil, the "secret societies" of the founding fathers. As with his previous books, he created only a loose outline, consisting of a beginning, an end and a smattering of plot points. The absence of a narrative map allows him to find his way through a story much like Sigma Force navigates the fiendish schemes hatched by The Guild.
"The greatest joy of writing is that sense of discovery each day," he says. "Even the days when you're pulling teeth, you'll still come out with a piece of dialogue or a phrase that you're just so happy with. It's still so fun." That should reassure fans of Rollins and Clemens alike who have waited almost two years for a new tale to sink their teeth into. "I can't believe people pay me for this."