Game Face
Soccer legend Preki has one name and one objective as the first coach of the new Sacramento Republic FC: Winning. Let the games begin!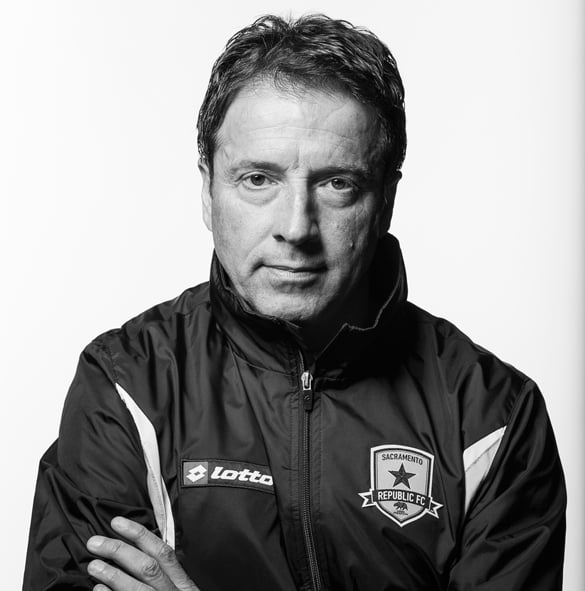 IIt's a chilly Wednesday afternoon, and the back room at de Vere's Irish Pub teems with Sacramento soccer devotees. They churn and cheer and moan inside an orbit of TVs, where a slate of English Premier League matches airs live from across the Atlantic. A legend sits among them, fixated on the Everton game. He folds his arms and shifts on his stool as a hoot goes up around him.
"I used to play for Everton," says Predrag "Preki" Radosavljević, coyly shrugging through the gleam in his eye after his old boys in blue score the goal that will defeat the fabled Manchester United. "I like to see Everton do well."
Such cool, coiled reserve is one side of Preki, 50, the former Major League Soccer superstar who returns to the pitch this spring as the first head coach of the Sacramento Republic FC. It seems to barely restrain the other side—the fierce competitor who sped and slashed and kicked his way to a World Cup appearance for the United States, an MLS title, two league MVP awards and enshrinement in the National Soccer Hall of Fame in 2010. Watching the games at de Vere's is no different: He jokes cheerfully with friends even as he radiates an intensity as thick as the pint of Guinness beside him on the bar.
Preki acknowledges this energy as he speaks. He knows how potent it is and that everybody recognizes it—especially those in the Republic's front office, who last summer announced Preki as the coach for the USL Pro team's inaugural season (the first home game will take place on April 26 at Sacramento City College). He knows he is the motivator, teacher, mentor, guru and all-around fireball they've charged with not only winning, but helping burnish Sacramento's candidacy for a possible MLS expansion team in 2016. He knows that there is a small window to accomplish the Republic's huge goals, which is perfect, since he has no patience for inertia or losing. "I like to do things fast—to think fast," Preki says. "Sometimes that doesn't go well with certain people, but I've found the people who think that's a good quality."
Indeed, Preki's singular speed is well documented. This is a man who raced to fame thanks in part to something called the "Preki Chop"—a lightning-fast signature move that swept the soccer ball around almost two generations of international soccer opponents, often en route to the back of the net. Even late in his playing career, the midfielder's skills vexed athletes half his age; Preki won his second MLS MVP prize—still an unequaled achievement—when he was 40.
As the coach for Chivas USA, one of two MLS franchises in Los Angeles, Preki developed a reputation for having just as quick a temper. Yet his pointed leadership style helped ignite three straight winning seasons and playoff berths between 2007-09. MLS named the rookie manager its Coach of the Year in 2007.
Graham Smith, the equally candid, gregarious Republic technical director who represented Preki as an agent in the early '90s, credits Preki's unrelenting single-mindedness with his success as a coach. "It's all right to have an implicit belief in the way you coach," Smith says. "He's been proven right. I'd like to think he's found somewhere—here with me and this organization—that he can relate to."
Preki, who was a soccer-mad 4-year-old in the former Yugoslavia when he got his first pair of cleats (he went pro at 16 and immigrated to America in 1985), undertook coaching roughly a decade ago when his daughter Natasa and son Nikola played in youth soccer leagues. Preki obsessively observed the action until his wife Trisha finally spoke up. "She said, 'You should coach our kids; you're always roaming the sidelines,' " he recalls, grinning. Once he had his own team, he knew coaching was for him. "That's it—I found myself."
After coaching one season in Toronto in 2010, Preki had been out of MLS for two years when Smith needed a coach for a new minor league team with major league aspirations. He knew just the right ambitious, experienced talent to call, and today Preki and Trisha live downtown, not far from where Republic ownership is eager to build a new stadium for its MLS hopefuls and its supercharged coach.
"I think this place can explode," Preki says, gesturing to the buzzing de Vere's crowd and the city beyond. "Now the thing is, we can all talk about it. Now I want to see it. I want to see Sacramento come out."