Get a chic preview of Sacramento Fashion Week 2015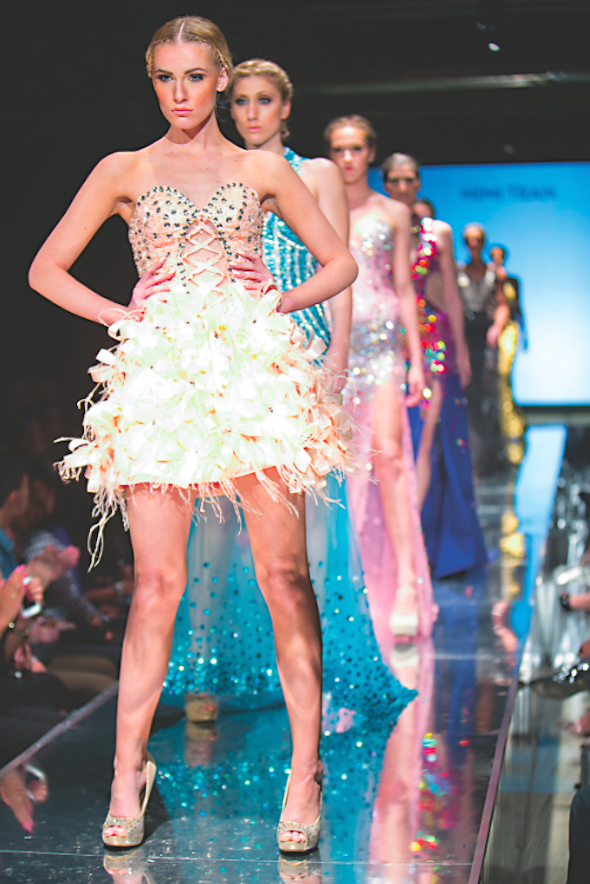 From Feb. 15-21, Sacramento Fashion Week hits city runways over seven days filled with style-related events designed to help Sacramentans embrace their inner Anna Wintour. From three shows highlighting the region's hottest talent to a film exhibition connecting the two creative industries, here's a rundown of what's going on during the city's biggest fashion showcase.
Launch and Boutique Show
Feb. 15 To kick off the week-long celebration, designers will present one piece from each of their collections at this launch party at the California Auto Museum. Afterward, guests can shop the venue's boutique showcase, which features items from the region's chicest shops, including Krazy Mary's, Mirror Mirror Fashion and U.Be.U. Fashion Boutique. (VIP ticket holders will have a chance to meet the designers themselves.) $20-$100 in advance ($40 general admission at door). 5 p.m. California Auto Museum. 2200 Front St.
Fashion Forum
Feb. 16 Listen to some of fashion's most experienced professionals (including model coach and visual artist Gerry Simpson, fashion photographer Tim Engle, and Lavish Living Magazine editor-in-chief Lauren Stunner) at a panel-style keynote forum meant to provide guests with a professional perspective from industry experts and educate them about the fashion industry's variety of career fields. Free. 6 p.m. Art Institute of California Sacramento. 2850 Gateway Oaks Dr.
Model Boot Camp Workshop
Feb. 17 This event invites aspiring models to take part in an intensive workshop taught by Cast Images model booker Amber Collins, who trains models on their runway walks and lends valuable tips on how to book a job. Attendees can also learn about the inner workings of the modeling industry from a presentation hosted by Collins and watch Fashion Week models get their final training before the first runway shows. Free. 4 p.m. California Auto Museum. 2200 Front St.
Hair & Makeup Workshop
Feb. 18 Find ways to change up your look at this free workshop hosted by Allure Salon & Spa. This event, designed to educate guests about this season's runway looks and industry standards concerning hair and makeup, will be directed by salon owner Missy O'Daniel and Sacramento Fashion Week lead makeup artist Jasmine Cardenas. Free. 11 a.m. Federico Beauty Institute. 1515 Sports Dr.
Fashion on Film Exhibition
Feb. 18 In collaboration with the California Film Foundation, this show connects the local film and fashion communities with a screening of the film Bunny and Claude, which takes a high-fashion approach to the Bonnie and Clyde story and stars Sacramento actor Jim Meyer. The evening, which also includes a showcase featuring film-themed fashion from local designer Rory Castillo, will be hosted by Sacramento Film Festival founder and Pacific Coast Television executive director Martin Anaya. $10 in advance ($20 at door). 7 p.m. Beatnik Studios. 723 S St.
Emerging Next Showcase
Feb. 19 Serving as the first major showcase of the week, this fashion show will highlight the work of student designers from schools across Northern California, including Sacramento State University, American River College and Sacramento City College, as well showcases from emerging designers Tyniece Hall and Frankie Vanity. A pre-event reception with martinis and light food will be served before the show for VIP ticket holders, while vendor booths around the Federico Beauty Institute in North Sacramento will provide guests with an interactive shopping experience. $10-50 in advance ($20 general admission at door). 7 p.m. Federico Beauty Institute. 1515 Sports Dr.
Spring/Summer Showcase
Feb. 20 Get ready for the upcoming seasons and watch seven designers present their Spring/Summer collections, including a Southeast Asian-inspired line infusing Cambodian and Malaysian fabrics with contemporary styles presented by Peter Scrichan, as well as looks by Kimberly Dawn Eanes, including one that pairs a lavish hoodie with a white pencil skirt for a casual yet professional ensemble. $40-$150 in advance ($50 general admission at door). 6 p.m. California Auto Museum. 2200 Front St.
Fall/Winter Showcase
Feb. 21 Celebrate the last day of fashion week with a designer showcase presenting the Fall/Winter designer collections of seven designers, including returning designer R. Douglas (who will present his new women's line consisting of custom suits) and Anastasia Kryukova, who'll present a dual men's and women's collection pairing pieces that range from plush sweatshirts to structured dress shirts and close the gap between casual and professional. $40-$150 in advance ($50 general admission at door). 6 p.m. California Auto Museum. 2200 Front St.
For more information on Sacramento Fashion Week, call 572-6787 or sacfashionweek.com.
Related Links
– Sacramento Fashion Week shifts into high-end gear for its grand finale runway shows
– 50 romance authors—and Fifty Shades of Grey—set to heat up downtown
– Tower Records documentary set for premiere at SXSW Film Festival