Getting Back on Track
Five years ago, Sacramento Regional Transit was on the verge of derailing. Riders felt unsafe, staff morale was low, and the agency was flat broke. Then Henry Li stepped in. He cut costs, launched innovative programs targeting climate change, equity and customer service, and built a $30 million reserve—leading him to be named, effectively, America's public transit CEO of the year in 2019. But when Covid hit, ridership plunged, a key funding mechanism was pulled from the ballot, and now the future of commuting is a looming question mark. Whether you ride public transit or not, his decisions will affect your commute, the air you breathe and, in many ways big and small, the future of Sacramento. Henry Li is now arriving.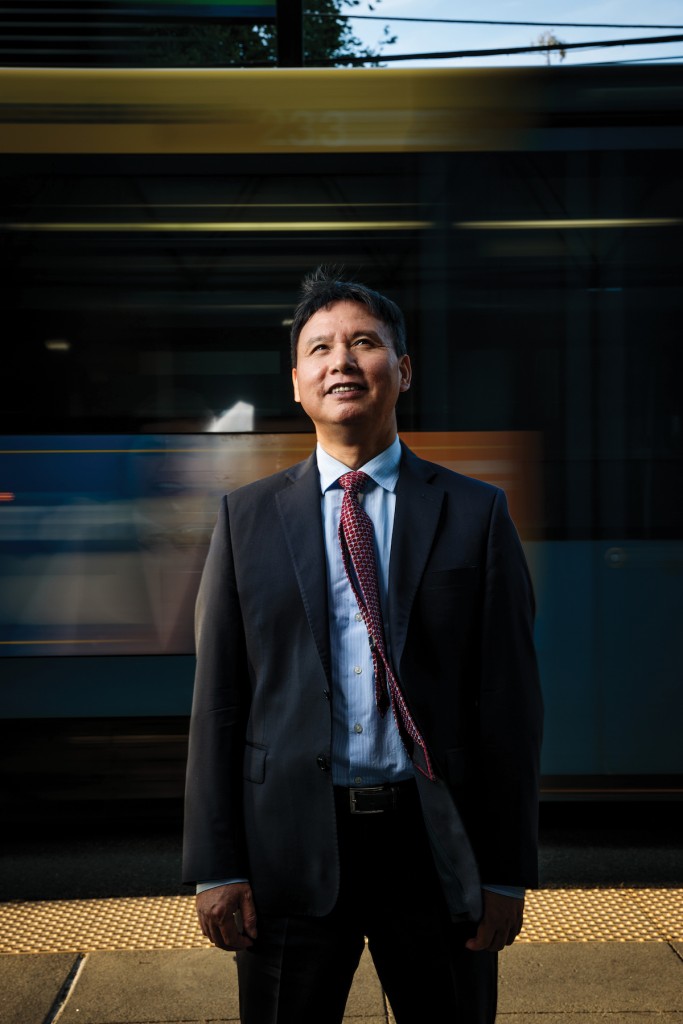 The ride from Sacramento to Folsom is not what I expected for my first time on Sacramento Regional Transit's light rail, which is to say that it is largely uneventful. Pleasant, even. I find the clickety-clackety cadence of the wheels going over the tracks soothing and hypnotic. Out the windows, urban density quickly gives way to more and more stretches of open fields as we pass through the suburbs. My masked mini-adventure is amounting to an easygoing way to pass some time on a mid-May morning with enough space and quiet to marvel at the fact that I'm even sitting in a train car at all, given the devastating health crisis that has just begun to loosen its grip on the globe.
Like many of you, I'm still wary of enclosed public spaces despite being fully vaccinated, and picking up the Gold Line from the University/65th Street light rail station wasn't entirely my idea. Instead, I had intended to schlep my beater truck to Folsom, where I would rendezvous with Henry Li, Sacramento Regional Transit's general manager and CEO, so we could ride the line together into downtown Sacramento to discuss RT's future over lunch. But if I were going to truly inhabit my civic duty as your self-ordained scout for post-pandemic rides on public transportation (at your service!), Li encouraged a 100% Regional Transit journey instead, starting and ending with me summoning a Smart Ride, an on-demand microtransit service (think Uber Pool, but with shuttle buses).
I downloaded the Smart Ride app to my phone, set up my profile and payment option, and "hailed" a public transit vehicle for the first time. The app gave me an estimated wait of 17 minutes, the standard RT fare amount of $2.50—not subject to price surges at peak hours like Uber Pool—and instructed me to head to a bus stop within a half-block or so of my house. The blue-and-yellow shuttle arrived right on time. I was the sole rider, and we were off to the light rail station (the $2.50 I just paid for the shuttle includes the train fare as well), which took all of 10 minutes.
During the entire half-hour ride from East Sacramento to Historic Folsom, not another soul appeared in my rail car (in fairness, it was mid-morning, and I was going in the opposite direction of most weekday commuters), which is, as we'll get to in a bit, part of the problem for Regional Transit right now.
The train pulls into Folsom Station and Li, 56, jumps aboard as if his gray Adidas track suit and comfy-looking Ecco shoes elevated him with seeming effortlessness.
"How was it?" he asks.
"It was great. Totally relaxing, which I didn't expect," I reply.
As expected, the 55-minute ride from Folsom to downtown is more lively, though certainly not crowded, much to the delight of two cyclists who manage to board their bikes without rolling over anyone's toes. While the train makes its way west, Li doubles as my tour guide, enthusiastically pointing to the "transit-oriented developments"—new and soon-to-be-bustling retail-and-housing hubs rising up near the rail stations—that are a key part of his strategic vision for the future of light rail. One of them is a 223-unit student-centric housing project that is slated to open next year at the University/65th Street station, my point of origin.
Not only did that project net RT $2 million on the land it sold to developers, but more importantly, it will also create hundreds of potential future riders who are tailor-made for public transportation: young (which helps them establish an early comfort level with buses and trains), largely lower income (because they're students), and positioned only steps away from an RT station.
Of the system's 52 light rail stations, Li says that 13 have large surpluses of adjacent land that the agency owns—110 acres in all—giving him the ability to produce his own passenger base to some degree, as if he were playing the metropolis-building simulation game SimCity. RT is currently taking bids from developers on the largest parcel, 20 acres at Florin Station. "Imagine 20 acres," enthuses Li. "It's like a small town!" He believes such developments could eventually add up to 5,000 (mostly affordable and low-income) housing units on station-adjacent sites. "If just one person from each of those 5,000 housing units rides our system twice a day, that is a 10,000 ridership increase," says Li, explaining that it would translate to a 10% uptick in overall ridership.
At one point during our ride, Li asks to take a selfie with a transit ambassador by the name of Deveral Winston, a father of four school-age children—the second youngest suffering from sickle cell anemia—who says he is especially grateful that Regional Transit did not furlough, lay off or otherwise slash the salaries of its workers during the pandemic. Transit ambassadors—essentially wandering customer-service-reps-slash-friendly-fare-enforcers—were an early part of Li's plan to deter crime, increase customer service and, during the pandemic, make sure that passengers were masked up (they often handed out free face coverings) and socially distanced. Li says the system now has over 80 such ambassadors and security guards. "I'll send this photo to your supervisor," Li tells him. "She should see what a great job you're doing."
Sacramento City Councilman Jay Schenirer, who was RT's board chair in 2016 when Li was hired, cites Li's relationships with his team as one of the reasons for his success from his earliest days with the agency. "He gave a lot of latitude to staff and got them so energized about what they were doing," says Schenirer, who referred to Li as a "game changer" in The Sacramento Bee at the time. "When he took over, morale was pretty horrible because it really was a failing organization."
"Our finances were a wreck. We were in total disarray," says current Regional Transit board chair and Citrus Heights Mayor Steve Miller of the agency before Li came on board, citing RT's then-nearly-$0 reserve (now a robust $30 million and counting) and its unsustainable habit of covering payroll with a line of credit from the bank.
Miller cites Li's work ethic as one of his more notable traits. "A few of us board members noticed that [Henry] has a favorite word: 'Relentless,' " he says. "And that describes him to a T. The best way I can explain it is that there was a point a year or two ago where I don't think he had taken any vacation since…" and he pauses for a beat, then starts again, with a chuckle, "I don't think he'd taken any since he began. And we had to insist that he take time off. And so that's the one word I'd use to encapsulate him—relentless."
Li's full-throttle reversal of the agency's long and tumultuous decline has earned the agency some impressive accolades in a relatively short period of time. So far, they include a 2020 Excellence in Transportation Award from CalTrans, a Sacramento Taxpayer's Association Good Governance Award and, for Li, mass transit's equivalent of an Oscar for best director—the American Public Transportation Association's 2019 Outstanding Public Transportation Manager in North America.
But for all the praise and awards, Li and Regional Transit now face a decidedly uphill climb—against residual fears about Covid, preexisting perceptions about the safety of the system, and serious funding challenges that threaten to derail RT's pre-pandemic momentum.
It's Going to be a Bumpy Ride
As pleasant as the rides on this lovely spring morning were, empty or near-empty trains (and buses) are every public transit CEO's nightmare, and the pandemic has hit public transportation harder than anything since the post-war explosion of automobile sales in the late 1940s.
Within 30 days of the work-from-home mandates in March of last year, ridership levels plunged by a staggering 78%, leaving dozens of passengerless buses and trains, and less revenue coming in the door. But not a single route was cut; instead frequency of certain routes was diminished to 70% in April 2020, but fully restored by September 2020; many of the people riding RT then were essential workers—grocery store staffers, hospital frontliners and many others who are unable to work from home. According to census data, 30% of these workers don't own a car, so they didn't have the option of driving to work in the safety of a single-rider vehicle.
Throughout the pandemic, passenger numbers have risen and fallen like a roller coaster at the State Fair. Since Covid reached our shores, Regional Transit has sustained an average 60% drop in ridership. Thanks to vaccinations, ridership has been climbing again in recent months, but no one knows yet how fast the agency can close the gap in the coming months and years.
Daniel Sperling, director of the UC Davis Institute of Transportation Studies, says RT's predicament mirrors that of transit agencies everywhere. "Their only priority right now is to get back to where they were," he says. "Transit agencies are suffering huge ridership and financial losses."
Even if you've never used public transportation in Sacramento, Regional Transit, like other transit systems, has always been a critical component of our civic infrastructure, but never more so than now. To wit: For more than a decade, Sacramento's air quality has been ranked by the American Lung Association as one of the worst in America (this year, it clocked in at No. 6 for number of high ozone days out of 226 cities measured)—a quality of life issue that has worsened in recent years as rampant forest fires have choked the residents of the bowl-shaped Central Valley.
The pandemic has also driven residents further out into the suburbs—in part because people are seeking more space to spread out, and in part because Bay Area residents are moving inland at a blistering pace. Translation: More cars, and longer drives to work and entertainment options. That means more traffic, more exhaust and worsening air quality.
Regional Transit also faces multiple hurdles when it comes to attracting riders. There are those who rode the system pre-2016 who remember higher crime rates, dirtier vehicles and less reliable service, and vowed never to return. And many pre-pandemic riders now have an understandable fear of enclosed spaces filled with strangers.
The Associated Press recently reported that transportation officials around the country contend that, "it could take years to get riders 100% back, if ever, putting lower-income workers at a greater disadvantage if service levels drop off."
And Sacramento may have a unique disadvantage compared to other cities: As the capital of the largest state in the country, we have a disproportionately high number of state workers here. "Much of SacRT's [pre-pandemic] commuter ridership was built on a government workforce," says Shelly Valenton, vice president of integrated services and strategic initiatives and Li's chief of staff. "Teleworking has really changed the ridership dynamic."
Moreover, Gov. Gavin Newsom is considering crafting a fully remote or hybrid work schedule for up to 75% of California state employees (over 100,000 state workers live in the greater Sacramento region) in an effort to reduce government spending.
Li, however, remains optimistic. "As public transit adjusts to a post-COVID world, I anticipate it may take a couple years for ridership to return to pre-pandemic levels," he told me. "However, our agency will need to remain flexible. Our recovery will be dependent on creating a world-class system more focused on building equity, promoting social justice and fighting climate change."
That means a system that better reflects the needs of the community, that is positioned to grow, and can not only lure back its existing ridership, but expand its reach by providing a better, safer and cleaner experience—all while helping lift up poorer communities and leaving a smaller footprint on the environment.
Climate change and social justice issues may not sound like priorities for a system that operates buses and trains, but that's how Li sees his mission.
However, to achieve that mission, he needs a commodity that he's desperately short on right now—riders.
But first, lunch.
An On-Time Arrival
A heaping tray of various barbecued meats lands on our patio table at Downtown Commons' Sauced BBQ & Spirits with a heavy thump, just 10 minutes after disembarking the light rail train at 9th and K Streets. Li's years spent living in the South were showing: He and his family, wife Rose Bai and their daughter, Alice, lived for 11 years in Georgia, home to a rich barbecue heritage.
Li arrived in Atlanta from his native China in 1996 at the age of 30 to pursue an MBA at Georgia Southern University, and soon thereafter started his transit career as a budget analyst for the Metropolitan Atlanta Rapid Transit Authority (MARTA) under his eventual mentor Nathaniel Ford, a widely respected leader in the world of public transportation.
Li followed Ford to multiple transit agencies, including the San Francisco Municipal Transportation Agency and, most recently, Florida's Jacksonville Transportation Authority, where Ford is now CEO and where Li was vice president of technology and finance for three years before decamping to Sacramento. In 2020, Ford took home the same APTA Outstanding Transportation Manager Award that Li earned the year before.
Dining with others has been one of Li's more effective career strategies—after all, rare is the modicum of distrust, shallow grievance or awkward getting-to-know-you agenda that can withstand, in my case at least, glistening strips of smoked brisket. Ford says that some of his best memories have been at team dinners in a Chinese restaurant, where Li would own the host-with-the-most role, and take over all the ordering and serving, much to the delight and awe of those at the table.
"It's a cultural thing," says Ford. "He's showing you who he is, where he comes from, and you can't help but embrace that."
It's also just one of many ways he tries to connect with all of his stakeholders, from board members to riders. "Henry is extremely accessible," observes Sacramento County Supervisor Patrick Kennedy, who serves as vice chair of the Regional Transit board. "He has regular meetings on social media with the public. He's really, for lack of a better phrase, a man of the people."
Kennedy is referring, in part, to the monthly "Transit Talk" chats that Li hosts on RT's website—a tradition started in 2008 by former Regional Transit general manager, Mike Wiley—to address public concerns. In May, Li responded to a rider's query about electronic fare payments (which would help passengers avoid germy fare boxes). Li answered that RT was working to launch "a demonstration program that will soon allow passengers to pay their fare on board light rail vehicles using a contactless credit/debit card, Apple Pay, Google Pay, etc." In fact, a pilot program for that option launched on June 15.
Schenirer says, "Henry is all about getting the 'yes,' and willing to take strategic risks in an industry that is changing so quickly."
According to Chris Flores—effectively Li's right-hand man at RT and a former senior policy advisor for Congresswoman Doris Matsui—that's what makes Li so compelling to work with, despite the pace.
"Keeping up with him can be difficult because he can move a mile a minute," says Flores, who at 38 is nearly 20 years younger than Li. "He's always thinking, and [sometimes] he'll text me thoughts late at night. He's constantly coming up with ideas, and he challenges us to think outside the box."
During Flores' own tenure with RT, he says he's seen the culture shift from, "We can't do that," to, "Maybe we can do that," and eventually, "Yeah, let's do that. We're going to lead the industry."
In between bites of barbecue-sauce-slathered chicken wings, Li says, "When I joined the agency, I sat down with the board. I asked them, 'What can I do for the agency, what improvements should we make to the system?' I would tell them honestly [whether or not] we had the money to do those things. If you respect others, they will respect you back. And that has been my experience in this town." This dynamic hints at learnings from his previous life as an assistant professor at a college in central China in the early 90s, teaching the fundamentals of psychology.
Li got a chance to flex his high EQ early in his Regional Transit career, when he was presented with a massive—that is, arena-size—incentive to prove his worth. Could he quickly organize the embattled agency to handle capacity crowds on the order of, say, back-to-back Paul McCartney concerts or an opening-night Kings game at the brand-new 17,608-seat Golden 1 Center in the heart of downtown?
"I think there was some concern that Regional Transit would fail right out of the gate," says Flores.
So with only three months leading up to G1C's highly anticipated opening on Oct. 1, 2016, Li—who started his role as general manager on July 1—immediately went to work, huddling with and mobilizing diverse city forces to put into action improvements that would be the proof of concept for the agency's long-term "Clean, Safe, Convenient and Reliable" plan.
The result: For the first event at the new arena—a Sacramento Kings practice exhibition—roughly 4,000 fans attended via light rail. It was "a lot more than city officials … expected," according to next day's Sacramento Bee. About a week later, after the first night of two sold-out Paul McCartney concerts, the paper reported that "RT appears to have scored an initial success in its effort to be a bigger player in the region's transportation system."
Li had delivered on his first big test. But the list of urgent priorities was extensive. So it wasn't long before he started to implement them—at once attempting to drag Sacramento's archaic system into the present, while also pushing forward on once-radical ideas that have increasingly established him as an emerging leader in the national debate on transportation.
Regional Transit 2.0
Li's earliest steps were perhaps the most obvious, but also the most urgent. The fact was, in 2016, many people were simply afraid to ride Regional Transit.
To combat safety issues, in addition to the aforementioned 80 ambassadors and guards, RT installed over 1,000 video cameras, plus a public-address system at every station, allowing a 24-hour security command center to call out troublemakers in real time using what Regional Transit has dubbed the "voice of God." The omnipotent program has had a rather almighty effect: fare evasion, for example, dropped from 20% five years ago to less than 2% today.
Another obvious but critical change: Most of the system's 76 light rail cars are old. Not "classic, beautiful old" like the vintage railcars in San Francisco, but "inefficient, less-than effective old." Nearly all are fast-approaching their 30-year lifespan. So far, 20 new "low-floor" railcars (built without steps to provide wheelchairs, bikes and strollers easier access) have been ordered from Siemens Mobility in Sacramento, and should arrive by the fall of next year. Depending on funding, the rest could be replaced in four years' time.
As for the buses, Regional Transit's current fleet of 346 natural-gas buses already meets the cleanest standards for combustion vehicles, but the goal is to go all-electric by 2040 (Li hopes for much sooner if funding allows). The agency is now running 21 electric, zero-emissions vehicles on several lines, and will take shipment on three more by September.
However, a modern fleet of environmentally friendly and accessible vehicles, and clean, safe stations should be, by any measure, the bare minimum that a local transportation system should deliver (not to diminish the Herculean task of funding these basics from a negative account balance only five years ago).
But things really started getting interesting in 2018, when Regional Transit launched Smart Ride—the innovative approach to mimicking ridesharing services like Uber Pool where you order up a smaller shuttle bus (some seat 10 people, others seat 14) on an app on your phone, and it takes you to wherever you need to go (or rather its closest bus stop), while picking up a few others along the way. Partnering with the private NYC-based company Via—which provides the 45 shuttles (nine of which are currently electric) and the technology behind the app—Li has expanded Smart Ride into the largest microtransit system in the country, servicing eight zones in the region, from South Sacramento to Rancho Cordova (and adding Elk Grove on July 1), filling holes in coverage for underserved populations.
"Microtransit has been one of the most exciting programs Henry has done," says UC Davis' Sperling. "The Smart Ride service has become one of the most successful microtransit operations I am aware of." Sperling also notes that some other microtransit projects have failed because of a lack of funding or ridership.
Then, in 2019, RT launched a program called RydeFreeRT, giving free rides to K-12 students in an effort to curb chronic absenteeism at schools. Sacramento councilman Jay Schenirer championed the program for seven years before the stars finally aligned. "We're making sure kids have that transportation to school, not to mention the climate benefits of kids riding in trains rather than in cars," says Schenirer. Pre-Covid, student ridership increased 127% in only six months (between its launch in September 2019 and February 2020), and even during the pandemic, students continued flashing their passes to the tune of more than 1 million rides.
"A culture of ridership adds energy to a city and builds community," says Schenirer. "Imagine going to a basketball game on a light rail packed with fans, versus everyone heading down in their individual cars. It makes a difference. That's the feeling in a city that you want."
In March 2019, Li and Schenirer toured the San Diego Metropolitan Transit System (SDMTS) on a scouting trip with the Sacramento Area Council of Governments, witnessing firsthand the electrifying benefits of a truly integrated public transit system, one with a state-of-the-art, fully automated light rail, a focus on transit-oriented developments and, Li's next big goalpost—Bus Rapid Transit lines (BRTs), which feature dedicated bus lanes designed for gridlock-free commuting.
"San Diego is very much the [transit] model for the nation," says Li. "They spend lots of money to invest in infrastructure. Their communities are more spread out than in other regions, but they're very well connected [through transit]."
In the cases of both Smart Ride and RydeFreeRT, Sacramento is a glowing transit model in its own right. While we may not have been the first city to offer either concept, we are now home to the largest such programs in the country. And thanks in part to Li's fiscal wizardry, both have survived the pandemic and still have funding, for now.
Li has also finally put the "regional" in Regional Transit, overseeing the creation of a much larger—and more cohesive—transit system with the friendly annexations of the public transit systems in Citrus Heights, Folsom and Elk Grove (with others in discussion). Such a unified regional system is designed for efficiency and cooperation instead of, say, duplicating routes or competing for federal funding.
And just months before the pandemic hit, Li launched the city's first-ever direct bus service from the UC Davis Medical Center near East Sacramento to the airport, and soon after, a direct line to UC Davis called the Causeway Connection—two long overdue routes (each employing electric buses, with free Wi-Fi and USB charging stations, no less) that promise to pay long-term economic and environmental benefits.
But improvements like these are expensive. And keeping them will tax all of us, literally and figuratively.
Down the Line
While Schenirer jokes about the "money printing press" in the basement at Regional Transit's midtown HQ, he's really referring to how Li's financial savvy has bailed out the beleaguered system. It wasn't magic. It included a lot of cost-trimming, from limiting overtime to equalizing the staff's annual salary increase (3% across the board, rather than 5% for select groups); socking away some portion of federal funds from the CARES Act and the American Rescue Plan for a rainy day; and the aggressive pursuit of many competitive grant awards for various capital projects, which help maintain or improve the system.
This isn't, after all, Li's first experience budgeting under extreme conditions. Nine months after he joined MARTA in Atlanta, 9/11 happened. "The economy went terribly bad, and Henry spent a lot of time working on cost-containment strategies," says Ford.
"Henry is not shy about going after funding. He's very persistent," says Schenirer. "We had a very close loss on a transit measure in a couple of years ago, and we had an aborted attempt last year that will probably [return] in 2022. I think people see the need for public transit. Everybody's got potholes they want to fix, but [transit] is an important thing to prioritize."
Schenirer is referring to a new, as-yet-unnamed ballot measure, which would, if approved by voters, create an additional half-cent sales tax for transportation improvements that could raise more than $8 billion over the next 40 years. Funds from Measure A—which was approved in 1988 to implement a half-cent sales tax for transportation improvements and won a 30-year-extension vote in 2004—are distributed to multiple Sacramento County agencies by the Sacramento Transportation Authority (STA). Regional Transit relies on its share of the pot to make up roughly 25% of its annual operating budget, which is $214 million for the current fiscal year.
"To be fair, it's not that the STA isn't prioritizing transit, it's just that there's a limited amount of money available and they have to make some tough decisions," says Li's chief of staff Shelly Valenton. "Another sales-tax extension just means more money in the pot for everyone." Other non-Regional Transit projects funded by current Measure A dollars include building new bridges and bike paths.
In 2016, Measure B—which would have imposed an additional half-cent transportation sales tax—lost by the narrowest of margins, less than 1% of the vote. It needed 66.7% to pass. It got 65.71%. "If you're wondering who's not prioritizing transit, it's the voters," says Supervisor Kennedy. He also admits that while the board of supervisors has access to local funds that could help Regional Transit, a $700 million backlog in road repairs takes precedence. "I guess transit is not [the county's] priority either. But don't forget, RT did very well in federal funding this year." He's right—Regional Transit will receive over $220 million for essential services from federal packages.
In 2020, the Sacramento Transportation Authority reluctantly opted to remove the new measure from the ballot. "That was a difficult decision," says Li, "but considering the uncertainty and atmosphere of Covid, a prudent one." Whether or not the measure will be placed in front of voters next year remains to be seen. Polling will need to be done to determine whether or not there's been enough distance from the pandemic to ask voters for a new tax increase.
"Smart Ride [for instance] is simply not sustainable without another sales-tax measure," says Li.
With more local funding, Bus Rapid Transit lanes could also be fast-tracked. By allocating dedicated lanes with traffic signal priority to buses, travel times could be significantly reduced, luring more people to opt for bus service. Buses would effectively be faster than cars, much to the delight of the environment and probably your bosses. Of the potential BRT zones that Regional Transit has identified—Florin Road, Sunrise Boulevard, Arden Way and Watt Avenue—only one on Stockton Boulevard has been studied in depth. But like with so many other programs, a project like the Stockton Boulevard BRT—expected to cost $60 million—will rely in part on the passage of a new tax measure.
San Francisco's first BRT lane—on Van Ness Avenue—is expected to be installed next year and is projected to reduce travel times by more than 30% for approximately 60,000 customers daily. And Fresno, with a metro population one-third as large as ours—has had BRTs in place since 2018. Ridership on its BRT system, known as "Q," surpassed 2.5 million in a little over a year.
Other major projects at stake whenever the new measure comes up for voting again: light rail to the airport, Elk Grove and, assuming Major League Soccer still comes to town, to the new stadium in the railyards.
Also riding on that future ballot: climate change, better air quality, less traffic and, of course, reliable transportation for our essential workers and underserved neighborhoods.
My barbecue crash course in all matters Regional Transit ends with Li packing up the leftovers for me. While doing so, he laments how boring NBC's crime thriller Blacklist has gotten, advises that I purchase a live fish if I'm going to make fish soup, and tells me of his plans for the weekend, one of which is to go hiking with his wife Rose, maybe at Folsom Lake, which is a few miles from Historic Folsom Station, where I picked him up on the light rail. He brandishes a photo of them in front of Half Dome at Yosemite, and I wonder how he finds the time to do any of it while he's making sure his agency abides by its snappy mission statement, "moving people where they want to go, when they want to go."
Valenton chuckles as she tells me about the time a co-worker wished Li, "Happy Friday" as they passed each other in the hall. "Why do you say that? Our work is 24/7," he replied. And now the standard greeting at Regional Transit HQ is—you guessed it—"Happy 24/7." Then again, considering Li's demanding supervisor, his round-the-clock watch seems justified. "Everybody's my boss," he says. "I answer to the community."