Gimme Shelter
In Pittsburgh, a local music collective converted an everyday bus shelter into a pint-sized jazz club this past summer. Here's why we should create our own sidewalk symphony.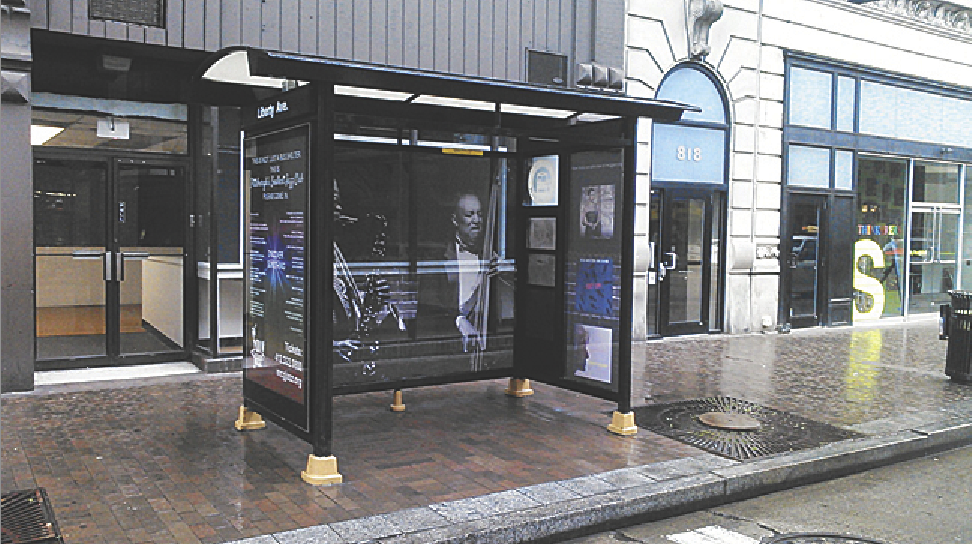 The Idea
Last year, Amy Kline, the marketing manager of Pittsburgh's Manchester Craftsmen's Guild Jazz—a nearly 30-year-old hub for jazz education and performances—hatched a clever idea. Inspired by a bus shelter she saw with heaters inside to keep bus riders warm, she figured that if a shelter could hold heaters, it could hold speakers as well.
So she applied for a $1,000 grant through the local chapter of the national Awesome Foundation (yep, it's a real thing), and got it. With the additional support of a private sponsor, MCG Jazz opened what it coined "Pittsburgh's Smallest Jazz Club" in a bus shelter in the city's cultural district this past July, and outfitted it with speakers, an iPod, photos of jazz greats from Pittsburgh (like Stanley Turrentine and Ray Brown), and a calendar of upcoming concerts. The space was also rigged with a motion sensor so that anytime someone walked into the shelter, jazz music recorded by members of MCG Jazz would begin to play. It remained open for about 10 weeks, generating local and national press. She even got musicians contacting her "wanting to play the club."
Here in the capital city, we could certainly use a little more outdoor music, so why not outfit the bus shelter in front of the Community Center Theater with similar accoutrements and create "Sacramento's Smallest Concert Hall"? Or convert one or more of the bus shelters downtown into tiny "clubs" for the month of May, leading up to our annual music festival?
The Players
The Sacramento Philharmonic is blazing a comeback these days, so they're naturals to take the lead, along with the Convention & Visitors Bureau, which oversees the Sacramento Music Festival. And Clear Channel, which owns the advertising rights to all of the shelters in the central city should do its part and work with some of our local arts groups and presenters on discounts. It might even work with light rail stops, presenting a unique opportunity for Regional Transit—which has vowed to make its system more rider-friendly—to make a difference for its passengers and generate some fantastic buzz while doing it.
The Bottom Line
Amy Kline, who says the guild is already looking at an encore performance, pegs the total cost for creating and maintaining the "club" for 10 weeks at about $3,100. The beneficiaries of a project like this in Sacramento are numerous. Not only would local performing arts groups gain increased exposure (and hopefully sales), but such a venue would certainly put a song in the step of both bus riders and passersby, from locals to tourists. The best part? There's not a bad seat in the house.