Glowing gourds will light up Auburn at the region's inaugural Pumpkin Nights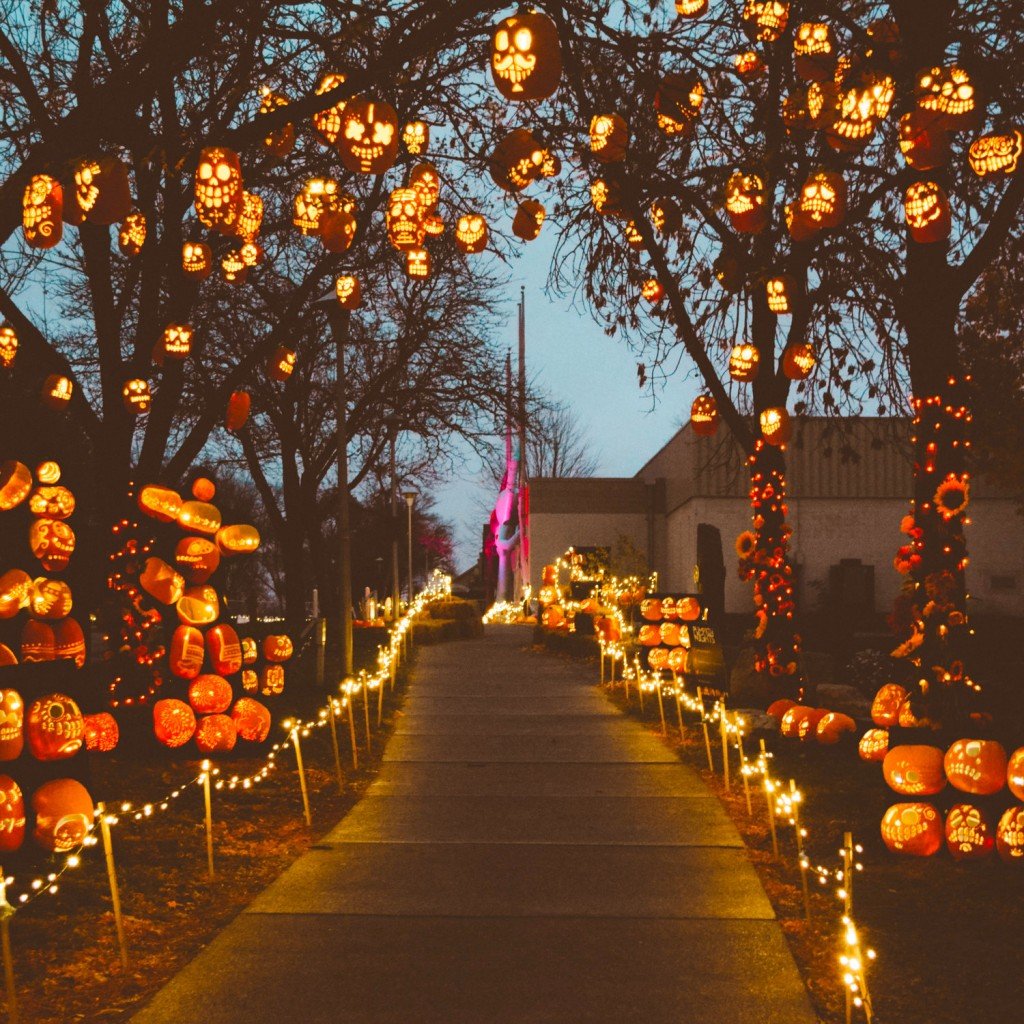 Something wickedly cool this way comes. From Oct. 13-29, the Gold Country Fairgrounds in Auburn will be alight with the spooky glow of over 3,000 hand-carved foam jack-o'-lanterns at the region's first annual Pumpkin Nights festival.
Revelers can meander through a half-mile of pathways in the Halloweentown, stopping at areas set to themed music, like the Great Pumpkin Reef with mermaids and illuminated blue pumpkins carved with shapes of underwater creatures like starfish and sea horses; the Día de los Muertos set with sugar skulls and a strumming pumpkin mariachi band; and Rum River Pirates with skeletal swashbucklers waving cutlasses and palm trees made from pumpkins. Harry Potter fans can take selfies at Pumpkin Passage, inspired by the Great Hall at Hogwarts and featuring 200 hand-carved orange gourds hanging overhead amid music and a spray of pumpkin-spice-scented fog. Check out a video of Pumpkin Nights below.
"One of the biggest compliments we received from people was that we brought Disneyland to them," says Pumpkin Nights producer and designer Chelsea Kasen. "When we can transport people from their daily lives to somewhere magical, we've done our job." Kasen oversaw a team of 15 artists who carved each and every pumpkin by hand.
The festival made its debut in St. Paul, Minnesota, last fall and is expanding this year to include Auburn. "The Twin Cities performed so much better than any of us had anticipated, so we wanted to expand into new markets," Kasen says. "We were looking around for places that were growing quickly and family-friendly. The Sacramento area was at the top of the list."
At Pumpkin Nights, guests will also find food trucks, entertainment and attractions like archery, cornhole and fortune-telling, as well as a nightly outdoor screening of Harry Potter and the Sorcerer's Stone, with The Nightmare Before Christmas added on weekends for a spooktacular double feature. Kasen says attendees are encouraged to wear costumes to celebrate this festively frightful time of the year.
$20 ($16 for kids $4-$12; free for children 3 and under). Times vary by date. Gold Country Fairgrounds. 1273 High St. Auburn. pumpkinnights.com
You Might Also Like
Global Winter Wonderland will set Cal Expo aglow once again this fall
Park(ing) Day returns, with creative parklets sprouting downtown
Eat, drink and dance your way through 7 international festivals