Go wheel to reel with bike-friendly outdoor movies in midtown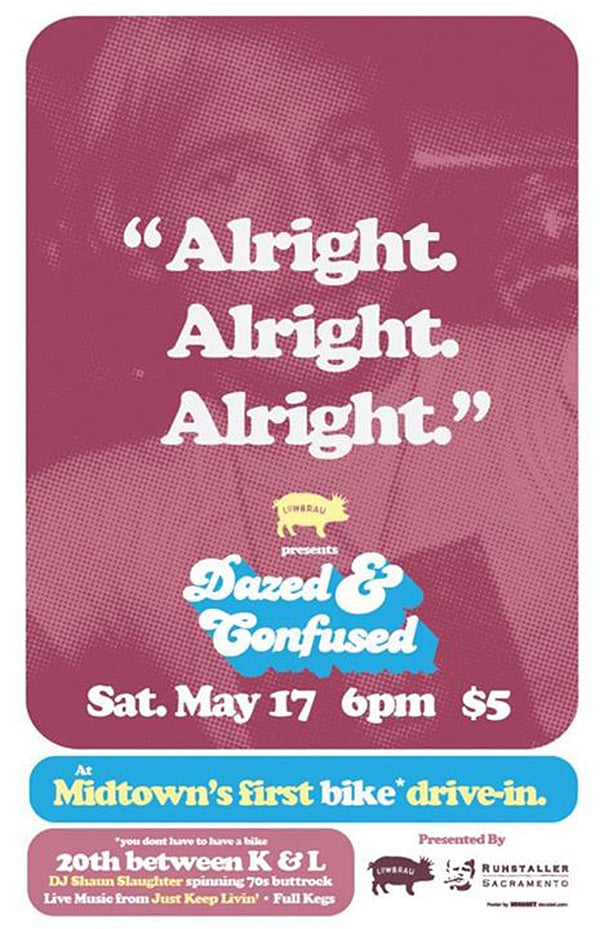 May is National Bike Month, and Sunday's Amgen Tour of California kickoff isn't the only way to celebrate in Sacramento. Two outdoor, bike-related film events in midtown are getting in the spirit as well: the Bicycle Film Festival, which rides into Fremont Park this weekend, and an inaugural "Bike Drive-In" unspooling on May 17.
Tonight and Saturday, the Bicycle Film Festival—an international event that last made a stop in Sacramento in 2011—will screen a free series of cycle-centric short films created by directors from across the globe.
"It's basically a celebration of bicycles through film," says BFF event director Andrea Lepore, better known as the co-founder and creative director of the gourmet pizzeria Hot Italian, situated just across 16th Street from Fremont Park. "Knowing that Sacramento's such a big cycling town, and with the Tour of California coming through town, we thought it would be a great opportunity to bring the festival here," Lepore adds.
A packed schedule of related events will take place Saturday, with a bike swap in the park from 9 a.m. to 2 p.m. and a "Ride and Seek" scavenger hunt around town on Saturday from 1 to 6 p.m. Tonight and tomorrow will feature bike-related tap takeovers at Hot Italian—Two Rivers Cider will bring in their cider bike on Friday, and Bike Dog Brewing will come in on Saturday. To encourage people to ride their bicycles, there will also be a free bike valet.
Next weekend, meanwhile, LowBrau and Ruhstaller will present a screening of the 1993 classic Dazed and Confused at what it has branded as "midtown's first bike drive-in" on May 17, based on an idea by designer Jason Malmberg, who created five custom posters for the event, including the one above featuring one of co-star Matthew McConaughey's famous lines from the film.
Viewers are invited to gather on the roof of the parking garage on 20th Street between K and L streets, where local DJ Shaun Slaughter will spin '70s rock and the local band Just Keep Livin' (named after another of McConaughey's indelible lines from the movie) will perform the Dazed and Confused soundtrack.
Admission costs $5, with food and beer offerings from the sausage maestros at LowBrau and the local brewery Ruhstaller available for purchase inside. A free bike valet will be offered at the drive-in as well, although guests are encouraged to attend whether on two wheels or two feet.
"It should just be a fun outdoor event," says LowBrau co-owner Michael Hargis, who notes that the bike drive-in could become a regular happening on the third Saturday of each month. "You can bring lawn chairs and hang out, sit on your bike or we'll actually offer seating via chairs that we'll bring in ourselves as well.
"It's just another fun thing to do to support the culture in Midtown," Hargis adds, "and maybe start building an audience for a brew-and-view type theater." Ride on.
Bicycle Film Festival screenings begin Friday at 8 p.m. in Fremont Park, located at 16th and Q streets in midtown (bicyclefilmfestival.com). The Bike Drive-In takes place May 17 at 6 p.m. atop the parking garage on 20th street between K and L streets.