Going Green
Midtown's Block Butcher Bar is getting a vegetarian conversion. Meet the meatless Love Child, featuring a vegan Double-Double, maitake mushroom "steak" and spicy soyrizo.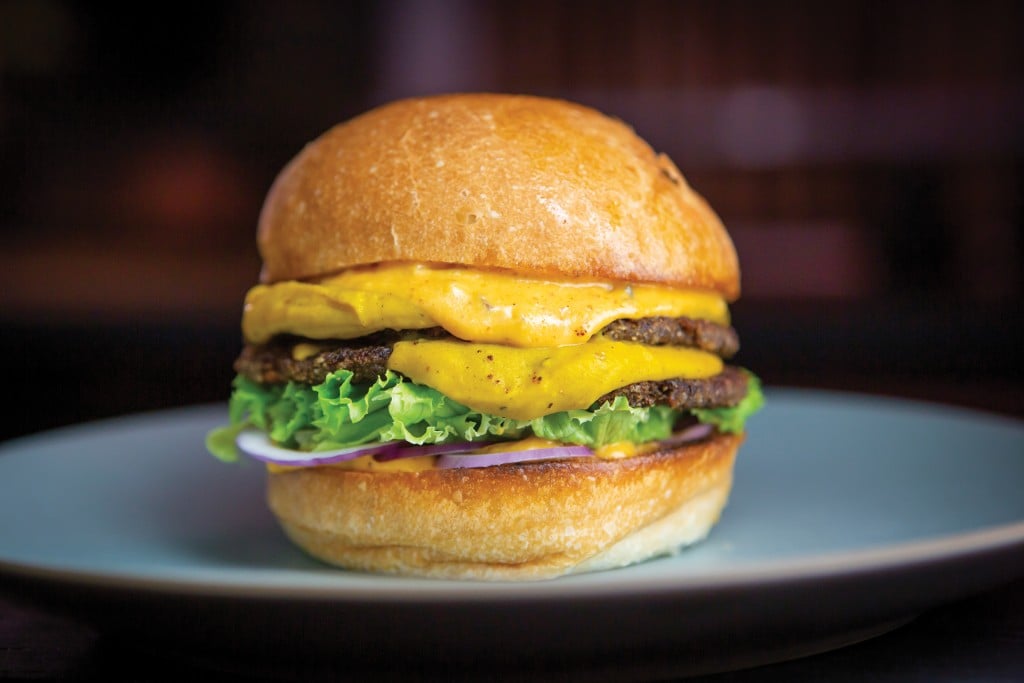 On Hamilton Li's right calf is a tattoo of a pig, with all of its butchery cuts outlined and labeled. The ink is a relic from Li's days as the kitchen manager of restaurateur Michael Hargis' eateries located cheek by jowl in midtown's MARRS building—LowBrau, a German-style beer hall with the artisanal bratwurst to match, and Block Butcher Bar, a cozy charcuterie joint. After recently converting to a mostly vegan lifestyle (which includes an occasional intake of dairy, poultry and seafood), Li is now the new head chef of Love Child, Hargis' forthcoming plant-based restaurant and the city's first vegan butcher shop. The chef's tattoo suddenly ranks among the paradoxes that could have been in Alanis Morissette's 1996 hit song "Ironic." (Not to mention, Li's nickname, short for Hamilton, happens to be Ham.)
"Just because you're plant-based doesn't mean you're being deprived of good eating," says Li, 27. "But you definitely think about good eating in a different way."
In another twist, veg-centric Love Child is set to launch in September in the once-cardinally meaty environs of the erstwhile Block Butcher Bar. While it's as sharp as a pivot can be for a restaurant, the idea may have been planted, so to speak, as long as 18 years ago, when Hargis was diagnosed with diverticulitis, an inflammation of the digestive tract. He says he's been "90% plant-based ever since" and has a self-described obsession with wellness, as a serious illness is wont to manifest.
For Li and Hargis, being plant-based means they consume "mostly plants," in accordance with the Berkeley-based food activist Michael Pollan's 64 principles of consumption, outlined in his 2010 best-seller, Food Rules: An Eater's Manual. Granted, the definition of "plant-based" ranges from a total exclusion of all animal products (the official stance of the National Institutes of Health) to a more easygoing, omnivorous approach that, as The Washington Post states, "makes plant foods the focal point of the plate, with animal foods like meat, poultry, fish, eggs or dairy [playing] smaller, supporting roles."
Since Hargis also "refused to throw the baby out with the bathwater," and even admits to indulging in a juicy rib-eye now and again—his half-carnivorous, half-herbivorous Beast & Bounty was an instant hit when it opened at R Street's Ice Blocks complex two years ago—launching Love Child is proving to be his deepest expression as an eater and restaurateur. "I really wanted to create a place that was more aligned with my values," he says. "The restaurant industry is tough, but I think that people—whether customers or employees—really show up for projects of passion and energy."
Love Child's popular pop-ups in June certainly bolstered that theory. At the time, Block Butcher's dark and broody tableau was being transformed into Love Child's lighthearted setting of terrazzo countertops, pink hand-glazed tiles, woven rattan details and cascading greenery (in fact, what was once the glass-enclosed butcher room at Block is now a beautiful atrium), so pop-up patrons excitedly queued up at LowBrau for what Hargis calls "chef-driven, nutrient-dense food."
Among the crowd-pleasing dishes was a vegan take on one of Li's childhood fast-food favorites: In-N-Out's iconic Double-Double. The chef's rendition is a tall stack of two mushroom-lentil-barley patties, with a melty "cheese" made of grilled and charred kabocha squash that looks and tastes remarkably like smoked cheddar. Since no homage to an In-N-Out burger would be complete without a special sauce, Li makes a version with mustard, ketchup, pickle relish and aquafaba, the starchy liquid from a can of chickpeas that lends a satisfying mayonnaise texture to the bun slather.
Turns out, the timing for an indulgent plant-based burger like Love Child's vegan Double-Double couldn't be better. According to The New York Times, plant-based "meats" have taken hold during the pandemic, in response to the country's slaughterhouses shuttering due to their high coronavirus infection rates. But unlike the popular alternatives from Beyond Meat and Bay Area-based Impossible Foods—the industry reported an increase in sales of 35% in April and May despite their products' "long lists of unfamiliar ingredients"—Love Child's recipe components are honorably minimal.
For example, Li's version of "steak" might be nothing more than a brined and roasted celery root or big, meaty slabs of maitake, which are marinated in a savory combination of shoyu and Worcestershire sauce before they're grilled. At Love Child, he's plating the expertly charred mushrooms atop the Vegan Verde Bowl of nutty farro, gently tossed with chunks of creamy avocado and a taqueria-style salsa of pepitas, mint, basil, onion and garlic. The restaurant—only the second vegan butcher shop in Northern California after The Butcher's Son in Berkeley, which opened in 2016—will also sell the fire-kissed fungi by weight, alongside other staples like Double-Double patties, ash-covered almond cheese, cauliflower queso and spicy soyrizo, a tofu-based version of the Mexican sausage.
"Vegan cooking—it's still cooking. It's no less an art," says Li, who got tips from watching vegan vloggers like Hot for Food host Lauren Toyota and dietician Sadia Badiei of Pick Up Limes. Li switched to a plant-based diet last November, having been convinced of its purportedly heart-healthy, cancer-preventing, diabetes-reversing bona fides while serving as the sous chef at Beast & Bounty. Li was put in charge of the dual menu's vegan offerings, while executive chef Brock Macdonald took command of the carnivorous side, helping Li with notes on concept and execution, but otherwise letting the young cook, then just 25 years old, carve his niche.
"No question, Brock's the meat guy. So you could say I got into vegan food by default," says Li, a Sacramento native who grew up in the kitchen with his mother and grandmother incorporating barbecued meats from Chinese delis into fried rice and other wok specials. While the chef was showcasing his prowess at Beast & Bounty with the likes of such compost-pile regulars as cauliflower stems (under his wizardry, they are wood-roasted and magically turned into that remarkable cauli-queso he's taking with him to Love Child) and otherwise bland tofu (transformed into the aforementioned soyrizo), he noticed a few things. Foremost, he had more energy. His clothes felt looser. And his skin was brighter. "People do tell me I'm glowing," says Li, laughing.
With plant-based diets heading mainstream, a restaurant like Love Child isn't just in lockstep with the trend, its very existence is apropos of everything in Farm-to-Fork country—Li plans to source stone fruit from Twin Peaks Orchards in Newcastle, baby tomatoes and zucchini from Del Rio Botanical in West Sacramento, and Delta-fed sweet corn and cranberry beans from Dwelley Family Farms in the East Bay.
While the purest display of the regional bounty may be a salad, those at Love Child will hardly recall the standard mixed greens. For a dish cheekily dubbed Grape Expectations, Li roasts red and green grapes (not to mention leeks, for the dressing), which are destined to be the caramelized counterpoints to a mildly bitter tangle of frisée. Since the menus will be seasonal, but invariably unshackled from any stern clauses to their overarching plant-based ethos (such freedom is part of the DNA of the restaurant, which was partly named in homage of the late 1960s counterculture), diners will probably have a chance to order another of Li's favorite salads, made with fresh-shelled peas scattered under a cloud of—cue record scratch—burrata, arguably the creamiest and butteriest of all dairy cheeses. Likewise, don't be surprised if chilled soba with marinated soft-boiled eggs makes an appearance at Love Child.
The disciplined, but decadent dessert lineup will feature a thick cherry cheesecake shake blended with cashew "cheese" ice cream and a swirl of fresh cherry compote, which boasts a satisfying milky richness and velvety mouthfeel. And even though most spirits are vegan by nature, the bar program is also heeding the plant-based call, cold-pressing fruits and vegetables by the gallon almost daily for nutrient-rich, stirred—not shaken—cocktails.
Bar manager Ryan Schroth, formerly of Kru and Tiger, has been fine-tuning this "complete reversal of Block's whiskey bar" to the point where he can rattle off the produce quantities in each glass that slides across the terrazzo top at Love Child, like he's some sort of living Odwalla label. For instance, one order of The Fellow Traveler includes 1.5 ounces of tequila and a half-ounce of yellow chartreuse, plus extractions from a quarter-pound carrot, half an orange and half a Granny Smith apple. The Third Eye includes juice from a quarter-pound of raw beets, 10 blueberries and eight blackberries, with smoky mezcal and scotch to underscore nature's violet-hued earthiness. "You'll be getting vitamins, minerals and a decent amount of hydration with every drink—and maybe a buzz," says Schroth, who will also pour the juices (and one creamy, cinnamon-flecked spiked horchata) mocktail style for the teetotaling crowd.
After all, the true intelligence of a restaurant like Love Child may be its skillful navigation between virtue and vice. To that end, Li has plans to promote his swine tattoo to sainthood, adding a halo and a pair of wings to the old ink in the near future. It's a fitting bridge to a bygone way of life, and an artful explanation for how a charcuterie restaurant and its longtime chef can so beautifully about-face toward a plant-filled horizon—it could only happen if pigs, at least in tattoo form, fly.
1050 20th St. @lovechild916 on Instagram