Going the Distance
In 2012, swimmer Haley Anderson made waves when she captured the silver medal in the 10-kilometer open water race at the London Olympics. Now this tough Granite Bay competitor hopes she's as good as gold in Rio this summer.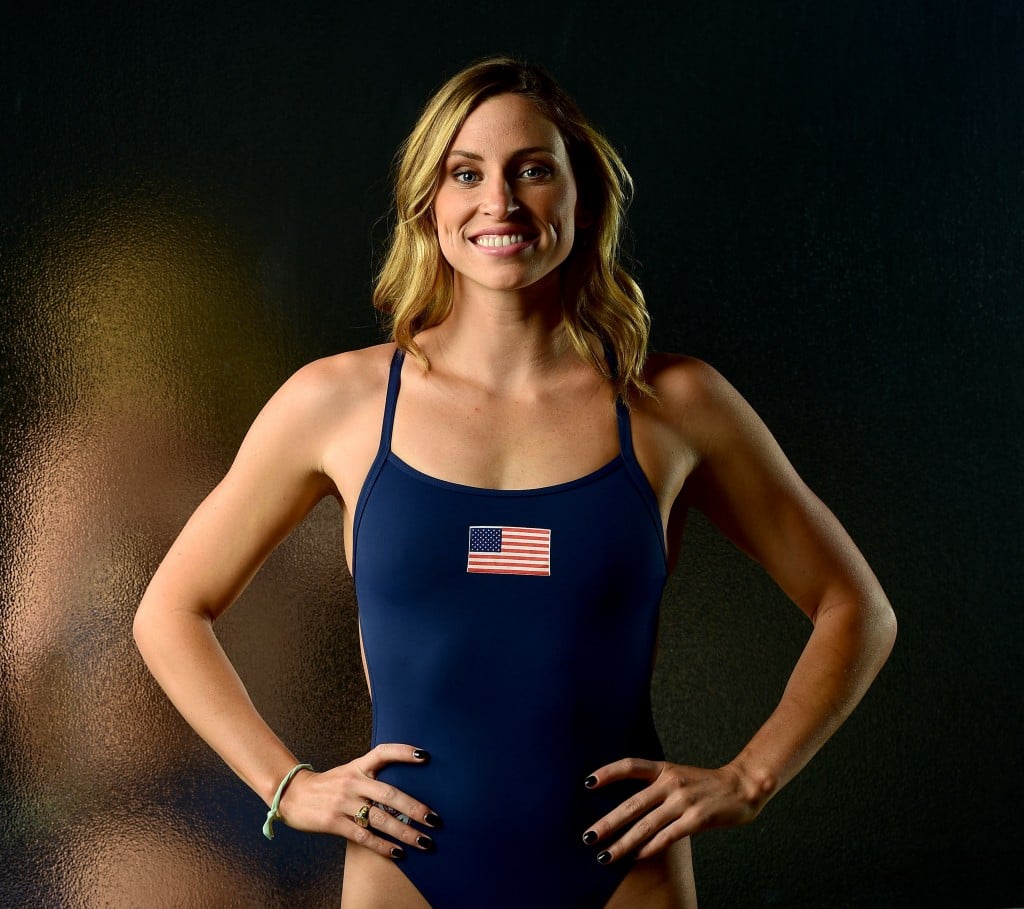 2021 Update: Haley Anderson has qualified for her third Olympic Games and will compete in Tokyo. The Olympic silver medalist is set to swim in the women's 10-kilometer open water race on Aug. 3 at 2:30 p.m. Pacific time.

* * * * * *
W"When I think about my childhood, it always revolves around the pool," says 24-year-old swimmer Haley Anderson, who is competing at this summer's Olympic Games in Rio de Janeiro, where, on Aug. 15, she hopes to add a gold medal to the silver she won for the 10K open water race in London in 2012—the same year her sister Alyssa won gold in the 4×200-meter freestyle relay.
Athleticism runs in the Anderson family. The sisters' mother, Colette, is a former NCAA swimmer for the University of Hawaii, and father Randy, standing at 6-foot-4, has a sportsman's build. Younger sister Jordan, age 19, is also a swimmer. Drop into the family home in Granite Bay's Folsom Lake Estates neighborhood, where they moved to from Livermore just before Alyssa started high school, and everyone is in workout attire, either coming from, or going to, something sporty, while a ball game plays on the TV. Despite her own pedigree as an athlete, Colette never pushed her daughters to compete. She didn't have to.
Only 14 months apart in age, the inseparably close—and highly competitive—older sisters were often mistaken for twins. "It didn't help that I dressed them alike," adds Colette, who says she did it to stop the bickering, as the girls competed for clothes as well as trophies.
"I was the younger sister, and I think I was just trying to follow her, be like her, do everything she did," Haley remembers. "But at the same time, I wanted to be better."
Alyssa remembers it much the same—only different: "We joined a summer [swim] club," she recalls. "Haley was 5. I was 6, and I was too afraid. Haley, the big, bad 5-year-old, swims that summer, gets all these ribbons, goes to all these away meets, and [I was] like, 'Huh. So that's what happens!' "
Not wanting to be left out of the fun, Alyssa joined Haley on the Livermore swim team, and the rivalry kicked into high gear. On the girls' very first relay race as teammates, Haley refused to tag in after her sister. Colette had to push her into the pool to get her to play nice.
After the family moved to Granite Bay from Livermore when Alyssa and Haley were teenagers, the girls found a social lifeline in the Sierra Marlins Swim Team in Folsom. "It gave us an instant friend group," Alyssa says. Haley credits the swim team with getting her out of her shell. "I was very shy, painfully shy, " she says, adding that Granite Bay was a great place for an athlete to grow up. "Everyone is out biking or hiking or walking." She and Jordan would rollerblade around the neighborhood, and the beaches of Folsom Lake were less than a mile away.
Alyssa went on to swim for, and graduate from, University of Arizona, while Haley headed for USC and began differentiating herself from her older sister for the first time. "That was a big factor for me, learning I didn't have to do everything she did. I could make my own path; I could create my own story at USC."
That story involved two NCAA titles in the 500-yard freestyle, in 2012 and 2013, and one in the mile in 2013, the year she graduated. She still holds school records in three events. During her freshman year, Haley's coach introduced her to open water swimming, and she also blossomed into a leading competitor in that sport, which got her to the 2012 Olympics in London.
While Alyssa took home gold in the relay, Haley achieved her own milestone when she won silver in the 10K race, finishing in 1 hour, 57 minutes, 38.6 seconds and becoming the first-ever American athlete of either gender to medal in open water swimming, a sport that was added by the International Olympic Committee in 2008.
"She's a pioneer," Alyssa says with pride. For all their one-upmanship, the two sisters are each other's biggest supporters.
Training for the 2016 Olympics, Haley gets in nine swim workouts per week, logging 18 to 20 hours in the pool, and hits the weight room three times per week. The ratio of guts to glory in the 10K open water swim is steep. "It is very uncomfortable," Haley says. "You have to push yourself—there is pain in your muscles."
For mental prep, she does yoga. "One of my favorite classes is at the end of the week, and it's called Urban Zen," she says. "It's just to kind of clear your mind—and I'm terrible at it!" She jokes, but this is a serious part of her training. "[Distance swimming] is a really big mental sport. You have to be a little crazy to want to do a 10K over and over, to put yourself through this pain for two hours," Haley continues. "It's really about pushing yourself past what you think you can do. Over a two-hour race, I do doubt myself a lot," she says. "That's a huge thing when you're in your own head for two hours: overcoming yourself."
Haley missed the gold in London by a mere four-tenths of a second, losing to then 26-year-old Hungarian swimmer Éva Risztov. The loss, as painfully narrow as it was, felt more like a triumph, as Haley had entered the race as a decided underdog. With four more years of seasoning, this could be her year. (She isn't worried about Zika or reports of pollution in Copacabana.) She points out that for open water swimmers, endurance gets better with age, so she has the option to continue her career. While Alyssa—who retired from competitive swimming after the London Games—has moved on to medical device sales, keeping her hand in the sport by conducting swim clinics throughout the U.S., Haley could see the Olympic podium again in 2020, or even 2024, at the age of 32.
That is, if she wants to. "I definitely could go longer—I think I could do it physically," she says. "But the mental aspect is a huge thing. It's not easy being a swimmer."
Tell that to little sister Jordan, who just completed her freshman year on the University of Utah swim team and made the Olympic trials for the first time this year. Maybe it's not easy being a swimmer, but if you are one, it helps to be an Anderson.