Grange Restaurant & Bar makes dinner and drinks out of Arts and Crafts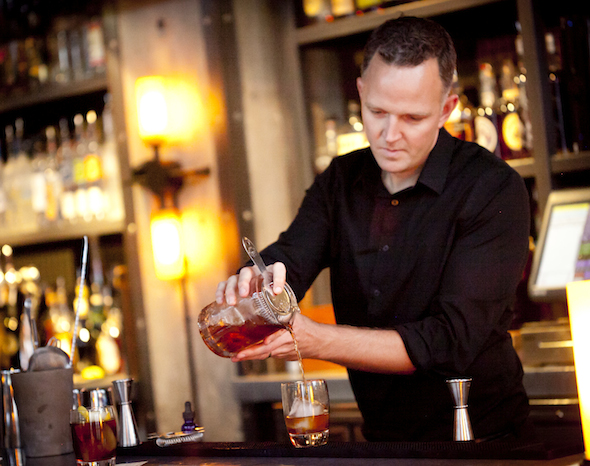 Known for partnering with local farmers and thinking outside the dish, Grange Restaurant & Bar will hold a Grange Barrel Dinner—the first event of its Arts & Crafts Dinner Series—on March 19.
Curated to showcase new artisans and craftspeople in Sacramento's dining scene, the Arts & Crafts Dinner Series will be led by Grange's executive chef Oliver Ridgeway, with each experience differing from flavors to guests.
"I want to highlight different things I'm passionate about." Ridgeway says. "It could be a really unique winery, a unique dairy, or it could be a certain person or individual that I want to work with and do a paired dinner with. We have so many different ideas right now."
The series' inaugural dinner will be dedicated to three custom-blended spirits—including Woodford Reserve bourbon, Bols Genever (Cognac barrel-aged Genever from Amsterdam), and Mount Gay "Black Barrel" rum. The restaurant's head bartender Ryan Seng and general manager Nick Duren have blended Grange's own proprietary barrels of these sprits and others, selected during their travels around the world.
The three spirits will star in a four-course tasting menu starting with the Welcome Cocktail Hour—featuring foie gras doughnuts garnished with pork rinds—that was crafted by chef Ridgeway in his own interpretation of Seng's cocktail creations.
Ridgeway says he is most looking forward to the "Smoking Jacket" course—a Woodford Reserve Bourbon with apricots and bay leaves served in a tobacco smoke-filled glass (prepared by torching barrel woodchip shavings and extinguishing the flame with a glass, allowing it to fill with smoke) for both aroma and flavor. The spirit will then be paired with foods made with wild boar (Andouille sausage, braised belly and roasted loin) along with smoked potato gnocchi and whiskey greens.
The schedule for future meals in the series has not yet been determined, but Ridgeway and the Grange team plan to continue the dinners quarterly with possible events in between. A fish dinner with Michael Passmore of Sloughhouse-based Passmore Ranch—a premium freshwater fish purveyor for top restaurants throughout California and the rest of the country—is next in line for May.
"We always have these crazy ideas, and we can't always put them into regular dining experiences," Ridgeway says. "So we thought, 'Why don't we make some unique dinners that we can really start having fun with? Let's just take off all the barriers and go wild.' "
The first Arts & Crafts dinner will take place on March 19. $125 per person. 6 p.m. Grange Restaurant & Bar. 926 J St. 492-4450. grangesacramento.com
Related Links
–Fashion, food and summer are in focus at Sacramento's inaugural First Festival
–Popular restaurant Mother installs a "line cam" so patrons can gauge the queue
–Artists debut new renderings of Bright Underbelly mural planned for farmers' market