Greener Acres
Longing for more breathing room, the co-creator of "Yard Crashers" and his wife, who owns Karen's Bakery in Folsom, built a modern Orangevale oasis that lets the outside in.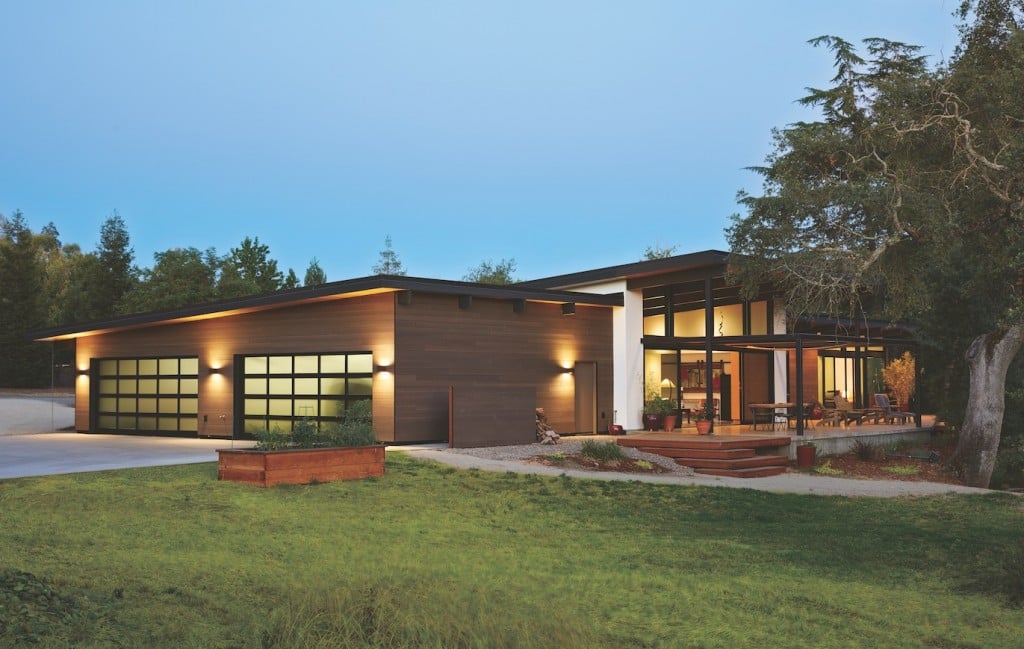 "I was up to my elbows in pie dough," recalls Karen Holmes of the moment, circa Thanksgiving nearly 17 years ago, that her husband, Peter, burst into the kitchen at her eponymous European-style bakery and cafe in Folsom, proclaiming that he had found the perfect piece of land in Orangevale to raise their family. "Truthfully, I didn't actually know we were looking," she adds.
At first glance, the property didn't seem particularly worth a surprise disruption in the holiday pie-making madness. The 2,000-square-foot falling-apart house that anchored the 4-acre lot seemed utterly charmless (broken single-pane windows, peeling vinyl floor tiles and no heating or cooling systems to speak of, not even a perfunctory fan), causing Karen to refer to it in hushed tones as a "double-wide."
What's more, the land—originally part of Cardwell Colony, a 19th-century farming nirvana where "good, pure water from granite bedrock" and "sandy loam on which all kinds of citrus and deciduous fruits and vegetables have been successfully grown" were promised to prospective buyers, according to the charming antiquarian book, Sacramento County and Its Resources—had been overrun by blackberry brambles.
"Do you know how hard it is to get rid of blackberries?" Karen remembers asking Peter, who serves as CEO of Sacramento-based Big Table Media, which produces home improvement TV shows such as Yard Crashers for the DIY Network. "He told me, 'That's OK. I'll clean it up. Don't worry, don't worry,' " says Karen.
"I was interested in finding a little more space," Peter explains. Until then, they had been living in a smaller house in a more developed (read: cramped) enclave on the other side of Orangevale. "And if you looked beyond the blackberries, you could see that there was something very private here. We're not gated-community people. We don't do Granite Bay."
Looking out a west-facing wall of windows in the great room of their new modern home, the one they built in 2015 after raising their kids, Duncan and Hanna, in the "double-wide" for almost 15 years (they've since flown the nest), it's clear that despite its natural seclusion (owed mostly to the broad sweep of the land), manicured and exclusionary this place is not. The "Back 40," as Peter refers to the acreage, is a wild terrain of native grasses, old oak trees, a babbling brook, a mini meadow known as the "amphitheater," and a select patch of blackberries intentionally left intact—Peter spent two years patiently mowing, cutting and clearing the bulk of the thorny thicket—to give the resident skunks, coyotes, raccoons, pheasants, quail and occasional mountain lion a natural habitat.
Since modernist homes tend to come off cool and aloof with their crisp lines and expansive spaces, the architects relied on natural surfaces to infuse warmth and welcome. The exterior features a "wood" siding made from recycled rice husks.
This bucolic view, made even better with the daily miracle of a setting sun, is precisely what architects John Klopf and Geoffrey Campen of San Francisco-based Klopf Architecture were tasked to frame in the most generous way possible, within the confines of the former home's existing footprint—a popular, eco-minded approach to design. The sloped roof and open spaces of another project in the firm's portfolio, the Manzanita House (a modern, wood-clad dwelling on a semi-rural lot in Fairfield), appealed to Peter and Karen, who had become discontented by the numerous claustrophobic rooms and stunted 8-foot ceilings in their falling-apart house with those rattling single-pane windows, fading vinyl floors, and, oh yeah, a sliding-away concrete foundation, secured by nary a rod of rebar. This last transgression was a late-in-the-game discovery that forced the homeowners and their architects to forgo the initial blueprint—an ambitious renovation—and take on an entirely new build.
While Campen says that the gently tilted roofline isn't necessarily meant to be sculptural, it does distinguish the home from the rest of the neighbor dwellings, which mostly comprise simple mid-century farmhouses. "The roof was designed to connect to nature in different ways in the front and the back of the house," he explains.
The low side of the roof provides privacy from street traffic (even though drivers-by are few and far between on the dirt-road hinterlands of Orangevale) by shielding the home's east-facing glass façade. A front outdoor patio, shaded by a bit of roof overhang, is additionally walled off for those times when a sunrise cup of coffee is best enjoyed while still cloaked in a bathrobe. The higher roof elevation at the back of the house accommodates a vast—13 feet high and 26 feet wide—wall made of glass, with generous upper panes (essentially clerestory windows on steroids) and substantial sliding doors. The wide portal leads to a concrete deck that provides a bonus 500 square feet of barefoot living, plus an inordinate amount of wholesome, smog-free country air.
Also facing west, the master suite features a similar, albeit scaled-down, glass wall and private patio. Even the master bath (after the kitchen, Karen's second favorite room in the house for its heated tile floors, sleek floating vanity and built-in bench) is exposed to the outdoors via oversize picture windows. Suddenly, such mundane tasks as toothbrushing, showering and sleeping feel wonderfully transportive, with all the benefits of being in the wild, minus the flitting bugs or threat of prowling animals. "I imagine that waking up in that room feels like you're camping," says Klopf.
The home's materiality is also attuned to the landscape. Since modernist homes tend to come off cool and aloof with their crisp lines and expansive, people-dwarfing spaces, the architects relied on natural surfaces to infuse warmth and welcome. The exterior features a composite "wood" siding made mostly from recycled rice husks, which is better suited to tolerate the Central Valley's blistering sun than, say, cedar planks, a popular choice of cladding in cooler, cloudier Northern California climes (case in point: the signature bluff-top architecture of Sea Ranch).
Inside, hemlock ceilings and lengthy (up to 59 feet) exposed beams made of glued-together Douglas fir two-by-fours deepens the great room's relaxed sensibility. While the prevailing modern-design ethos would tell us that this kind of subtle shift organically emerges from the affinity between the materials and the natural environment, Karen has another theory.
"This feels more Scandinavian to me," she says. Half Danish, Karen frequently visits Denmark, immersing herself in all aspects of the culture, from food (her culinary legacy includes an award-winning recipe for her maternal grandmother's frikadeller, a pan-fried pork meatball) to design. "Danish homes are classic and uncluttered, with hints of old heritage. They are warm places to gather friends and family," says Karen.
As such, the house is filled with storied bequests. The living room features iconic mid-century pieces from Peter's father, an Eames lounge and Le Corbusier club chair; the latter, once part of a pair, was destined for the town dump because its twin was damaged in a move. "He decided that since he didn't have both, he didn't need either," says Peter. "Can you believe it? We were like, 'Yep, we'll take that.'" Vintage Oriental rugs from Karen's great uncle bring softness, texture and color to the cement floor's wide canvas. A desk in the guest bedroom has been in Karen's family for centuries; during a war in the 1700s, it was filled with family treasures—silver candelabras, old passports, handwritten letters from a daughter coming of age to her worried parents—and hidden beneath a bridge in Copenhagen for safekeeping. When her mother died, the desk showed up at Karen's door still full of the original remembrances. "It's a pretty crazy little vault," she says.
The master suite features a glass wall and patio. Even the master bath is exposed to the outdoors via picture windows. "I imagine that waking up in that room feels like you're camping," says architect John Klopf.
In the open kitchen—an intentionally marble-free zone ("I couldn't deal with the fact that mountains are being ripped apart for this stuff, no matter how beautiful it is," says Karen) kitted out with utilitarian butcher-block countertops, a professional stove, and two oversize islands covered in an engineered surface that can withstand heat up to 750 degrees—hangs another inherited treasure, a wall hanging of vintage Royal Copenhagen porcelain with a rust-hued, abstract expressionist-style glaze. Alongside an extensive library of cooking texts both classic (Marcella Cucina by the late Italian food legend Marcella Hazan) and current (the latest Lucky Peach), the butler's pantry around the corner also stashes cherished hand-me-downs—for instance, Karen's grandmother's Johnson Brothers Windsor Ware china and Peter's mother's crystal beer steins (mementos from her marriage to a German man in the 1970s).
All things considered, the signature quality of the architecture may not be its avant-garde roof after all, but its inherent generosity. Though only two people inhabit the home on a daily basis, it certainly wasn't designed as an exclusive couple's retreat or a private post-kids sanctuary, but as an inviting hangout for friends and family. Gatherings at the Holmes house run the gamut from festive smørrebrød meals (elaborate Danish DIY sandwich bars from which untold combinations may arise, including herring with pickled onions, salmon with pickled cucumbers, liverpaste with bacon, or pork roast with red cabbage) to weddings (in June, the Back 40 will be the setting for the nuptials of Duncan and Hanna's lifelong friends) and picnic concerts in the amphitheater. Last March, ominous rain clouds loomed over a show starring the Grateful Bluegrass Boys, who were concerned for their musical instruments should the skies decide to crack open. "But no one wanted the fun to end. We asked people to come inside, and within four minutes, the band was in the living room and 75 people set up their lawn chairs and picnic blankets around them," Peter recalls fondly. "Then on with the show we went."