Greta Gerwig
We talk to Hollywood star and Sacramento native Greta Gerwig as she dishes about dancing with the Sacramento Ballet, her first walk down the red carpet and how it feels to be called the Meryl Streep of "mumblecore"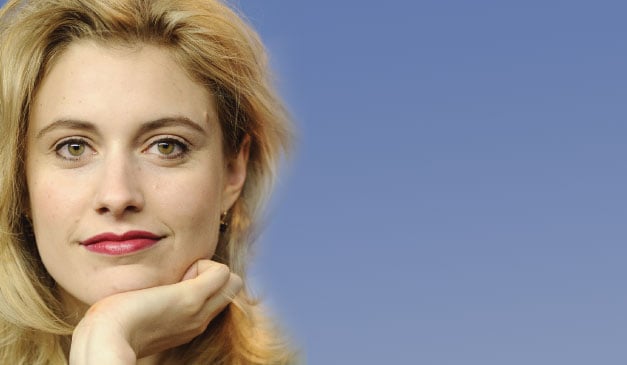 Known for her charming, offbeat performances in micro-budget indie films, Sacramento native Greta Gerwig breaks out this spring starring with Ben Stiller in Greenberg. The 26-year-old actress and writer, who now lives in Manhattan, talks about dancing with the Sacramento Ballet, her first walk down the red carpet and how it feels to be called the Meryl Streep of "mumblecore"
Let's jump right into Greenberg [which opened March 26]. Ben Stiller plays the title character, a sort of lost soul who strikes up a relationship with your character [aspiring singer Florence Marr] while house-sitting for his brother in L.A. First of all, this isn't your typical Ben Stiller outing.
No. It isn't. When I said to my friends and family that I had gotten a Ben Stiller movie, it was prefaced by saying, "But don't bring the kids." It's not Night at the Museum. It's very different.
What would you say the film is about?
I think the film is a love story. But a real love story, meaning that it's about real people, not a fake love story where everybody looks perfect and does 180 degrees of transformation. Greenberg is a little too delicate for the world he finds himself in and a little bewildered as to how he became who he is, and he has built up a lot of defenses so he doesn't hurt himself—even though he is getting hurt anyway. Florence is someone who chronically puts other people before herself to the point where it's not only destructive to her but maybe a little destructive to the other person. But she leads heart before head, and gives other people as many chances as they need.
The movie was written and directed by Noah Baumbach, who made The Squid and the Whale. It's the most high-profile film you've done. What were your feelings during production?
I wanted the part so badly when I auditioned for it, but just didn't think there was any way that I could ever get it. My first audition was actually with Noah and [his wife] Jennifer [Jason Leigh] in their apartment in New York. When I got the part, I kept expecting somebody to call me and tell me "Never mind. We went with Natalie Portman. You can go home." Working on the film was everything that I hoped. Even though the anticipation was almost more than I could bear, the actual making of the film with the most talented people you've ever been around made me want to be a better actress every day. It was exciting to feel like I had to raise myself to the level of those around me. And not just Noah and Ben, but costume designer Mark Bridges designed the costumes for There Will Be Blood. [Cinematographer] Harris Savides shot Milk. These people are the best of the best and you just pray every day that you are delivering half of what they can.
You studied English at Barnard College, have had several of your plays produced and co-wrote the films Hannah Takes the Stairs and Nights and Weekends. As a writer, how was it to work with Baumbach, an Oscar-nominated screenwriter?
It was a huge thrill. The script [for Greenberg] was one of the best things I've ever read, period. He chooses very beautiful, specific words that evoke worlds in a very short space and the dialogue is letter-perfect. As a writer, I'm jealous; as an actress, I'm thankful.
When you were cast for the film, The New York Observer referred to you as the Meryl Streep of "mumblecore." Can you explain the term a little?
Sure. I think "mumblecore" is a press term. It's not like anybody in the mumblecore world thinks of themselves as mumblecore or ever did. The unifying thread seems to be that it's done very low budget. [The movies also often feature semi-improvised, naturalistic performances and twentysomethings in tangled romantic relationships.] Another thing I'll say is that the movies I've done that are considered mumblecore, like Hannah Takes the Stairs, Baghead and Nights and Weekends, those were all shot within a six-month period in 2006, so it's like talking about something that happened very quickly if it happened at all. It's a little embarrassing to be called the Meryl Streep of anything.
Embarrassing in what way?
Meryl Streep is her own sentence as a woman. She doesn't need another person's name in that sentence. Meryl Streep always stands alone.
Greenberg premiered at the Berlin Film Festival in February. What was it like to walk the red carpet for the first time?
It was the thrill of my life. I think you are supposed to sort of think that it's a drag, and isn't it weird, but I just had the best time. I just kept thinking to myself that I'd wanted to be an actress for so long, and that my 12-year-old self would be so psyched to be here right now. I tried to just be in it with all the excitement and not freak myself out or feel like I didn't deserve to be there. It was also the first time I had seen the movie with an audience. As an actress you become your character but then you also protect your character, and it was really gratifying to talk to some people afterwards and they said they also wanted to protect Florence. That was so nice that the movie made people empathetic.
You've done quite a few odd things in your films: played trumpet duets naked in a bathtub, had your head blown off, had rock icon Iggy Pop cast as your father. What kind of feedback do you get from family and friends about your films?
I think there is a lot of confusion. They are all very proud, but I don't make films that are necessarily crowd pleasers so I think there's some desire from family and friends that I do something that is a little bit more accessible.
Speaking of your family, do your parents still live in Sacramento?
They do. My mom's a nurse and my dad does small business loans for First U.S. [Community] Credit Union. They live in River Park. I think they moved [there] in 1980 and I was born in '83. I grew up in the same house my whole life. I went to Phoebe Hearst, Sutter Middle School and St. Francis.
Were you interested in theater and film growing up?
[I was] involved in dance and theater. I took ballet from Pamela Hayes, who a lot of girls still take ballet from. I took tap and jazz from Ron Cisneros, and I did his summer theater [camp] for kids. I was in the Sacramento Ballet's Nutcracker for three years. I played Clara one year, in fifth grade. I thought that was the pinnacle of my life. In high school, I got more involved in theater with [drama teachers] Cheryl Sigl at St. Francis High School and also Ed Trafton at Jesuit High School because St. Francis and Jesuit did a lot of theater together. I also did a lot of shows out at the Woodland Opera House. I did A Chorus Line when I was 15 or 16. But nobody knew I was that young because I always kind of looked old. It was all adults, and they were like, "But you're how old?"
What do you like to do for fun when you're back in Sacramento?
It's always nice to be home. I spend a lot of time with my best friend Connor Mickiewicz, who went to Jesuit. He started a theater company in Sacramento called the New Helvetia Theatre. So I hang with him and look at theater spaces and watch plays he wants to do. I'm really proud of him. And we spend a lot of time eating Burr's ice cream in East Sacramento.
Sounds like you keep busy on both coasts. What's next for you?
Well, I'm figuring out what's next right now. A lot of doors have been opened for me because of [Greenberg], which is really exciting. I just hope to make something that I'm at least half as passionate about.