Grown-up slumber party, Trash Film Orgy overtake downtown art center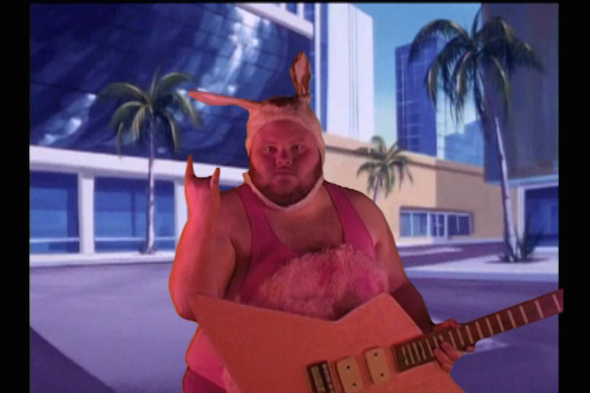 Pack your pajamas—and your sense of adventure—and head over to Verge Center for the Arts on Mar. 7 for the art gallery's inaugural Verge All Nighter event.
Offering a night of festivities until 2 in the morning, the slumber party invites adult guests to lounge on the Verge's latest "couchbleachers" exhibit while enjoying an hour-long shorts program presented by the cult-movie mavens at Sacramento's Trash Film Orgy (TFO). The program will consist of original short films (featuring TFO character favorites such as the Shaggy Elephant, Brock Magnum and the Bloody Bunny), retro movie trailers, 1960's educational drug videos and vintage toy commercials.
"It's very much a short-attention-span program," says TFO co-producer Christy Savage. "Everything is very short, so it keeps going and keeps you on your toes. We don't want anybody falling asleep at the slumber party program. We like to have it full of surprises."
In addition to showing up in the shorts, the Bloody Bunny will also host a game of Trash Trivia where guests can win assortment of horror movies, including copies of TFO's original film Planet of the Vampire Women, as well as drinks provided by Lagunitas Brewing Company. Partygoers can even play a round of "Satanic Twister" (fully equipped with colored pentagrams) or wait around for the TFO theme song to play signaling the arrival of Girls with Candy, a burlesque-style group that will hand out sweets to guests.
When not receiving astrology readings from performance artist MOM or getting a makeover by makeup artist Selena Navarrette, guests can also munch on pizza and work off the calories by dancing around to music mixed by DJ MC HAM.
"[This event] provides this feeling that you've got access to something that you don't normally have access to. If you can stay over, it's like a night-at-the-museum kind of thing," says Verge education director Iulia Bodeanu. "People have all-night parties, but they're usually at clubs. We're trying to bring that energy and excitement into an art space and liven it up that way."
$5 members, $10 nonmembers. 8 p.m.-2 a.m. Verge Center for the Arts. 626 S St. 448-2985. vergeart.com
Related Links
–Artists debut new renderings of Bright Underbelly mural planned for farmers' market
–Sacramento Beer Week 2015: Raise a glass at these 10 can't-miss events
–New time-lapse video shows Sacramento on the rise