High-Voltage Art
Sacramento's stock in the art world has been rising for years, but there's one way for us to reach even higher heights.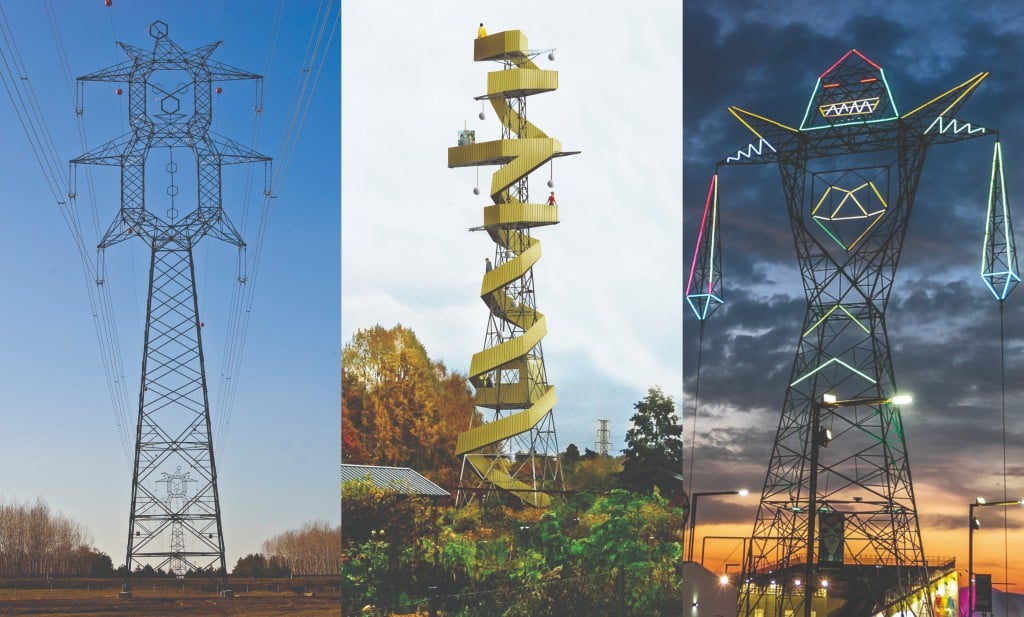 The Idea
Drive around town and you'll see hundreds of steel lattice structures, most of them far taller than the buildings that surround us. They're called transmission towers and they hold the electrical lines that power our city. As infrastructure, they're largely invisible to us. But what if a few of them became more than that?
In Hungary, the country's electrical system operator, MAVIR, constructed two massive towers that resemble court jesters. In Stockholm, the Swedish Royal Court is exploring ways to convert some of the city's decommissioned towers into observation towers. Over in Buenos Aires, the artist collective Doma adapted an old tower to create a 148-foot-tall robot-shaped sculpture called Coloso (there's even an app that allows users to control the colors). And in Germany, art students affixed translucent plexiglass panels to the base of an active tower, creating a stained glass effect along a local art trail.
The Sacramento region has over a thousand such towers (SMUD alone owns 891 of them, up to 180 feet tall) awaiting the right kind of inspiration. One idea: These towers are nearly the size of redwoods; how about augmenting some with "branches" and green  paint in the City of Trees? (We'd also love a giant robot—Doma says it would be happy to make one here too). In 2011, the Royal Institute of British Architects held a design competition for such structures. We should do that as well.
The Players
Most of Sacramento's transmission towers are owned and operated by SMUD and PG&E. As of now, only PG&E has some decommissioned towers around here, but declined to disclose where they are. Hopefully the city and county can engage PG&E to see if there's a way to bring those dead towers to life through art. There are also many creative ways to modify working towers, assuming these utilities are open to the idea. The Sacramento Metropolitan Arts Commission or the Central Valley chapter of the American Institute of Architects would also be great facilitators.
The Bottom Line
SMUD is one of the main sponsors of the Wide Open Walls mural festival. In the same way that the festival turns invisible walls into works of art, here's a chance to make the ordinary extraordinary. It's time to electrify our city in a whole new way.