Home Plates
Inspired by her mom's Vietnamese feasts, a local restaurateur brings a taste of home to midtown with the launch of Saigon Alley Kitchen & Bar.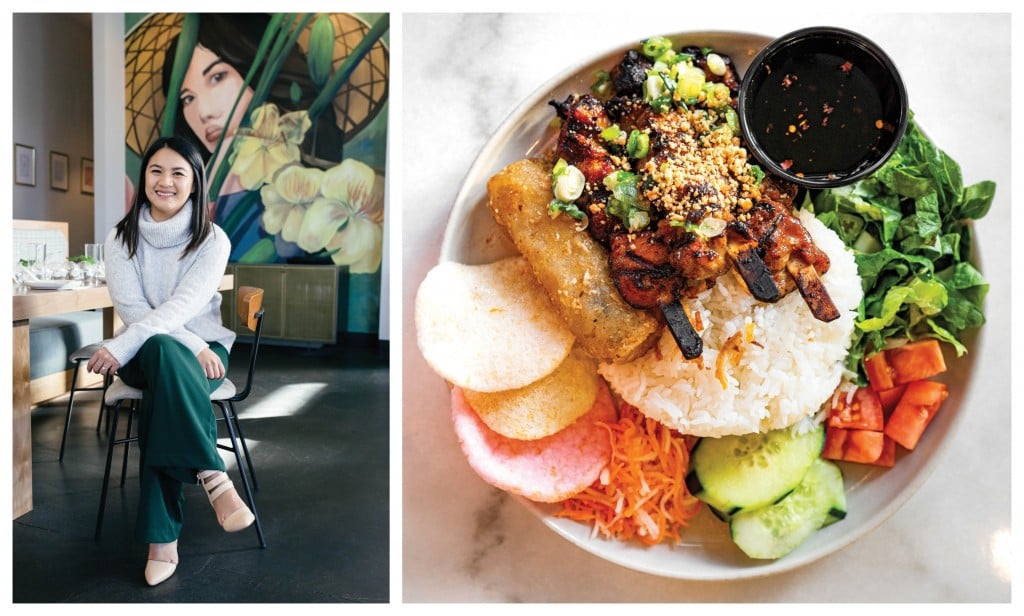 SSome of Mymy Nguyen's earliest food memories are of chopping vegetables and meats at her mother's side. Growing up, her parents—immigrants from southern Vietnam who owned a beauty school in town—would host friends for weekend karaoke parties at their Elk Grove home. While stage fright was satisfactorily ameliorated by the drink of choice (Hennessy or Heineken), cravings for a home-cooked Vietnamese feast were satiated by pyramidal stacks of barbecued pork and chicken skewers, golden-fried quail legs, and thick summer rolls of springy vermicelli noodles, crisp lettuce, fragrant garden mint and fresh-cooked shrimp—a veritable salad wrapped in chewy, translucent rice paper.
Fast-forward to 2020 and the menu at Saigon Alley Kitchen & Bar—the new midtown restaurant that Nguyen, 30, and her husband and business partner Jimmy Voong, also 30, opened in early January—is pretty much identical to the spread at those karaoke nights of yore. The stylish eatery—think swanky crescent-shaped booths in the mezzanine dining room, fusion cocktails in the downstairs bar and lounge, and a special tableside presentation of pho that elevates the humble national dish of Vietnam to white-tablecloth status—is the holy grail they've been progressing toward with their previous, much smaller establishments, including the erstwhile locations of Make Fish Poke & Sushi Burrito and a Hawaiian-style deli concept called Delilah's by Make Fish, named after the couple's 3-year-old daughter.
From Saigon Alley's $3 happy hour snacks, which are essentially half portions of the generous appetizers—a value that can be unlocked from 3-7 p.m. daily by ordering a drink from the bar—to the hearty dinner entrées, the menu is based on family recipes. While spending her childhood working as Mom's little prep cook, Nguyen unwittingly honed her taste for the flavor profile of southern Vietnam, which is characteristically sweeter than the cuisine of the north and not as spicy as the food in the central region.
"Believe it or not, I hated cooking growing up," says Nguyen. "Vietnamese food is very labor-intensive, a lot of cleaning and chopping and skewering. What normal kid wants to do chores like that?"
It wasn't until she had to fend for herself as an undergrad at UC Davis living on campus that she realized how much the kitchen time with her mother had seeped all the way into her marrow. For example, pulling together a long-simmered, dorm-room broth of beef bones for bun bo hue (spicy beef noodle soup) with just the right amounts of complexity-building lemongrass, ginger and rock sugar came more naturally than Nguyen had expected, even more than nuking the college staple known as Cup Noodles.
"Vietnamese cooking is mostly measured by taste, and sometimes a ladle of this or a handful of that," explains Nguyen of her inherited skills in the kitchen. "I know my mother's palate very well, because it's the palate she passed down to me. We pretty much have the same taste."
The beloved family recipes are entrusted to Saigon Alley's head chef, former caterer Billy Nguyen (no relation), who tweaks them for the general dining population, usually by holding back just a touch on the potentially aggressive fish sauce, a cardinal ingredient of the Vietnamese pantry that Bon Appetit describes as "sweet, salty, fishy and funky all at once, a prismatic tsunami of flavor." According to Mymy Nguyen, an affection for this kind of pungency cannot be taken for granted. "I think you can only really love fish sauce if you grew up with it," she says.
Saigon Alley's sugarcane shrimp (a street-food-inspired appetizer in which garlicky shrimp paste is shaped onto a sugarcane stick and deep fried like a state fair corn dog) is only lightly kissed with fish sauce, as is the bo ne, a sizzling skillet of steak and eggs that's deglazed with a little Hennessey as a tribute to those karaoke cocktails. The condiment is slightly more prominent in the restaurant's popular barbecued meats, which are marinated in a mixture of oyster sauce, shallots, lemongrass, garlic and, yes, a ladleful of the prismatic tsunami.
But in a daring move that some of the cuisine's enthusiasts might view as unbefitting a Vietnamese restaurant, the signature pho is completely bereft of its traditional dousing of fish sauce. Turns out the amber-hued elixir isn't always gluten-free, depending on which factory those billions of little anchovies were fermented in—besides, Nguyen doesn't like the taste of gluten-free fish sauce anyway. And since the noodle soup—which you can score for $3 during Saigon Alley's "reverse happy hour," 9 p.m. to midnight on Fridays and Saturdays—is already halfway to gluten-free with the vermicelli noodles, why not go all the way and invite an oft-marginalized dietary group to slurp the quintessential Vietnamese dish without qualm?
Impossibly savory, the umami-laden broth is made over four days by simmering gristly, marrowy beef bones along with aromatics and spices like onion, star anise, cinnamon and ginger, and then reducing the liquid to its flavorful essence, a collagen-rich gelatin that gives the nourishing stock its silky finish.
So central is this brew to the restaurant that even the bar director, Ben Ambrose (previously of Cafeteria 15L and De Vere's), has co-opted its seasonings for his signature cocktail, the gin-based Pho No. 1, served on the rocks with a wedge of lime. "It really does taste like cold pho," says Nguyen. The bar's cultural cues don't stop there: the Saigon Old Fashioned gets its fragrant, floral note from the jasmine tea that's stirred into the classic cocktail's bourbon-and-bitters blend; the Bubble Tea's oolong-infused vodka is studded with popping blueberry boba for your textural pleasure; and the Viet Coffee turns the country's milky-sweet, dark roast cuppa into an after-dinner drink with an infusion of cognac and a cloud of coconut whip.
Back for one second to that luscious and complex pho broth—which is delivered piping hot to the table in a stainless steel kettle and poured into a deep bowl over raw slices of rib eye and a tangle of vermicelli until the vessel is almost brimming. While the dramatic display glorifies the cozy, beloved dish, the reason such pomp exists at Saigon Alley is less about aesthetics and more about practicality: It's simply safer for servers to transport a kettle of steaming broth—rather than a scalding, sloshy bowl—from the upstairs kitchen to diners on the ground-floor lounge. "I guess the tableside pour seems fancy, but we weren't trying to be!" says Nguyen.
For barbecue enthusiasts, Saigon Alley isn't your ordinary smoke joint. Chargrilled meat skewers are served atop heaping rice or bean-thread noodles, with crispy chicken egg rolls and a tumble of fresh cucumber, bean sprouts, cilantro and basil on the side. The quintessential Vietnamese sandwich—known on the menu as Billy's Banh Mi—features slices of barbecued pork, rib-eye beef or chicken layered inside a pillowy French baguette (the restaurant gets a daily delivery from Karl Vuong of the local, wholesale-only BB Bakery) and garnished with sweet-and-sharp daikon and carrot pickles.
The mezzanine is original to the space (which previously housed Saddle Rock, Capital Dime and L Wine Lounge) and presented one of the biggest obstacles for Theresa and Elizabeth Rainey, the sister duo behind Sacramento-based Aura Design Co. To make the split-level feel cohesive, a clean and natural color palette, as well as finishes inspired by Vietnamese heritage structures—think brick walls painted white, an alder built-in for bottles behind the bar and breezy cane surfaces that evoke the tropical climate of Vietnam—span the double-height space. Even the hard-wearing concrete floors are connected to the motherland, conjuring the dense urban jungle of Saigon. The full-length glass façade captures live views of midtown's buzzy Handle District (the restaurant is located between The Rind and Ginger Elizabeth Chocolates), while different modes of sunlight imbue the fresh white-walled space in ways never before seen. "As the day continues, it becomes more muted and offers a more sultry atmosphere," says Theresa.
A pair of custom paintings by local artist Madelyne Joan Templeton simultaneously represent the culture of Sacramento and Saigon, by taking cues from the colorful proliferation of murals in the former, and depicting the "flower travelers" of the latter. One piece features a woman wearing a traditional ao dai ensemble and a non la (conical cap) riding a bicycle spilling with fresh blooms for sale, while the other painting is her close-up portrait. "Saigon Alley isn't just another trendy restaurant," says Nguyen. "I never want people to forget that we're representing Vietnam in Sacramento."
1801 L St. 916-758-6934. saigonalley.com