Hoppy Brewing Company to open two new locations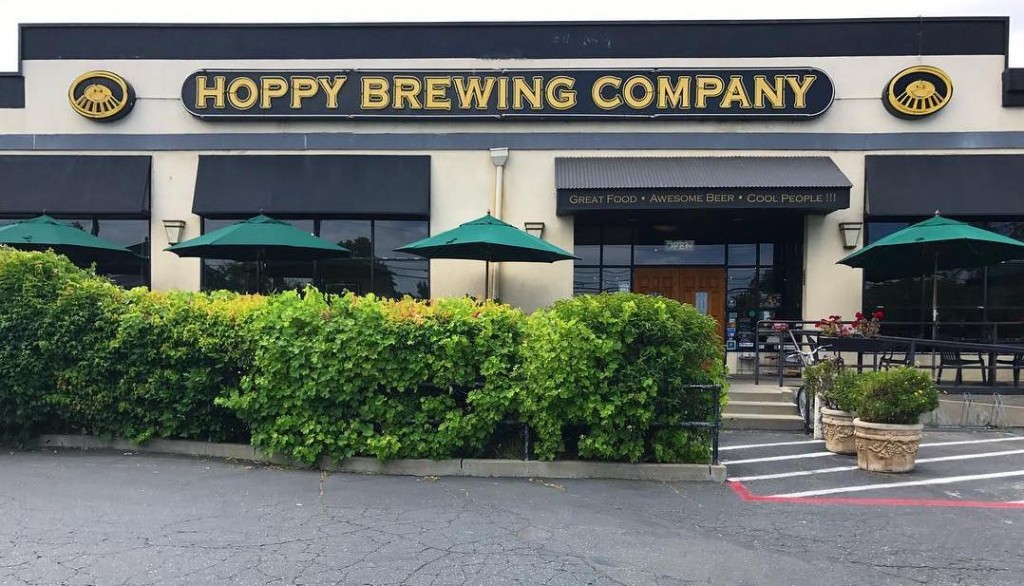 UPDATE: Hoppy's Railyard Kitchen & Hopgarden will soft-open on Oct. 11 at 5 p.m. in Old Sacramento. During this initial stage—when the restaurant and taproom will be open for dinner on Wednesdays from 5-9 p.m., Thursdays through Saturdays from 5-10 p.m, and Sundays from 5-9 p.m. (the restaurant will be closed Mondays and Tuesdays)—Hoppy's Railyard will offer select menu items, including house-made fries, avocado deviled eggs with fried shallots and Hungarian smoked paprika, and fried chicken wings, which can be ordered tossed in a sauces like hot Buffalo or Caribbean jerk (vegetarians can order a cauliflower version). The bar, featuring 24 taps, is fully stocked with signature Hoppy brews like the Hoppy Face amber ale and Total Eclipse black ale, as well as guest beers. Owner Troy Paski aims to start weekday lunch service on Oct. 22 and eventually offer weekend brunch and late-night service.
*****
There will be a whole lot of Hoppy happening this summer as the team from Hoppy Brewing Company readies not one, but two new locations.
Hoppy's Railyard Kitchen & Hopgarden, a new community brewpub, will open in Old Sacramento, while a brewery and tasting room will open just off Broadway.
The restaurant will take over the spaces that formerly housed Ten22 and District restaurants on 2nd Street, both of which closed on March 2.
The original Hoppy Brewing Company vacated its longtime home on Folsom Blvd in February, and will occupy the new 9,000-square-foot location that is owned by the Harvego Restaurant Group (which also owns the Firehouse Restaurant in Old Sacramento). The back patio will be converted into a "hopgarden," and the space formerly occupied by District will be used for take out orders.
"With the new DoCo completion nearby, I see a lot of potential in Old Sacramento," says founder Troy Paski. "I just think that there's a lot going on and a lot of opportunities for us there."
Hoppy's new kitchen will be helmed by Matt Andrews, former executive chef of Dawson's Bar and Grill in Dixon and San Francisco's Greenbox. The menu will nod to Old Sacramento's railroad history and location along the river, like the Coal Car tacos (braised pork with poblano crema and pickled onions), the Confluence deviled eggs (with fried shallots and prosciutto) and the Steam Engine sliders (ground bison with cheddar and arugula).
Meanwhile, the beverage lineup will include four 4-ounce samplers from Hoppy's 24 beers on tap, like the Golden Nugget cream ale, Hoppy Face amber ale and Total Eclipse black ale, as well as a lineup of wine, lagers and ciders that Paski and the team will source from local breweries and taprooms.
The new tasting room-slash-brewery is slated to open in June just off Broadway at 2425 24th St. next to the new Real Pie Company, and will produce all Hoppy-branded beers.
1022 Second St. hoppy.com
You Might Also Like
Eat and shop your way through these 10 great farmers' markets around the region
A new food hall and market to open along the Broadway corridor
Solomon's Delicatessen to open this spring in Davis