Hotel Lobbying
Sacramento's grandest historic hotel has been lost for decades. But with a new owner taking over, now is the time to reclaim a key part of our civic narrative. Sometimes you need to look backward to move forward.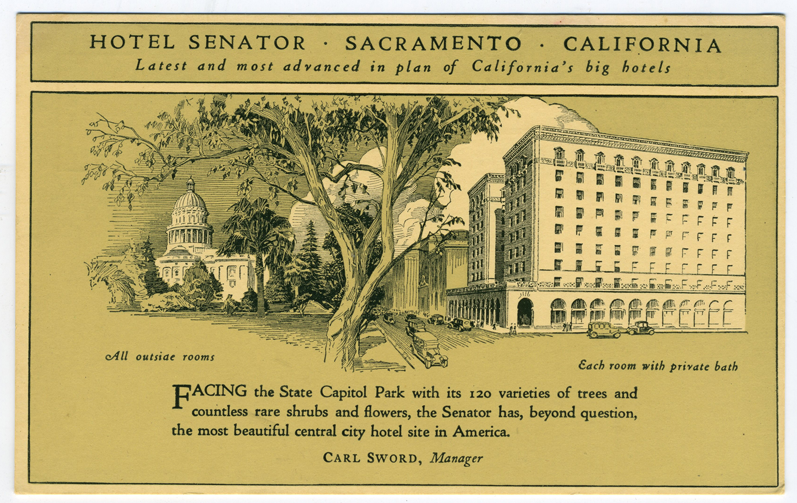 IIt's not easy to find silver linings in an economy like this one, but if the forces that are propelling the slumping office market end up restoring one of the city's most storied buildings to its former glory, some good will certainly have come from The Great Recession, after all.
The Hotel Senator, or Senator Hotel as it's often called, has been standing across from the Capitol since it opened in 1924, elegantly rising nine stories above 12th and L streets. For more than 50 years, the 400-room Italian Renaissance-style structure was a nexus of political and social activity. It even had its own Hotel Senator Orchestra.
As the Senator's fortunes waned in the '70s, and despite its designation on the National Register of Historic Places, it was shuttered and eventually purchased by developer Buzz Oates, who gutted the hotel and reopened it as an office building in 1983, giving lobbyists spitting-distance access to the halls of power.
But recently, with downtown vacancy rates climbing toward the clouds, came word that the previous owners of the building, which is only about 60 percent occupied, lost ownership of the property. The agent handling the sale, Greg Levi of Jones Lang LaSalle, says a number of potential buyers made bids in recent months, with several interested in potentially converting it back into a hotel, but that the seller, located in Florida, has decided to temporarily pull the building off the market. Levi says he's no longer actively marketing the property, but that the seller would likely still consider offers.
If a new owner does emerge with the intent of converting the building back into a hotel, it would reverse one of our greatest civic missteps—the 1979 closing of our last historic hotel. For a city that prides itself on its role in American history (the Gold Rush, the Transcontinental Railroad), shockingly we are the only city in America's 25 largest metro regions without a single major historic hotel.
We have reminders up and down our own coast. San Francisco is filled with grand old hotels, like the 1907 Fairmont. Seattle has the 1927 Mayflower Park Hotel. Portland, the 1909 Governor Hotel. San Jose's Sainte Claire has been around since 1926. Los Angeles has too many to count, from the 1912 Beverly Hills Hotel to the 1923 Millennium Biltmore. And San Diego's elegant Hotel del Coronado dates all the way back to 1888.
In Sacramento, however, one by one, our great historic hotels have closed or been converted into offices. The 1914 Travelers Hotel at 5th and J, with one of the most spectacular lobbies in the city, was converted into office space in the '80s. The massive 1909 Hotel Sacramento at 10th and K was demolished around 1956.
The closest thing we have to a historic hotel today is the stunning Citizen Hotel—housed in the old 1925 Cal-West Insurance office tower. The building's offices were gutted and the structure was lovingly reimagined as a boutique hotel in 2008 by a partnership between San Francisco's Joie de Vivre hotel group and Sacramento's Rubicon Partners.
It is arguably the single most important building conversion project in Sacramento history and has added immensely to the city's urban fabric. The only thing missing from this new civic gem are the stories that come with a historic 20th-century hotel. A great city needs a great civic narrative, and the Senator provides just that.
Consider that in the summer of 1927, silent film star Buster Keaton and his production company spent about five weeks at the Senator while in town to film Steamboat Bill, Jr. on the Sacramento River. Keaton's publicity manager told a writer for the hotel's magazine, What Cheer! (yes, it published its own magazine) that they chose Sacramento, "because it gives us just the atmosphere we want … and because there are lots of pretty girls here, too."
Only weeks later, in September, a 25-year-old Charles Lindbergh was fêted in the Florentine Room of the hotel after his famous May flight from New York to Paris in the Spirit of St. Louis. The elegantly designed menu for the occasion included "Cantaloupe Surprise," "Larded Beef Tenderloin" and petit fours.
Herb Caen, the celebrated columnist for the San Francisco Chronicle once wrote an article for The Sacramento Bee remembering that in the 1930s, Sacramento boxer Max Baer, who was later featured in Ron Howard's film Cinderella Man, "was to be seen showing off his latest beauty in the lobby of the Senator Hotel, starting tongues awagging."
In January 1937, Time magazine wrote that, "the Hotel Senator's 86-ft. bar is much favored by Sacramento's legislators in their more public moments of relaxation," and reported that the hotel's proprietor hired the co-architect of the San Francisco Opera House, Gustave Albert Lansburgh, to redesign his bar—newly coined The Empire Room—in less than three weeks, before the legislators returned to session. As part of the project, Lansburgh hired a team of Los Angeles muralists to paint a scene that reflected one of the biggest scandals of the day—the December 1936 abdication by Britain's King Edward VIII, who gave up the throne to marry American divorcée Wallis Simpson.
Sadly, the painting and the bar didn't survive the office conversion.
In the 1940s, a young Joan Didion auditioned for a theater part in front of an agent from the Pasadena Playhouse who had set up a casting call in the hotel. She didn't get it, but fondly remembered the ice-cold lemonades with grenadine she used to order there. Around the same time, Pulitzer Prize-winning playwright William Saroyan was known to frequent the hotel bar for decidedly more adult spirits.
Throughout the '50s, '60s and '70s, the Senator was routinely visited by high-profile politicians such as Governors Reagan and Jerry Brown, as well as Presidents Nixon and Carter. But none shone an international spotlight on the hotel more than a visit by President Gerald Ford who, upon leaving the hotel to cross L Street toward the Capitol one day in 1975, came face to face with Charles Manson disciple Lynette "Squeaky" Fromme, who attempted to assassinate him.
But for all the stories, there is an equally compelling reason to return the building to its former purpose. As a government town, downtown has been cursed with a surfeit of buildings that close at 5 p.m. and remain shuttered on weekends. Hotels, like residential buildings, breathe life into their surroundings, with hundreds of people filling neighboring streets, shops and restaurants seven days a week. Urban planners call it "street animation," because it creates movement, color and energy.
Imagine the once bustling portico in front of the hotel again filled with tables and people. The right ground-floor restaurant would transform a dark corner of the central city into a lively street scene. And the beautiful lobby that was reportedly designed to resemble the courtyard of the 16th-century Palazzo Farnese (now the French Embassy) in Rome would still be a perfect fit for a hotel lobby.
For another example of why this makes sense, look no further than Chip Conley—who has built his thriving Joie de Vivre hotel chain largely by resuscitating long-forgotten urban structures—to know that historic hotels are now very much in vogue. While some travelers prefer ultramodern design, others want authentic experiences in a city that reflect its character and history. A thriving city needs both.
As cities become more homogenized, it's more important than ever that we retain the irreplaceable structures that give us our identity. And not just the exterior of them, but also the experience of them.
While retaining the building's status as office space adds nothing to the cultural fabric of the city, returning it to its roots as a hotel with a restaurant, bar and shops can, quite simply, be a civic game changer.
And while its central location would certainly help attract more conventions and major events by adding several hundred more hotel rooms, its more significant role would be to give Sacramento and its visitors that "sense of place" that's so extraordinarily critical for a city like ours.
Buster Keaton's classic Sacramento-shot Steamboat Bill, Jr. was recently digitally restored to its former glory. And here comes another chance to restore a Sacramento classic. Unlike with Keaton, though, now is not the time to be silent.