Hotly anticipated Majka Pizzeria & Bakery gets set to open in downtown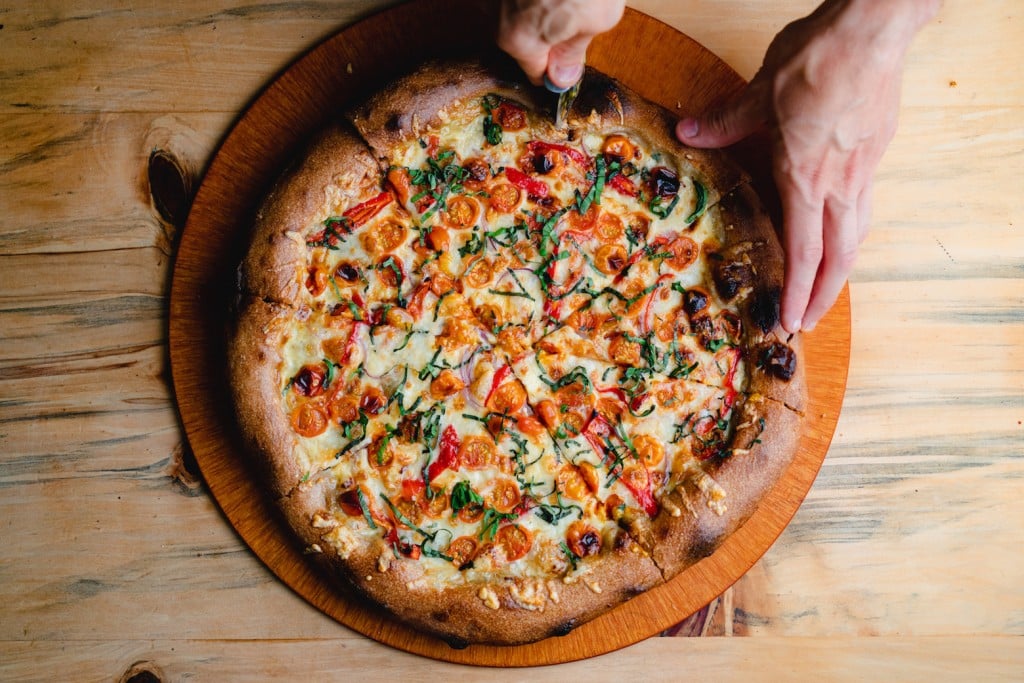 Pizza. Cookies. Wine. Those three comforting comestibles will represent the entire takeout menu when the eagerly awaited Majka Pizzeria & Bakery opens its doors in late June on the ground floor of a new downtown residential complex near 15th & Q. "We're just going to start with simple food that you can share," says Chutharat Sae Tong, who owns the restaurant with her husband, Alex Sherry. "We're all sharing more in quarantine."
While the initial offerings may seem straightforward, Sae Tong and Sherry—both veterans of Berkeley's iconic Cheese Board Collective—will be turning up the gastronomic dial with their Gourmet Ghetto pedigree. The pizza, for instance, will be crafted in the Cheese Board tradition, and feature a crust of whole grain sourdough that's fermented with wild yeast. Creative vegetarian topping combinations will star produce from area growers like Azolla Farm.
Sherry, a pizzaiolo, anticipates opening with an asparagus and cremini mushroom pie topped with mozzarella and Gouda cheese. But to really signal summer, he's already dreaming about a mix of fresh corn, red onion and feta, drizzled in local olive oil and brightened with a spritz of lime.
Sae Tong, the pastry chef of the perpetually flour-dusted duo, will be making her prized miso chocolate chip cookies right out of the gate. They're made with a home-fermented soybean miso that's been crocked for six months, gathering umami complexity. While sheltering in place at their Antelope home, the couple has been experimenting with other unusual baking ingredients like homemade adzuki miso, preserved lemon and Thai chili to put gourmet spins on classic desserts.
Some of the menu-bound favorites from the couple's quarantine kitchen (professional bakers, they're just like us!) include a hazelnut cake made with whole grain buckwheat, a blistered yuzu curd tart in an einkorn-flour crust and a sourdough country loaf with sprouted grains that give the bread a deeper dimension of nuttiness. While flour has been hard to come by during the pandemic, the couple had always planned to freshly mill most of the pastry and bread flour at Majka anyway, using whole grain from regional farms and potentially sidestepping any supply chain issues.
"We're so pleased to see baking become a quarantine activity," says Sae Tong. "It's the original definition of slow food. Baked goods need care and attention, and the pacing of them is perfectly suited to being at home a lot."
Until Sacramento County's pandemic dine-in restrictions are considerably loosened, Majka (pronounced mai-kah, the word means "mother" in Serbian and is a nod to Sherry's family lineage) will operate with window pickup only, walk-ups welcome. Through the bakery's website or via text message, customers can also preorder the daily pizza special (whole pies only), the aforementioned cookies and bottles of regional, natural wine from the likes of Haarmeyer Wine Cellars in West Sacramento and The End of Nowhere in Amador County. Natural wine is a passion of Sherry's, since the minimal-intervention method using wild yeast fermentation aligns with his own bread-baking ethos. "Bread and wine are better when you make them the old-fashioned way," he says.
Once a week, during the bakery's initial takeout phase, Sherry will personally make deliveries within the Sacramento city limits in the couple's trusty old Toyota Tacoma. And on those select days, fresh sourdough country bread and whole grain pan loaves like einkorn and spelt will also be available for order, until sold out.
Majka is currently a two-person operation, so while the bare-bones menu, limited yields and narrow delivery window may be a matter of necessity, they may also spark mass cravings. After all, once you've tasted such uniquely conceptualized baked goods in all of their time-honored, whole-grain, oven-fresh glory, as we have, you'll want to come back to queue up in the socially distanced line to snap them up.
1430 Q St. Visit sactownmag.com or follow Majka on Instagram for updates.
You Might Also Like
Faria Bakery's "Head of Bread" offers up the lowdown on sourdough
Alums of Berkeley's legendary Cheese Board Collective to open vegetarian pizzeria and bakery in Sacramento
Local chefs and other kitchen pros offer insider tips for home cooks and amateur bartenders