Ice cream cookie sandwich hot spot CREAM of Elk Grove opens Nov. 15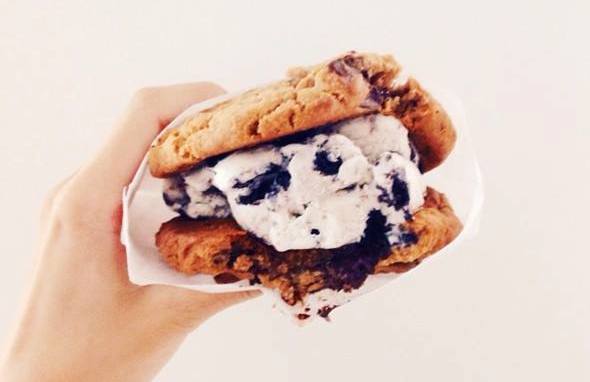 The popular customizable ice cream cookie sandwich chain CREAM is opening a brand-new Elk Grove location, slated to swing open its doors for local sweet tooths on Nov. 15.
CREAM of Elk Grove is planning an opening day celebration with free ice cream sandwiches from 12-8 p.m. Elk Grove mayor Gary Davis will be attending and DJ Juan Valdez from 102.5 KSFM will be spinning music as customers wait in line.
CREAM, which stands for "Cookies Rule Everything Around Me," began with its first location in Berkeley and currently has seven other locations, including the wildly popular CREAM of Davis that opened last September.
San Francisco-based owner Alexis Garcia says the 1,100 square-foot CREAM of Elk Grove space will stick to the same formula as the other locations, with a menu of 10 cookie varieties and 20 ice cream flavors. Popular combinations include classic flavors like chocolate chip cookies with mint chip ice cream or more rare treats like snickerdoodle cookies with salted caramel ice cream, butter-sugar cookies with green tea ice cream, or lemon cookies with coconut pineapple ice cream. Finish those off with your choice of toppings like colorful sprinkles, caramel sauce, crushed Oreo cookies or Nutella.
"I wanted to bring something I love so much to all the families who live in Elk Grove," says Garcia, whose own family resides there.
The menu also includes other addictive desserts like ice cream "tacos," brownie sundaes, milkshakes, malts and fruit bars. Plus, CREAM has gluten-free cookies and vegan cookie options like the banana walnut chocolate chip.
"We want to offer something amazing for everyone," Garcia says. "But even people who aren't vegan will request our vegan cookies. They're that good."
Check for opening day updates on the shop's Facebook page. 8469 Elk Grove Blvd. Creamnation.com
Related Links