Ice cream-filled doughnuts sweeten summer in Sacramento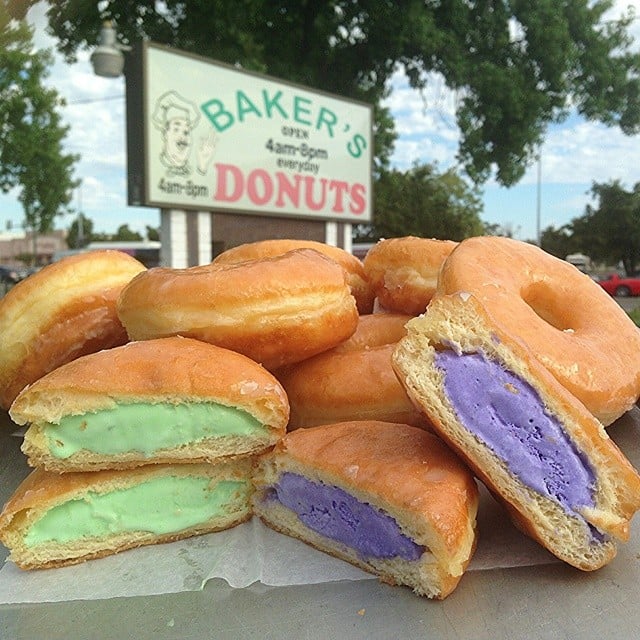 Move aside, cronut. There's a new kid on the block this summer: the ice cream doughnut sandwich—or "ice glazers," as the proprietors of Baker's Donuts in South Sacramento call them.
Owners Susie and Randy Hem introduced the treats to their menu in July, stuffing glazed doughnuts with exotic ice cream flavors like Thai tea, green tea and the brightly colored and eye-catching ube (purple yam) and pandan (green coconut). Susie Hem, who opened Baker's Donuts in 1985, adapted the idea from a summer indulgence once enjoyed by her son Douglas and daughter Stephanie who now help manage and run the counter at Baker's.
"When we were little, my mother always put ice cream in bread, and my brother started telling his friends to do it," says Stephanie Hem. "They would think he was crazy until they tried it. We translated that combination into our donuts."
Business has exploded since the ice glazers were introduced a little more than two weeks ago. Stephanie Hem says Baker's makes up to eight dozen plain doughnuts each day exclusively for ice cream doughnuts, splitting them open and filling them with ice cream as they're ordered. "We're busy all day, nonstop," Hem says.
The unique ice cream flavors come from Pittsburg-based Magnolia Tropical Ice Cream, which uses California milk and fresh fruit in their recipes.
"We have an Asian-American background, and we used to eat [Magnolia ice cream] when we were younger," Douglas Hem says. "A lot of Asian-Americans and Filipinos love that brand, because it's very rich and creamy and not watered-down."
The shop has also fulfilled customers' requests for other wild and crazy spins on the ice glazers, like red velvet doughnuts stuffed with vanilla ice cream, ice cream-filled cronuts topped with Trader Joe's cookie butter, or tropical-flavored ice glazers sprinkled with Fruity Pebbles cereal.
Variations on the ice cream doughnut are also popping up at other bakeries and shops throughout town. Sweet Dozen, in Foothill Farms, offers "melts" (doughnuts filled with Gunther's ice cream), while in Arden-Arcade, The Parlor sells "ice cream puffs" (powdered-sugar-dusted donuts filled with ice cream flavors like sea salt caramel or mint Oreo).
"What separate us is our unique flavors," Douglas Hem says. "Even people have never tried the flavors like ube or pandan, the colors will attract them. Visually they look really pretty in purple and green."
Baker's Donuts. Open Mon.-Sat. from 4 a.m. to 8 p.m. and Sun. from 4 a.m. to 5 p.m. 5880 Florin Rd. 392-8466