If Wallpapers Could Talk
The difference is in the décor details for the de Vere White brothers, who weaved tales of travels and family history into the design of their cozy new R Street cocktail bar, The Snug.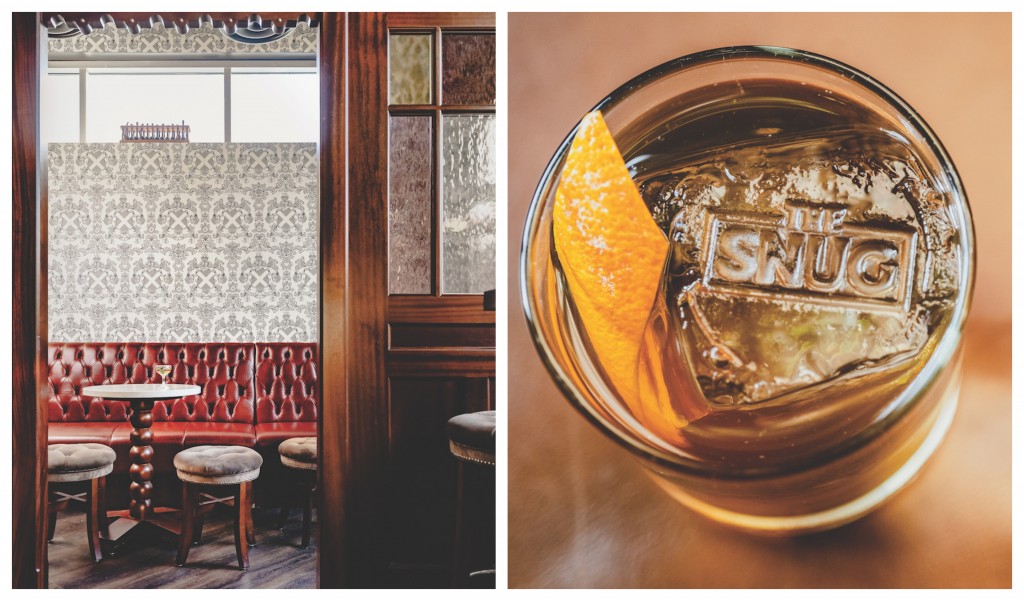 The Snug
1800 15th St.
916-619-8897
snugca.com
T The great California modernist Charles Eames once said, "The details are not the details. They make the design." In creating The Snug, their new Irish cocktail bar on R Street, owners Henry and Simon de Vere White and general manager Trevor Easter, took this philosophy to heart—just ask them about the bathrooms.
"We opened without furniture in the bathrooms because we couldn't all agree on what to put in there just to [store] toilet paper," says Henry, who, along with his brother Simon, also runs the Sacramento and Davis locations of their eponymous Irish pub. And don't even mention the toilet paper. "Some got thrown out, some got thrown at me, like 'Shame on you!' " says Henry, laughing.
Such was the level of thought that went into every aesthetic decision in the making of The Snug, which launched in early January. From the hand-drawn wallpaper to the framed vintage restaurant menus hanging above each booth to the custom-made mahogany furniture and the elaborate book-like menu, each element here has a purpose, starting with the space itself.
"The idea was, 'How do you create a bunch of intimate spaces and multiple feelings within one space?' " says Henry of the concept for a pint-sized bar with different nooks and crannies that he and Simon had been dreaming up for years. "We did that with texture and color and furniture choices. We did it by putting walls up. We did it by building a patio."
"It's amazing how, within 1,800 square feet, you can kind of create a different experience depending on where you sit," adds Simon. In the mood for a social outing? Perhaps choose the open area along the front window with one long banquette and cafe tables. Looking for an intimate conversation over candlelight? Head toward the cluster of velvet chairs in the back, or the tall wood and leather booths (all of the furniture inside the bar was designed and crafted in Ireland) along the southern wall. Or go into the snug, a section tucked away behind a mahogany wall with windows of textured glass that would seem confessional-like (as Simon explains, in ye olden days, snugs in Irish pubs were reserved for priests and women because it was considered improper for them to order drinks at the bar), were it not for the modern chandeliers with leather "pappardelle" fringe and a luxurious, oxblood-red sofa perfect for canoodling.
Then there is the patio: No low iron fence with views of the parking lot here—instead the natural wood walls stand 10 feet high to maintain privacy and the lighting washes the place in a soft ambience that mimics the bar's interior. "We really wanted to create a place for people to escape where they are coming from," says Henry.
In addition to crafting a cozy watering hole that functions as a comforting retreat—a standout feature, in fact, is the giant "Welcome Home" sign by Sacramento artist John Dozier painted above the bar—the three gents also sought to take patrons on a journey. And who better to take people on that journey than an eccentric, cocktail-swigging uncle who trots the globe and regales you with tales of lands he has explored? Thus, the character of Sir Liam O'Farrell, the bar's vagabond "owner," was born.
"He's kind of a mix between the Dos Equis guy and Hemingway," says Easter. Bearing the de Vere Whites' grandmother Mary's maiden name, O'Farrell is an amalgam of de Vere White family members, including writers, doctors, soldiers and sea captains. "He was the catalyst of how to bring you a bar from everywhere around the world."
As Easter was trying to imagine what cocktails O'Farrell might have imbibed during his excursions, he turned to L.A.-based graphic designer Tina Ross (the two had previously worked together at such bars as Shady Lady and San Francisco's Rickhouse) to help craft the look of the menu book.
"Trevor wanted the menu to have a voice and meaning other than just listing items and ingredients," says Ross. "I suggested that the menu serve as a personal journal of Liam's journey while he was abroad, sharing his notes and experiences, and designing it to feel like Liam wrote it himself."
Thumb through the lined pages of the journal-slash-menu (which is peppered with hand-drawn illustrations by Ross), and you'll find, for instance, O'Farrell describing how he tried the Bamboo cocktail—a blend of dry sherry, French vermouth and orange bitters—at a bar in Japan in 1955: "I developed great disdain for this drink's description ("low octane"), but not its taste, which I found as refined and polite as the people serving it." Elsewhere throughout the hardbound bill of fare—The Snug only serves drinks, but if you're hungry and thirsty, you're welcome to bring your own food—you'll see cocktails like the signature Snug No. 1 (a smoky Old Fashioned-esque drink with bourbon, brandy and bitters, chilled with an ice cube branded with the bar's name) and the Spruce Goose (created with cucumber-infused gin, amontillado sherry, house-made orgeat syrup, absinthe and lemon with a cucumber garnish) accompanied by hand-drawn renditions of the glassware in which they are served. Confused by all the cocktail speak? Flip to the final page, where a glossary of ingredients explains what you signed up for.
O'Farrell's world travels and that sense of storytelling is apparent throughout The Snug, but it was also important to Simon and Henry to show that for all his globe-hopping, O'Farrell always came back home. "That sense of not forgetting who you are and where you come from was engrained in us," says Henry. "So really, here the walls tell the story."
He's not being metaphorical. Look closely at the wallpaper. Designed by Ross and printed on faux leather in navy and cream, it depicts the de Vere family crest, as well as items from O'Farrell's travels, such as a compass, pocket watch and cocktail glass. "These tie together his journey of the world with his family history," says Ross.
Meanwhile, framed vintage cruise menus from Simon and Henry's mom adorn the snug, and a poster for the Irish play The Playboy of the Western World is displayed near the entrance as a nod to the clan's background in theater and literature. For the brothers, their lineage is an integral part of both The Snug and De Vere's, which follows the Irish tradition of giving pubs family names, and boasts personal touches like a photo of baby Henry sitting on his big brother Simon's lap, the teakettle their father gave their mother as an engagement gift, and a spot at each location that is painted red to represent their childhood dining room.
Yet for all the attention to detail, ask the trio how it all came together, and they sort of give a collective shrug. It was two and a half years of conversations, hand sketches and reference photos—a stool here, a light fixture there. "It was a lot of saying no a bunch of times," says Henry of selecting artwork or finding benches for the patio. "Or sometimes we would put stuff up and go, 'Uh, I don't know [if this works]. Let's just wait.' And then you do it again and you're like, 'That looks good.' "
"That was part of the fun," adds Simon. "Like when we put all the brick up [along the back wall] and were like, 'Oh my God, there's so much brick.' But you just gotta go through the whole process and trust that it'll all come together."
In other words, Charles Eames was right. The Snug is nothing if not a series of details masterfully joined together to create a bar that is both reminiscent of the Irish pub of old and something entirely new that fits into Sacramento's ever-evolving urban landscape. So go ahead—grab a cocktail and snuggle up. For the de Vere Whites, home is where The Snug is.