In the Name of the Father
After graduating from UC Davis in 1967, Stephen Kaltenbach headed east and thrived in the heady New York art world, exhibiting alongside future greats like Richard Serra and Bruce Nauman, and inhabiting provocative alter egos à la Sacha Baron Cohen before Sacha Baron Cohen was even born. But it was his return to Davis that resulted in one of Sacramento's most beloved paintings: a hauntingly evocative portrait of his dying father. With the launch of his first solo American museum show in over 40 years, the artist reflects on the man who inspired his masterwork and his own starring role as both father and son.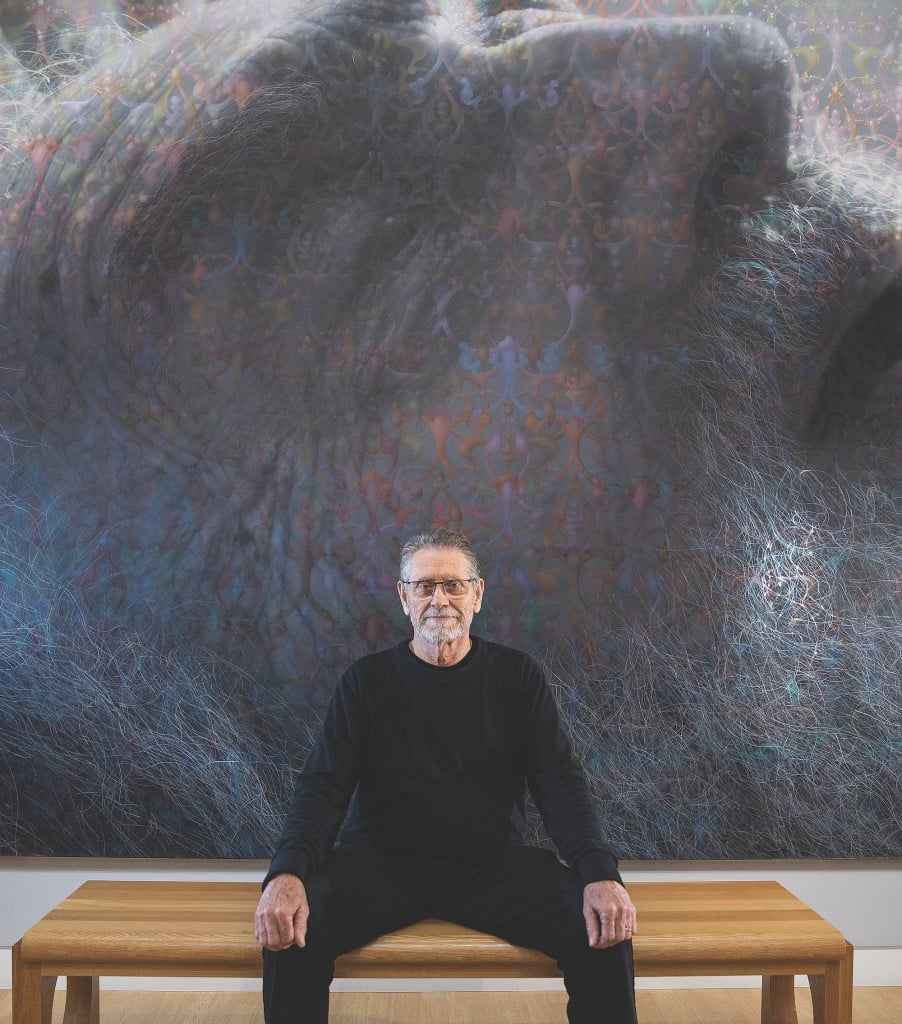 SStephen Kaltenbach stands in front of a portrait he painted of his father 40 years ago. "I admired him so much," he says. "He had an innate kindness." The son is salt-and-pepper haired, wearing the artist's uniform of jeans and a black shirt, while the father's silver beard flows over the canvas like the waves of a dove-gray ocean. Both are in their 70s—the father then, the son now—and because they resemble one another, the pairing creates a visual echo across the decades, like a freshly opened time capsule: son and father, artist and artwork, all present in their maturity.
It's early December and we're on the third floor of the Crocker Art Museum, and Kaltenbach is here to talk about his 1979 masterwork, the barn-door-sized Portrait of My Father, which will soon be coming down to travel 15 miles to UC Davis' Jan Shrem and Maria Manetti Shrem Museum of Art for the upcoming Stephen Kaltenbach: The Beginning and the End, the artist's first solo museum show in the United States in more than 40 years.
The beginning, he will tell you, was the time his father caught him in his very first lie. "Someone had drawn a 'W' on the wall in pencil," he says. When his father asked young Stephen, then 4, if he had done the deed, he denied it. So his dad had him and his older brother each write a 'W' on a piece of paper, at which point the identity of the culprit became obvious. "My dad's expression was a little bit disappointed, and a little bit amused," he says with a quiet, appreciative smile. "And that encapsulates what a good dad he was."
The painting is taken from a snapshot of this good dad in 1971, when a series of strokes left him bedridden. The muted, silvery face is painted in a photorealistic style, but is overlaid with flashes of light bouncing here and there—off the bridge of the paterfamilias' nose, off the corner of his beard—like rays of sun breaking through storm clouds. And floating somewhere between the dimness and the light is a patterned layer Kaltenbach calls "vine and leaf," a three-dimensional wallpaper-ish scrim so translucent it doesn't really read in photographs of the artwork, but is bright and eerily cheerful in person, hovering and shimmering over the portrait like a candy-colored layer of memory or emotion: Could it be happiness? Hope? Love? The juxtaposition of giddy pattern and hushed, graven image is both familiar (in its parts) and unlike anything you've ever seen, and the unexpectedness of it shocks the system, a jolt that bypasses the checks and filters on the limbic system and directly stimulates the tear ducts.
What Kaltenbach has painted is a depiction of that love a child grows to have for a parent in adulthood, which doesn't always bloom in full until the parent is gone. Warm and wistful or sharply regretful, it's an ever-mysterious emotional cycle that's nearly universal yet seldom described or illustrated. That he spent seven years working on it isn't surprising when you're faced with the physical and emotional enormity of the work.
Museum staffer Karen Christian pauses to look on. "It's so moving," she whispers. "Whenever I have something big to work out in my life, I come here and sit in front of it." After she leaves, another staffer, a young man in an olive green jacket, Brian Hendershot, snaps a pic, then nods and says, "The first time I saw it, I burst into tears."
"I [once] got an email from a woman who said, 'I've loved that painting since I was a child,' " Kaltenbach says. "That kind of support for your personal vision is unusual, and I'm extremely grateful."
His voice remains warm and infused with appreciative wonder while he recounts the twisty, topsy-turvy story of how he found early success in the international art scene, only to give it all up to live in a barn, struggling to conjure this career-defining work of immense originality, going deep and dark, finding God, falling in love and eventually bucking all tortured-artist tropes to live happily ever after.
————————————————————
I"I was going to be a fireman, not an artist," says Kaltenbach, who turns 80 in May. Born in Michigan, his family moved to the Auburn area when he was 7 and he grew up in a lovingly chaotic household, in the middle of a pack of seven kids—four boys and three girls. His father worked for the Contra Costa County Farm Bureau, and his mother and live-in grandmother were such avid nesters that the family moved houses 14 times during his childhood. "They had this quirk of going for rides and seeing places they liked to rent. We moved because we couldn't afford vacations," Kaltenbach jokes. An oft-told anecdote holds that his dad came home from work one day to find a note on the door directing him to the family's new address.
Kaltenbach spent two years at Santa Rosa Junior College, then was called up to active duty in the Navy and spent a year on a ship stationed in the Pacific. He'd considered himself an artist since the second grade, when a teacher recognized his ability and gave him a set of paints to take home for the summer, but after the stint in the Navy, he prepared for a career as a firefighter—lots of downtime to pursue creative hobbies between shifts, he figured. On a Friday during the summer of 1962, while riding home from a day trip that ended with a bout of drinking with friends at a biker bar on the Russian River (he was scheduled to report to the firehouse for a fitness test on Monday), the 22-year-old fell asleep over the handlebars of his motorcycle and hit a concrete railing, breaking every bone in his foot. "I remember thinking, this is really good for me, I need to really think about my parameters and see if I need to adjust things," he says wryly.
Stephen Kaltenbach stepped onto the same brightly lit New York stage as Warhol while still in his 20s. One of Kaltenbach's Room Constructions was erected as part of a solo show at the Whitney Museum of American Art, and he was included in group shows that are now viewed as seminal, such as 9 at Leo Castelli, organized by the artist Robert Morris, where he showed alongside now-boldface names like Richard Serra and his UC Davis contemporary Bruce Nauman.
The subsequent "adjustment" saw Kaltenbach returning to his passion, enrolling in art school at UC Davis the next year. The newly formed art department at the predominantly agricultural college enjoyed a lot of freedom and latitude, and many of the teachers would go on to achieve legend status. It was a charmed era. An early class Kaltenbach took was taught by Wayne Thiebaud, whose iconic still lifes of baked goods and Delta landscapes have made him the sixth highest-selling artist in the world. He found a mentor in another professor, Robert Arneson, the sculptor who is widely seen as elevating contemporary American ceramics from a branch of the Arts and Crafts movement to the level of fine art, and whose distinctive egghead sculptures dot the campus today.
The young faculty wasn't much older than the student body, remembers Arneson's widow, the artist Sandra Shannonhouse, a student there herself in the '60s. "They were very close," she says. "Bob was always looking for people who thought differently than he did, and Steve did, whether it was Eastern religion, or how to look at sculpture, time, place and action, or those early installations Steve was doing in San Francisco, those rooms," she says. By "those rooms," Shannonhouse is referring to a series entitled Room Constructions, detailed plans (some constructed in galleries and others existing just on paper) for building uninhabitable interior spaces, such as an unenterable room whose floor was a pyramid—the space itself a form of lie, as it were.
Upon graduating in 1967, Kaltenbach set out for New York, where he rented a SoHo loft for $165 a month, got a job teaching at the School of Visual Arts, and fell easily into the city's thriving art scene. SoHo had become a magnet for creatives, drawing everyone from Chuck Close and Andy Warhol to Twyla Tharp and Philip Glass. Between the injection of showmanship and the flourishing of an art press, artists became public personalities, where previous generations had more often toiled in obscurity only to be lionized late in life or posthumously. Jackson Pollock, for one, only reached the mainstream shortly before his death in 1956. Kaltenbach, on the other hand, stepped onto the same brightly lit New York stage as Warhol while still in his 20s. One of Kaltenbach's Room Constructions was erected as part of a solo show at the Whitney Museum of American Art, and he was included in group shows that are now viewed as seminal, such as 9 at Leo Castelli, organized by the artist Robert Morris, where he showed alongside now-boldface names like Richard Serra and his UC Davis contemporary Bruce Nauman. Hindsight establishes Kaltenbach as having shared equal potential with those peers. In previewing a 2009 group show, The New Yorker called him an "elder statesman" of conceptual art. And when Kaltenbach's time capsules and other works were exhibited at the Marlborough gallery in Manhattan in 2016, a headline in ArtNews magazine declared "A Forgotten Conceptual Master Makes a Comeback."
Even in some of his early conceptual work, the power to provoke strong emotions was there, like the sharp evocations of memory elicited by his series of time capsules, a project that has spanned 50 years.
"I see everything I do as involving some aspect of the human condition and the divine condition, and how the two are yearning to connect," Kaltenbach says. "I have a piece called Three Time Capsules, that have engraved on them 'last act,' 'last word,' and 'last thought.' As you're dying, there's a point where you can no longer do anything. And there's a point where you can no longer speak. And there's a point where the last thing you can think has happened. It's not so much a time capsule as a time machine: The intended effect is to move people forward in time to observe this moment."
But he could be a cheeky prankster too, like an art world Andy Kaufman. He gave influential art critic Barbara Rose an 11-inch-long brass time capsule engraved with the words, "Barbara Rose please open this capsule when in your opinion I have attained national prominence as an artist — Stephen Kaltenbach." (He is greatly amused that she has since lost it.)
And his first brush with true notoriety came in 1968, when he began publishing a series of 12 anonymous ads in Artforum, the preeminent trade magazine covering contemporary art—mini manifestos directed at artists like, "Tell a lie," "Start a rumor," "Teach art," "Build a reputation" and "Become a legend."
"I was interested in climbing to the top of the heap and trying to be known. If you're an artist in New York, that's a big part of who you are," he says now. The ads in Artforum were an attempt to subvert the status quo, and provoke a response—and they were effective.
There's a picture of Kaltenbach as Clyde Dillon, wearing a Saturday Night Fever-ish suit and long curly hair. Dillon could easily be a character in Sacha Baron Cohen's repertoire today, like Borat, Ali G or Brüno. What's remarkable about Kaltenbach's "life dramas" is that they played out over decades. Clyde Dillon eventually grew up, got a gallery show and produced something resembling real art. But it was the third "life drama," the one he calls "Stephen Kaltenbach, Regional Artist," that changed everything.
Around that time, Arneson temporarily decamped from Davis to Manhattan during a sabbatical, renting a corner of Kaltenbach's loft and spending days working there, but the ceramicist, Shannonhouse and others in their circle were a bit discomfited by the new turn his work was taking. "He started doing the ads in Artforum," Shannonhouse says, "and it actually made some of us uncomfortable. Where is this a joke? Where is it serious?"
For Kaltenbach, it was both. He had fun playing the trickster—instead of performing acts of guerrilla street art, he'd make up elaborate stories about fake street art performances and tell them to unsuspecting art journalists at parties. When the stories made it into the paper the next day as if they'd really happened, he was delighted—the storytelling became a version of performance art. "I loved it in so many ways," he says. "It wasn't hurting anybody, and I saw it as a kind of alchemy, where I could take this leaden lie and turn it into gold." The lie as art form—a very conceptual notion indeed.
Questions of truth and lying, in life and in art, continued to preoccupy him. As if his dad were there watching over his shoulder as he drew on the wall, he was ever skeptical of the veracity of the artist's life, and did everything he could to prop his eyes open. "I was very interested in talking to artists and arranging what I did in response to them. I called it the Protocol of Opposites," he says. "What could I do that would be the opposite of what they were doing?"
This credo led him to create a series he calls Life Dramas, in which he adopted fictional artist personas, creating artwork in their guises and even dressing up as them and taking meetings.
Kaltenbach came up with the character of Es Que? (a play on his initials, SK), a mediocre artiste who produced decorative works, aka "couch paintings," to be sold not in an art gallery but a department store (Es Que? tried to get his art hung in Lord & Taylor, but was rejected).
Co-curator of the Manetti Shrem exhibition, Constance Lewallen, who has followed Kaltenbach's career for many years, points out that these twists and turns that may have looked a lot like career self-sabotage in the moment are part of a consistent arc. "In a lot of his work from beginning to end, this idea of anonymity or concealment is a thread that goes through it all," she says.
Another character, Clyde Dillon, was an "uptown, ritzy, not-very-good sculptor" with a personality we'd today describe as "hipster douchebag." There's a picture of Kaltenbach as Dillon, wearing a Saturday Night Fever-ish suit and long curly hair. Dillon could easily be a character in Sacha Baron Cohen's repertoire today, like Borat, Ali G or Brüno. What's remarkable about Kaltenbach's "life dramas" is that they played out over decades. Clyde Dillon eventually grew up, got a gallery show and produced something resembling real art. But it was the third "life drama," the one he calls "Stephen Kaltenbach, Regional Artist," that changed everything.
In 1970, he took the joke too far, some think, by picking up and abruptly moving back to California, leaving behind the New York art world for good. Such were the demands of the Protocol of Opposites. "Once I realized I could do a life drama that was actually real, it was irresistible. There were other things going on too. I was very interested in pursuing this patterning and realism combination in painting, and I wasn't a good painter. It's hard to be a good painter," he says. "When I produce two-dimensional art, it's really a fight to the finish, so I needed privacy to do that. In New York, the contemporary art circle there was being reviewed before the work left the studio. People would come in and write about it. I had the idea for the 'regional artist' project, and I thought, 'I have to get out of here.' I could continue doing contemporary art in secret."
So he took a job teaching art at Sacramento State. Over the ensuing decades, the "regional artist" has sculpted a number of ubiquitous public installations, like 1999's Time to Cast Away Stones, a fountain comprised of a jumble of cement heads in front of the downtown convention center (one of which is a bust of his mentor Robert Arneson), and 2006's Peace, the pair of floating clasped hands at 555 Capitol Mall. But before that phase, he dug in and started working on an epic project that had come to preoccupy his imagination.
————————————————————
OOne year after his return to Sacramento, in 1971, Kaltenbach accepted a yearlong teaching fellowship in Wisconsin, which is where he began to work on small paintings that laid the groundwork for what would become Portrait of My Father.
But in its earliest versions, the project was very different. For one thing, his original plan had been to paint a ginormous portrait of his Persian cat, Teddy. At the time, he thought he was interested in exploring photorealism, not emotion. "I wanted to paint individual hairs one by one," he explains. "Then I received this photo my sister had taken of my dad. I'd never seen him with a beard, and he looked like an Old Testament prophet."
The photo of his father in repose, eyes hooded, lips parted, a gray flowing beard, shook him up, and at the same time compelled him, although he didn't yet understand quite why. His reaction: "I don't think I'm painting my cat."
His earliest studies—canvases where he played around with layering pattern over portraiture—were smaller, but when he returned to Sacramento, he stretched a canvas that was nearly 10 feet tall and 14 feet wide, and set it up in his studio inside a former five-and-dime. But he hadn't gotten very far with it before his father died in 1974. This painful event unhinged him in a way that allowed the emotion behind the image to flood over him. Finally, he punched through all that cleverness. The conceptual artist, the regional artist and the hipster all finally stepped aside and let the son paint the father.
Portrait of My Father is taken from a snapshot of Kaltenbach's dad in 1971, when a series of strokes left him bedridden. The muted, silvery face is painted in a photorealistic style, but is overlaid with flashes of light bouncing here and there—off the bridge of the paterfamilias' nose, off the corner of his beard—like rays of sun breaking through storm clouds. What Kaltenbach has painted is a depiction of that love a child grows to have for a parent in adulthood, which doesn't always bloom in full until the parent is gone.
The turning point was abrupt. "My brother John was a Christian, and I was a Zen Buddhist," he says, and his brother invited him to come over and pray/meditate together after the funeral. They ended up sitting together all night long, and in the wee hours, Kaltenbach had a vision in which he saw a pile of riches, gold and jewels like pirate booty, and heard his father speak to him. "It was crystal clear. His voice said, 'Too much. Too much.' "
Kaltenbach took this as a call to divest himself of all his worldly possessions—except the giant canvas. He gave away everything and for a time shared a house in Davis with four other artists. Then a friend who knew of the portrait put him in touch with an elderly couple who owned a farm just outside of town, with a barn big enough to contain the painting. So he moved in for what would become a monastic seven-year journey with his father as spirit guide. "I didn't even have an address," he says, "only cold water and electricity. I loved it." And he began to paint.
Whenever he wasn't teaching at Sacramento State, Kaltenbach painted in the barn. He landed a National Endowment for the Arts fellowship in 1977 and a Guggenheim fellowship in 1979 to fund the work. Sequestered, he was free to concentrate with obsessive abandon. A lot of the early trial and error revolved around technical execution. He'd discovered a wallpaper-like pattern in a library book on Middle Eastern art, and he spent months going back and forth between the patterned overlay and the patterns formed by the whorls of his father's skin and beard, tweaking them to create echoes and correspondences, the kinds of subliminal visual cues that gave the work an otherworldly sense of revealing something universally true in the wizened face. The spectral pattern was rendered in color, while the image itself, the face nested in bedding, was black and white. "Some parts of that painting are nine layers deep," Kaltenbach says. "The challenge was to make the overall grid three-dimensional and depict this crystalline light floating in space, not affixed to the picture plane but floating in and out." The pattern's effect is to imbue the elderly skin and hair with a layer of ethereal wonder that evokes the way a tender gaze filters the face of a loved one to be extraordinarily beautiful.
But achieving that took persistence. "I was willing to experiment and live with something that really did not look good [for years]," he says. "At some points the color was truly awful."
One sanity-saving grace was that Kaltenbach befriended the couple who owned the barn, who happened to be around the same age his father would have been—landing there with them seemed yet another of the coincidences leading him down a serendipitous path. Occasional meals with his landlords pierced the solitude that threatened to engulf him over the years.
"I get a lot of credit for working on it for seven years, but it's so absurd because I didn't know what I was doing," Kaltenbach says. "There was one period of three months sitting there and looking at it from the back of the studio, going, 'Boy, it's ugly, but there's got to be a way out.' For years it was not a hopeful situation, but I never doubted that it would become what it would become. I just didn't know what that would be. It takes the time it takes."
His wife, Mary Flohr-Kaltenbach, remembers visiting the barn with a group of fellow art students and seeing Portrait of My Father, then a work in progress, in person for the first time—long before their friendship turned romantic. "I was touched by the transition from life into death, that it was so strong, that it was painted with that kind of sensitivity, and that the viewer could feel that and see that connection," she says. "I was really taken aback."
She was equally overwhelmed by the enormity of the project, describing a viewing platform 20 feet away from the painting, and a movable scaffold he could use to reach the canvas. "He would make a mark on whatever area he was working on," she says, and often return to the viewing platform after applying just a single brush stroke. "He'd always be climbing back and forth, up and down, for seven years."
The obsession was so intense, Mary says, that he had a hard time letting go, even when the time came to send the portrait off for its first showing. "When it first went to the Crocker," she recalls, "he said [to them], 'Well, I'll let you show it, but I'm not finished.' " There, and at subsequent showings at nearby venues like the Oakland Museum of California, he would keep coming in with his paints—often with Mary in tow as an assistant—to continue working on it.
"It's a collection of abilities, disabilities and understandings, and I accept it," Stephen says. "There are still places in the painting where I wish I had more skill than I had."
Driving away from the Crocker toward Davis, a sunbeam breaks through a cloud, looking positively biblical, and the conversation turns toward the meaning, not of life, but of light. He recollects the first time he visited the Frick museum in New York and saw the three Vermeers in its permanent collection, including Mistress and Maid, an ordinary household scene in which the light glancing off a folded letter held by the maid is one of the most striking images in painting, like a missive from the divine. He had to go outside, sit on a bench and cry for an hour. That's how powerfully the master's capture of light affected him. Then he remembers when Portrait of My Father was on view recently in L.A. "I saw these two people come up to the painting. They were looking at where the light was hitting the mustache," he says. "The guy put his hand up [near the painting] to check to see if the light was actually coming from outside." For the first time, he felt satisfied with his accomplishment.
————————————————————
WWhile working on the portrait, God had started speaking to the artist, and to the Zen Buddhist's puzzled astonishment, it was a Christian God. There in the barn, the father became the Father—the good dad became the Good Dad.
"Either I was experiencing this super serendipitous schizophrenia, or God is real," Kaltenbach says. "It's my honest opinion that it's real. Maybe not all real. We have no way of knowing."
He wonders aloud if he might be just a little bit bipolar, the way almost all artists are a little bit madness adjacent. But probably not. "I'd describe myself as unipolar," he says. "I'm just happy. Unreasonably happy. I'm not saying I don't have bad days and have to deal with things. I think it has to do with living with Mary. She's steadying, uplifting, there for me—good grief, what more can anybody ask?"
Christianity also put him in the path of love. He says he fell for his wife—a devout Catholic who was an early faith connection for him—the minute she walked into his classroom back in the late '70s, but since she was a student, he kept his feelings to himself at the time. "Once, she came over [to my apartment] and said, 'Let's go roller-skating, but it's not a date, it's a friend thing. I can just tell you I'm not interested in you.' " he recalls. "I really had to convince Mary, and it took five years." Fortunately, he was adept at tackling long projects.
Not only were Stephen and Mary teacher and student when they first met, she had a boyfriend at the time. Eventually their long friendship grew into something more. "I was blown away by a man who was able to feel so deeply and share so deeply and cry more than me and be more sensitive," she says.
The two were married in her Catholic church in 1982, and have lived in their picturesque, pastel Victorian cottage in downtown Davis since 1986. He retired from Sacramento State in 2005, and she teaches an art and science program at several Montessori schools. Stephen, Mary says, has been an excellent father to their two children, Daniel, 36, and Sarah Kate, 35.
In late November, inside his studio behind the house—another barn-like shed, sized to hold his enormous canvases—Kaltenbach has two 8-by-10-foot pieces underway. One of the works in progress, which he's racing to finish for the new exhibit, is a new bas-relief landscape of trees painted on a 3-D fiberglass surface that features his signature patterning.
The Manetti Shrem show, which opened on Jan. 26 and runs through May 10, features a diverse array of some 100 works drawn from each phase of his career. On display are time capsules, as well as works on paper, including conceptual output from his Regional Artist years, drawings and instructions for projects that would be inexecutable or inadvisable—like the 2001 sketch Coffin Cam, the design for which involves a closed-circuit camera to be placed inside Kaltenbach's coffin upon his death. An arresting self-portrait from 1970, Personal Appearance Manipulation, in which his eyes reflect a streetscape, seems to foreshadow the artist's disappearance into himself only to emerge now, 50 years later. Two new installations bring the conceptual work into the present day: a painted interior wall and a banner emblazoned with one of Kaltenbach's signature cryptic messages that hangs outside the south façade of the museum and faces commuters on I-80. The heart of the exhibit is a trio of monumental pieces: Portrait of My Father, another called International Harvester (1982-84), in which the lights of a truck shine through darkness like hopeful beacons, and the new landscape—paint barely dry—together representing forty-odd years in painting.
"We decided to make his concern with time one of the organizing principles of the show," says co-curator Ted Mann. "The time capsules are a series that extend throughout his 50 years. He's always playing the long game."
To that end, visible on one wall of the studio is a painting that's still very much in the making, an 8-by-10-foot canvas featuring a close-up portrait. Titled Jesus Christ and Glory, it's still somewhere in its decidedly unfinished phase over five years in.
"I'd been working on it for two years, and I came out one night at 2 a.m. And all of a sudden it was obvious it was hopeless," he says. "It looked like an Irish setter. I thought, 'I have to paint over this before Mary wakes up because she'll have a fit, since I'd been working on it for two years.' "
Today he's as happy making the art world uncomfortable with his Christianity as he was using the ads in Artforum to do it. On a trip to Poland in 2017 to open a museum show of his work, "I had to give a talk," he says. "The Polish intelligentsia was very hip. I always talk about God, because it's such an intrinsic part of what I'm doing, and it's kind of punk. I think God knew I'd enjoy pulling people's chains in a way—and it's sincere."
With his new portrait of Jesus, he's pulling chains closer to home. The painting's model? His son Daniel.
"My son thinks I'm a victim of magical thinking because I believe in God, so to me it's hilarious that he's the model for Jesus Christ," Kaltenbach says, with a warm smile and shake of the head, adding as a stage-whispered aside, "but I think in a way he kind of likes it." The fondness in his voice speaks volumes about the easy relationship between generations of Kaltenbachs. The son is now the father, and by all appearances it seems as though he is, like his father before him, a good dad.