Inside Issue 75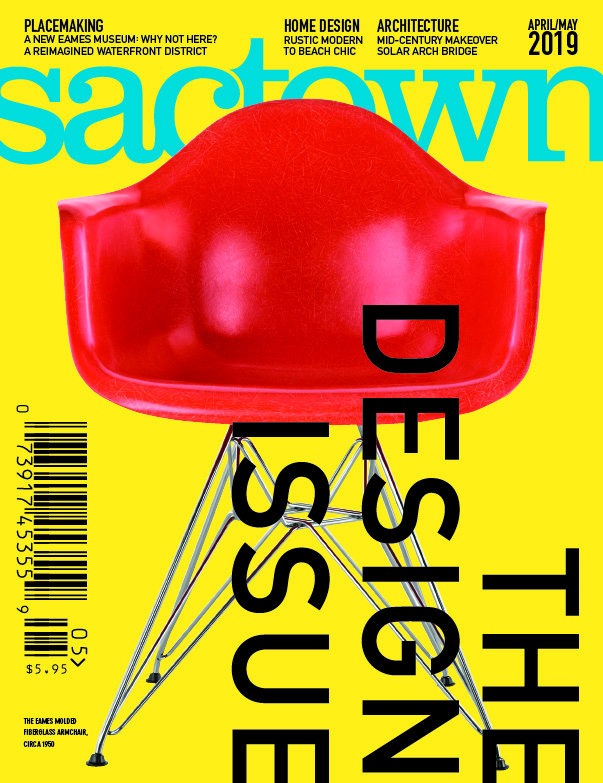 Inside the

April/
May
2019
Issue
Get Sactown delivered to your door. Subscribe HERE!
Designs Within Reach 2019
Our hometown is on the rise. As Sacramento continues to come into its own, we spotlight five new structures that will be erected in the central city within the next few years that could help shape our civic identity. Keep your eyes on the skies—things are looking up.
Making It All Popp
It's not every designer who would think to place modernist Mies chairs in a classic colonial home, but Curtis Popp has been pushing the visual envelope his entire career. Meet the modern Renaissance man whose keen eye makes him one of the most creative minds in the city.
Mid-Century Makeover
Designed by then-budding architects Albert Dreyfuss and Leonard Blackford, the SMUD headquarters made waves as an exemplary model of the International Style of architecture when it was completed in 1959. Now the building is getting an extensive $86 million revamp to usher it into the 21st century.

Riverfront Q&A
As the editorial director of the SF-based urban planning think tank SPUR, Allison Arieff spends her days assessing the impact of civic design on everyday life. But it's her past two decades of work—first as editor-in-chief of Dwell and now as an op-ed writer for The New York Times—that have cemented her reputation as one of America's foremost thinkers on design. The UC Davis alum speaks about building cities for people instead of cars, getting lost in Sacramento riding light rail, and her 2020s vision.
Play

They're some of our most iconic landmarks, but look deeper and you'll see that they're also filled with fascinating stories that shed light on Sacramento's rich history. Check out these five architectural tours for a behind-the-façade peek into a few of the stunning structures that have helped build this city.
Dish
The difference is in the décor details for the de Vere White brothers, who weaved tales of travels and family history into the design of their cozy new R Street cocktail bar, The Snug; cozy up by the fire with a slice of wood-oven pizza under a stunning, swooping pavilion at Drake's Barn in West Sacramento
Why Not Here?
Along with her husband Charles, Sacramento-born artist and creative visionary Ray Eames helped define mid-century mod-ernism with forward-thinking designs. Our city should think forward itself and build the world's first Eames Museum.