Inside the Issue 77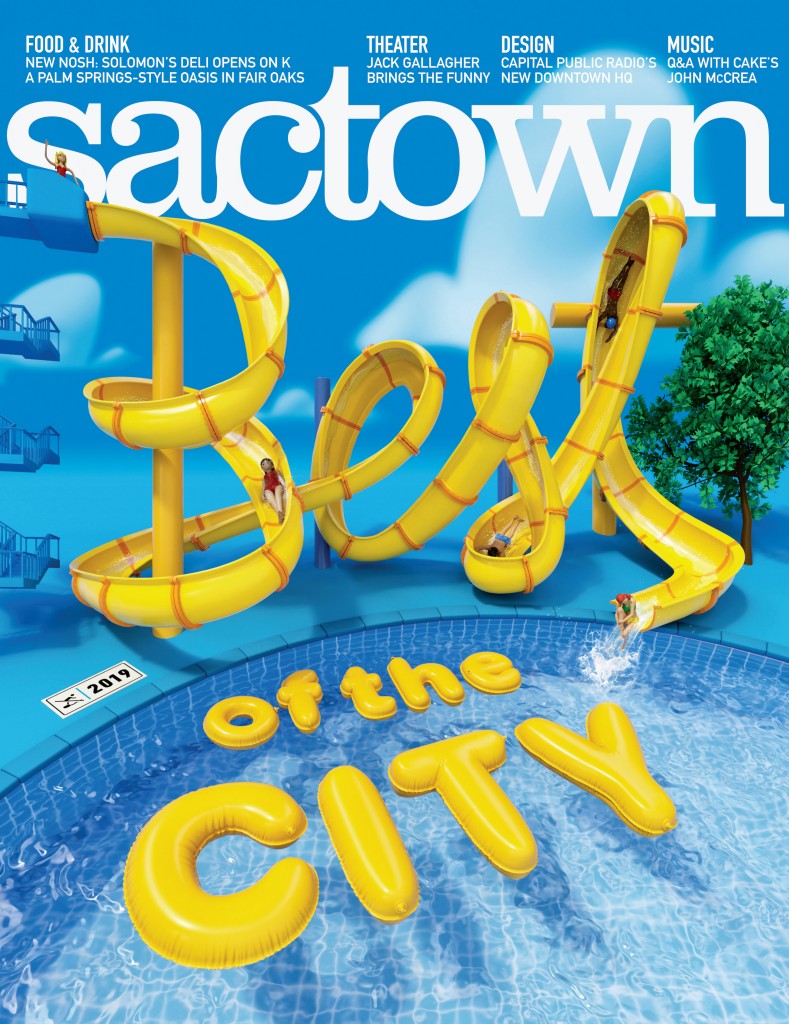 Inside the

August/
September
2019
Issue
Get Sactown delivered to your door. Subscribe HERE!
Best of the City
As they say, there must be something in the water here—Sacramento's got it going on. From a cool moonlight hike to a cooling moo-less milkshake, from a fiery hot street food to a fire-breathing street dragon, and from an Olympic-caliber butcheress to an Olympic-caliber aquatic center, here is our list of the places, people and things making big waves this year.
Radio Activation
Over the next year, the visionaries behind a new downtown headquarters for Captial Public Radio will transform a long-empty 1960s building into a living, breathing manifestation of the station's news-and-music format. Behold the ultimate audiovisual room.
Paradise Found
After a career that took her from being a style maven at Williams-Sonoma to launching a boutique bowling alley in San Francisco, Fair Oaks native Sommer Peterson has returned home, with a slice of mid-century Palm Springs in tow. She calls her little piece of heaven Shangri-La. You can call it your home away from home.
Riverfront
Sports, Italian style: The ancient game of bocce is having a baller moment; local historian William Burg shines a spotlight on the naughtier side of Sacramento's history; oh, the places she'll go: Davis artist Annabeth Rosen takes her Seussian sculptures to San Francisco for her first major museum retrospective; Cake frontman John McCrea returns to the rock 'n' roll lifestyle as he and his band embark on a new tour; a tiny house competition inspires big ideas for homes for the homeless

Riverfront Essay

As the city weighs the pros and cons of a far larger zoo, it's asking where, when and how much. But the most important question should be, "What do we want to build?" We offer a starting point for a conversation about conservation.
Play

In his new B Street Theatre show about his stand-up career, comedian Jack Gallagher shares professional highlights (his Tonight Show debut) and lowlights (his Tonight Show encore); Preservation Hall Jazz Band brings the sounds of the French Quarter to the Harris Center; In the Heights makes its soaring Music Circus debut; it's crunch time at the Sactown Nachos Festival
Dish
Solomon's Delicatessen opens downtown at the former site of a Tower Records store, dishing out classic and neoclassic food like lava salt bagels, vegan Reubens and pastrami on rye that's music to our taste buds; Aji Dori takes elevated Japanese street food to the streets of downtown; Burger Patch serves up meaty plant-based burgers for both hungry herbivores and carnivores

Why Not Here?
Cities around the world are boosting civic pride by inviting their citizens to peek inside cool spaces not usually accessible to the public. It's time for us to open our doors too.