People-Powered Art
From Iowa City to Boston and beyond, interactive art installations are drawing crowds to experience art firsthand. Sacramento should get in on the action too.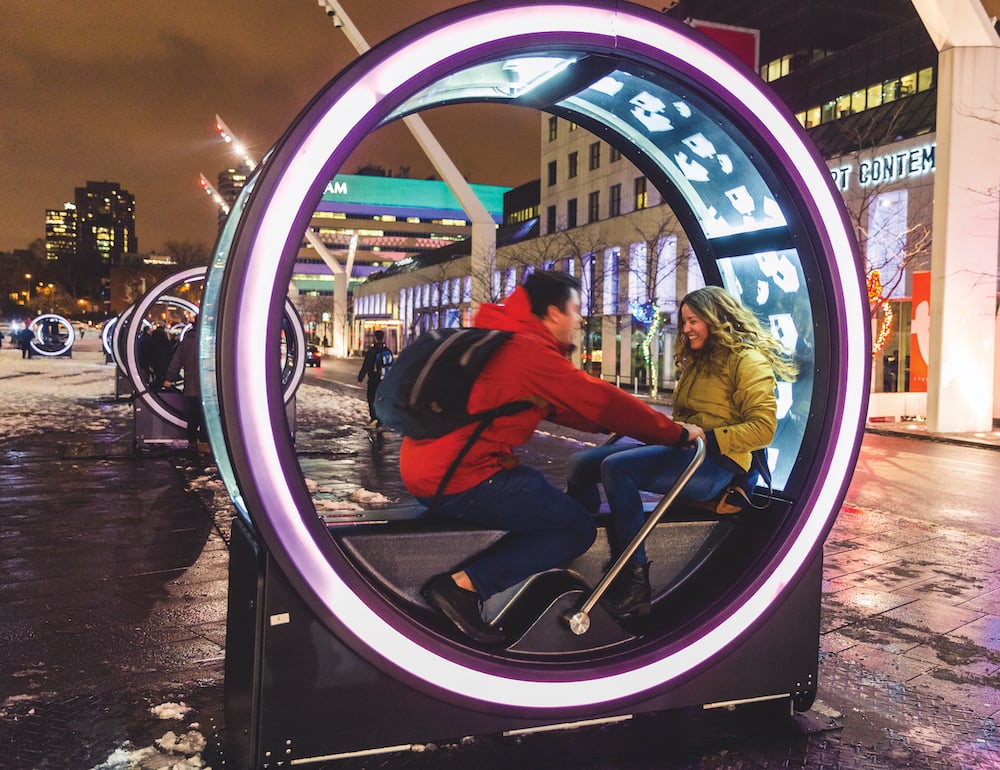 The Idea
As cities have struggled to bring people back downtown in a world where many folks are still working from home due to the pandemic, some are turning to experiential art.
In 2021, the Iowa City Downtown District signed up to be one of dozens of cities (which included everywhere from Montreal to Fort Worth) to host a touring public art installation called Loop, in which people could climb into one of 12 circular structures and pull on a metal bar that spins still images until they turn into virtual animated shorts, similar to the old zoetrope machines.
A student at the University of Iowa named Laura Farahzad Mayer told The Daily Iowan at the time that while she didn't live in or often visit downtown, she made the trip expressly for the installation. "It was refreshing to walk around downtown and to see a lot of people," she told the paper. "And exploring the art was really interesting."
The following year, the district brought in an installation titled Mi Casa, Your Casa 2.0—mini house-shaped swing sets that proved even more popular. Both installations lasted approximately one month each.
A similar annual tradition has taken off in other cities, including Boston, where its waterfront district called Seaport has also featured the Loop installation, as well as another that was composed of illuminated seesaws (both managed by the Canadian event company Creos).
Because of the number of people no longer working full-time in downtown Sacramento—like in central business districts everywhere—the Downtown Sacramento Partnership and the city are working to bring visitors back. Using interactive art installations—perhaps in Old Sacramento or at DOCO or on our moribund Capitol Mall—could have a powerful civic impact.
The Players
Downtown Sacramento Partnership, DOCO and the Old Sacramento Waterfront district are obvious potential organizers of these efforts, as well as the Sacramento Office of Arts and Culture.
The Bottom Line
Betsy Potter, executive director of the Iowa City Downtown District, says the cost of the aforementioned installations ranged from $50,000 to $70,000 each. The group tracked the overall visitors to the district, and they've seen a marked increase, even surpassing pre-Covid numbers. "Both [installations] were very successful," she says. "It's a costly thing to invest in, but it brings so much goodwill and positivity into the community." 
"[This year] we've seen a decrease in foot traffic, and a decrease in positive reporting about downtown," she adds, referring to the organization's decision not to host an installation this past summer due to funding. "We know that if you're coming down to do this one thing, you're probably also going to get lunch or coffee or visit the library or whatever else. We know it's a domino effect, and that's why we'll be looking at doing more of these in the future."