It's hog heaven at the Davis Farmers Market's Pig Day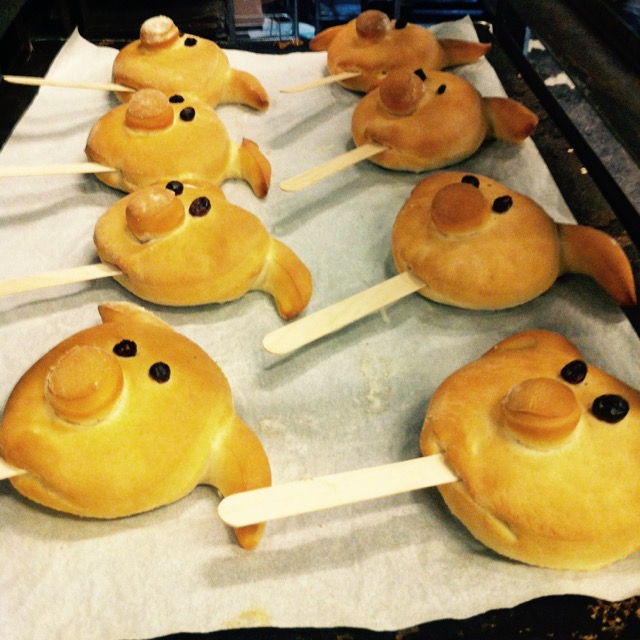 Get ready to go whole hog at the Davis Farmers Market's 25th annual Pig Day this Saturday, March 5.
A tribute to local agriculture, farmers and food, the festivities will take place from 9 a.m.-1 p.m. (the market opens at 8 a.m.) at Davis Central Park, where attendees can pig out on pork-centric eats like bacon maple ice cream, Piggy Pops (made with sweet French bread by The Upper Crust Baking Co.) and bacon-and-egg-flavored popsicles from Fat Face. Sutter Davis Hospital will also be firing up samples of pork fried rice at its Live Cooking Station using ingredients—like farm-fresh vegetables and pork from Bledsoe Meats—found at the market.
Little ones can go hog wild with activities like crafting pig hats, ears and puppets, or painting their own clay piggy bank, or petting animals like piglets, kittens, ducklings and a miniature horse. UC Davis professor Frances Dolan, a children's literature scholar, will also be on hand from 10:30 a.m.-12:30 p.m. to read books like Piggie Pie!, Pig Picnic and Mr. Paint Pig.
The Davis-based Regal Beezers will perform "Three Piggie Operetta" (written specifically for Pig Day), as well as other tunes from their repertoire of Beatles' music and jazz standards.
"It's just as fresh in year 25 as [it was] in year one," says Randii MacNear, executive director of the Davis Farmers Market, which itself is celebrating its 40th anniversary this year. "It's remarkable that after 25 years the event is as exciting and happening as ever. It's a feel-good thing."
March 5. Free. 9 a.m.-1 p.m. Central Park. Fourth and C Streets. Davis. 530-756-1695. davisfarmersmarket.org
You Might Also Like:
Sactown's preview of the upcoming All Spicery shop opening downtown
Our roundup of five coffee shops opening in the Sacramento region
Our scoop on The Good Scoop ice cream shop now open in Davis