Keys to the City
In more than 30 cities around the world, a British artist has placed pianos in public spaces to encourage citizens to sit down and play, creating a landscape filled with pop-up urban concerts. Why not bring the sound of music to the streets of Sacramento?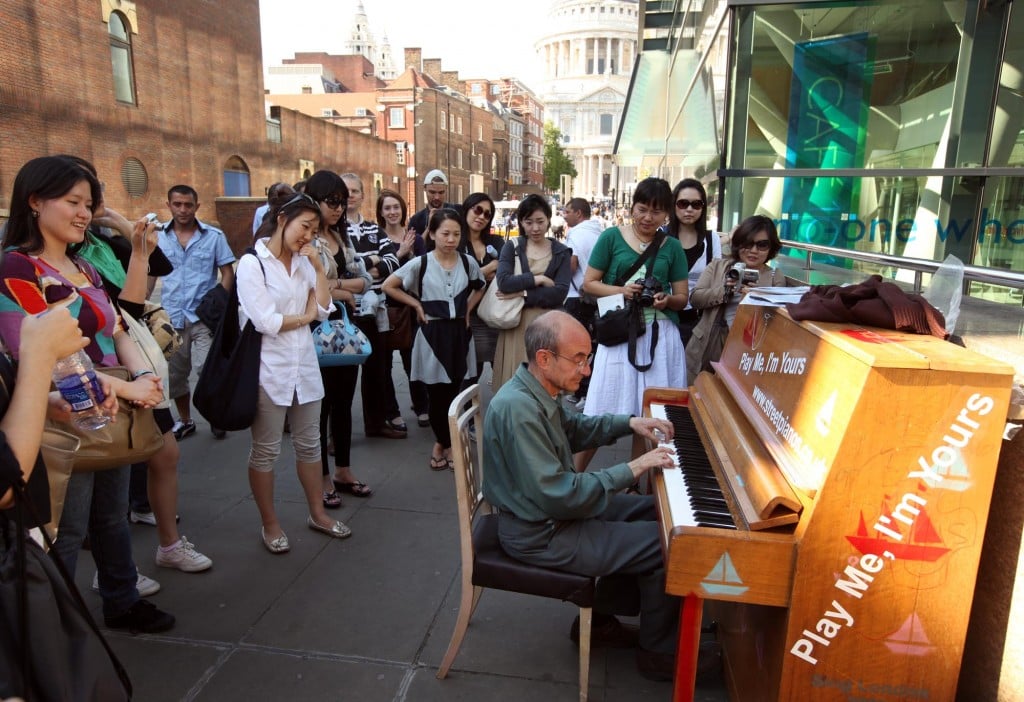 The Idea
One day, British artist Luke Jerram was in a Laundromat as he observed the other people in the room waiting for their laundry. Perhaps unsurprisingly, no one was interacting. So he wondered what would happen if he placed a piano in the space. He thought people would surely play it, altering the social dynamic of the room. Wanting to apply the concept to a larger scale, he wondered what would happen if he placed multiple pianos in urban spaces. So in 2008, he did just that, launching a project that he called "Play Me, I'm Yours," in Birmingham, England. It was an instant hit. People started playing the pianos, available 24 hours a day, often drawing crowds for impromptu street concerts. By 2009, it expanded to four more cities and, in 2012 alone, the project took place in 12 cities, from Salt Lake City to Paris, and from Geneva to Hangzhou, China. New York mayor Michael Bloom- berg personally attended the press conference for the program in his city in 2010. And Jarrem has said an episode of Glee was even based on the project. In each city, local groups—which have included the likes of the Salem Chamber Orchestra in Oregon and the Utah Museum of Contemporary Art—work with Jerram to acquire 10 to 60 pianos (though Tilburg in the Nether-lands installed 101), which are then often painted by local artists and placed in public spaces for two to four weeks. The pianos are typically later donated to local nonprofits. Jerram creates a page on his own site, streetpianos.com, that displays the location of each piano and allows for pictures, videos and messages to be posted, chronicling the project. On his website, Jerram goes on to explain that "disrupting people's nego- tiation of their city, the pianos are aimed to provoke people into engaging, acti-vating and claiming ownership of their urban landscape."
The Players
Jerram says he needs "a partner with experience in project managing, fundraising and marketing." Who in this region would fit the bill? Perhaps the Sacramento Philharmonic, California Musical Theatre, the Crocker Art Museum, Folsom's Three Stages, Davis' Mondavi Center, the Downtown Sacramento Partnership, the Convention & Visitors Bureau or the Metropolitan Arts Commission, to name a few. Any group interested in promoting art, music and urban excitement would work.
The Bottom Line
According to Jerram, who says he could bring the project to Sacramento as early as this coming spring or summer, the cost is around $30,000, depending on the number of pianos. He notes that the project can impact up to 200,000 people in a large city. "It's a good value," he says. "This, along with the national and international press it gets, partly explains why the project has been commissioned so many times." So let's review: Free street concerts. Local artists. Philanthropy. Civic buzz. That sounds like music to
our ears.